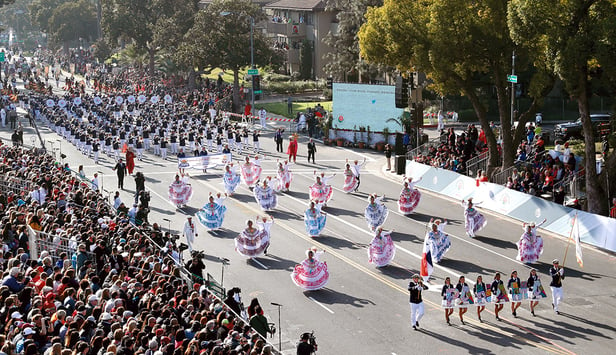 What struck Thelma Tiambeng-Bright about the 2018 Tournament of Roses Parade was not just the designs of the floats or the pounding of the snare drums, but the sense of camaraderie she felt all along the parade route.
---
"It's really an all-American tradition," she said. "It only happens once a year and the whole community shows up -- from students to retirees. Everyone volunteers their time, rolls up their sleeves and works together."
In a world she describes as 'often chaotic," Tiambeng-Bright claims that Americans are not afraid to celebrate and be joyful.
"No matter what is happening, people can still come together and unite for a common goal," she says. "There's nothing more American than a parade and this is the grandaddy of them all."
Before arriving, Tiambeng-Bright wasn't sure what to expect. Then, as she and other YMT Vacations travelers made their way into the barns where floats are assembled, she discovered just why this tradition is so special.
"We saw them being built right before our eyes," the former school teacher said. "I watched as people who didn't even know each other glued on tiny seeds and individual petals one by one. No one frowned. No one complained. There was just a happy excitement."
Inside the barn that 'smelled like spring,' Tiambeng-Bright watched as the crews worked like elves in Santa's workshop. Her favorite float? A giant dinosaur the size of a car whose large scales were made entirely of seeds!
That was only the beginning.
"If you're going to the parade all I can say is, 'prepare to be overwhelmed,'" she said. "The weather was marvelous. The bands, the white coats, the themes...it was all incredible. Even our seats in the grand stands were high up with the sun behind us and nothing obscuring our view."
Like the crews who worked together assembling the floats, the YMT Vacations guests also learned to work as a team.
"We called it synchronized picture taking," Tiambeng-Bright joked. "Instead of standing for a picture and blocking the view of others, we'd time it so when someone yelled 'picture' we'd all stand up together and take the shot."
Her recommendation for others going to the Rose Parade is to follow her lead and travel with a tour group like YMT Vacations.
"Unless I had been before I wouldn't go without one," she said. "The guides have so much knowledge, they have a system for navigating the crowds and they even knew us all by name."
It's that sense of belonging she refers to as 'Ohana.' It means 'family' and to Thelma Tiambeng-Bright it's what makes all the difference.
You can experience the Tournament of Roses Parade on five exclusive YMT Vacations journeys. Choose from itineraries in, and around, the Los Angeles area or combine the parade with travels to California's coast, the Grand Canyon and even on a cruise through the Panama Canal.
To make your plans to see the parade, which includes VIP Grand Stand seating and an exclusive behind-the-scenes tour of the legendary floats in the making, contact your travel professional or call YMT Vacations at 1-888-756-9072.