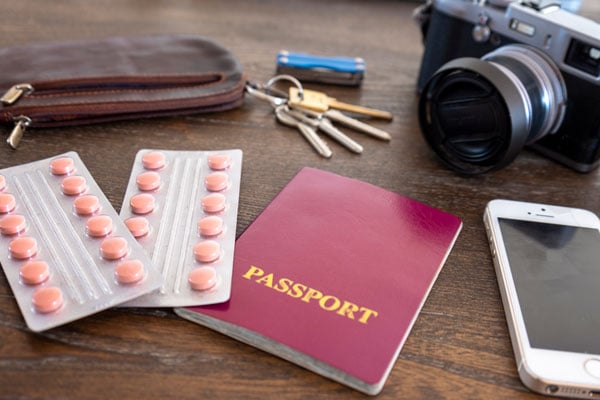 When packing your luggage for vacation, you'll want to include appropriate attire and items that will make your travels comfortable. Packing the wrong things in your checked bag has the potential to turn a relaxing trip into a stressful experience. Once your suitcases are checked at the airport, you have minimal control over situations where it may get lost, broken, or roughed up by baggage handlers. However, you can prepare for these scenarios by making sure you never pack these 10 items into your checked luggage:
Essential Travel Documents – Do not pack documents such as your passport, license, and boarding pass in your checked bag because you will need them to go through security. Keep your itinerary, travel and health insurance papers, as well as any confidential documents in your carry-on luggage. While you may keep copies in your luggage as backup, the originals should be accessible to you at all times during your travels.
Cash and Credit Cards – Cash, other currency, credit cards, and travelers checks should remain with you at all times. Checked suitcases pass through many hands and it is possible that these items could go missing. In the event that your bags are lost or delayed to your destination, you will have all your money with you.
Jewelry – Valuable jewelry such as rings, earrings, and necklaces are best tucked away in your hand luggage. If you pack jewelry in a suitcase that later gets lost, your airline will only pay out the maximum amount per lost bag, which is likely to be much lower than the value of your lost jewelry.
Laptops and Expensive Electronics – Laptops, tablets, digital cameras and other expensive electronics are fragile items that are more likely to break during the journey to your destination. Additionally, you can avoid the chance of burglary when you keep these items with you on the plane. No matter how many layers of clothing you've wrapped around your laptop, it is still at the mercy of baggage handlers.
Medication – Don't jeopardize your health by tucking your medicines in your suitcase. All essential medication and medical devices should go onto the aircraft with you because if your bag gets lost, it could be days before you have access to them. Medications are not subject to the limited liquid rules, and you can simply tell TSA agents about the quantity you have during the security check. A note from your doctor and labels on your medications will also help limit any confusion during your security screening.
Keys – Avoid the temptation to toss your house and car keys into your checked luggage for safekeeping. Even if you will not need them until the end of your trip, you may not have access to your car or house if your luggage gets lost or delayed. Pack your important keys in a safe spot in your carry-on where you will not forget them.
All of your Clothing – In the event that your luggage does not make it to the destination when you do, keep one or two outfits in your carry-on bag, including socks and undergarments. Additionally, keep any essential toiletries in travel-sized bottles.
Lighters, Matches, and Flammable Items – The TSA prohibits many flammable objects. Don't risk your safety and the safety of other passengers by packing these prohibited items in your luggage.
Breakable Items – It is possible that when your luggage goes from the luggage trolley to the plane, fragile items may break. And if something does break in your luggage, the sharp edges may also tear your clothing and scratch your shoes, etc. When possible, pack these items in your carry-on to ensure they get home with you in one piece.
Camera Film – Going through an X-ray machine multiple times can ruin film. If you have used film during your vacation, keep it in your carry-on and ask security officers to hand-inspect it.
As a general rule, do not pack items in your checked bags that would make your trip stressful should they go missing or be delayed. While it may seem convenient to store items that are not immediately needed in your suitcase, weigh the rewards against the risks. Don't add unnecessary anxiety to your vacation, when you should be putting your energy toward soaking up the experience of your escorted tour!