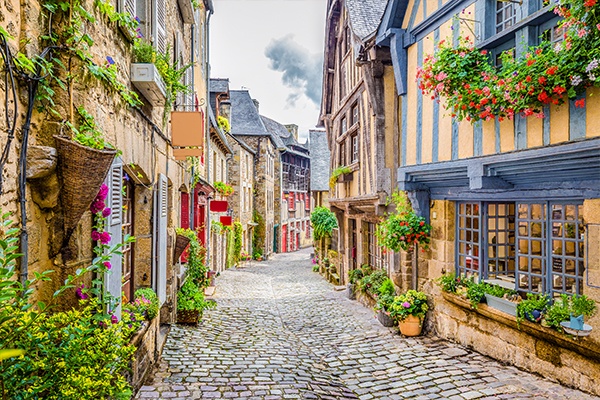 The long, cold days of winter are over, the sun is shining and there is no reason not to head to Europe in the spring. From the colorful cherry blossoms to the outdoor concerts, there's plenty to do. Here are the top 10 reasons to take a springtime European holiday:
It's affordable—Off-season spring travel, especially flights, costs less.
It's less crowded—Summer travel brings long lines, early closures and densely packed attractions. While summer time can mean hordes of tourists flooding the museums and city centers, springtime is when the locals head out to meander through the old town and take their time enjoying the masterpieces.
The Midas light—Spring's "golden hour", the period shortly after sunrise or before sunset during which daylight is redder and softer than when the Sun is higher in the sky, makes for absolutely beautiful photographs.
The temperatures are just rights are pleasant—As the sea warms up and the days lengthen it's time to shed those winter clothes for light and airy layers. You'll enjoy the warm, sunny days, and cool, breezy evenings— it's the ideal weather for strolling.
Everything is in bloom—From tulips to poppies, crocus to cheery blossoms, Europe is awash in color.
It's farmers market season—When Europe's flower gardens are at their springtime best, so is the exquisite local produce. Head to the quaint farmers markets to enjoy the spring bounty. Sample crisp artichokes and cardoons. Look for local honey. Or, savor same refreshing gelato with wild strawberries piled on top.
The flights are better—Not only will you pay less for your flight across the pond, you'll also enjoy a better chance of getting on board. Fly mid-week and you'll receive even deeper discounts, and perhaps enjoy the luxury of an empty seat next to you on the long transatlantic flight.
There are special events—The off-season means outdoor concerts and art exhibits, local festivals, and frequently-closed sections of castles opening to the public.
The locals come out—You won't find many locals wandering about during the summer months when they are on holiday from work and avoiding the throngs of tourists. In the springtime, however, residents are just coming out of hibernation, and take to the streets to catch up with neighbors and stroll the cobblestone alleys.
Plenty of affordable trips—Group travel companies, like YMT Vacations, offer some of their best itineraries at the most affordable prices during the spring. To learn about these popular journeys, call your travel agent or YMT Vacations at 1-888-756-9072.