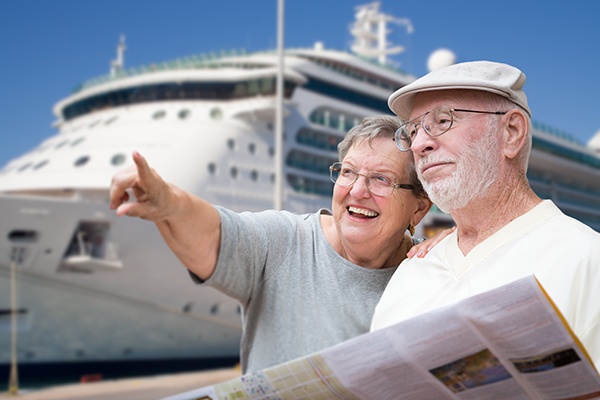 You've been talking about it for years, now it's your turn to experience all the fun of a cruise vacation—from the sun and the sea, to the shows and the food. But before you embark, here are some tips to help you make the most of your first voyage:
What's Included?—Cruising is one of your most wallet-friendly travel options thanks to all the inclusions. For the basic cost of a cruise you'll enjoy accommodations, onboard entertainment, traditional meals, plus room service. However, there are some things you will have to pay for: alcohol, soft drinks, specialty drinks, shore excursions, onboard purchases and casino gambling.
Inside-Out—If you're debating over an inexpensive interior room or an ocean view suite, consider what's most important to you. If you think of the room as merely a place to sleep, bathe and change, then save the money and go for the inside cabin. If you tend to be claustrophobic or enjoy time relaxing in the room as you watch the world go by, then splurge for the upgraded stateroom with the balcony view.
Stay on Ship Time—Ship time is the rule while on the high seas. Even if you've sailed into a different time zone, keep your watch set to the ship's time to avoid missing the boat when the excursion is over. Be especially careful if you rely on a phone, which may automatically switch to the local time when you are in port.
Do Your Homework—With all that's included on a cruise, there's a temptation to assume everything will always be handled for you. That can be a problem when you go ashore with a large block of time and little idea of what to do. Hit the guide books and research the spots you want to visit, and always check the time to make sure you are filling the entire shore leave.
Tips for Tipping—What newbies may not realize is that most large cruise lines automatically tack on a 15 percent tip to bar bills. Unless your service was spectacular, there's no need to add another gratuity. To avoid confusion, make sure to read the tipping policies for your cruise line.
Avoid the Buffet Line at Embarkation—On the day your ship departs, you may notice long lines at the buffet or pool grill. Avoid the traffic by heading to a dining room instead. There will be plenty of time to enjoy the plentiful buffets later in the cruise.
Know Your Way Around—Today's mega-ships are big! With giant decks, thousands of passengers and several floors, it's easy to be overwhelmed. Get a head start by familiarizing yourself with the ship's layout. Then, set out on a tour when you arrive so you'll know just where the theater is, and exactly how to find the spa.
B.Y.O.B.?—Many first-timers attempt to smuggle liquor in their checked luggage only to have it confiscated as they check in. While many lines do allow one bottle of wine per cabin, there are very strict rules about stowing away booze since it accounts for a good chunk of the ship's revenue. It's better to leave it at home—especially since the corkage fee may be more than the cost of the wine.
Act Quickly on Excursions—If you have your heart set on riding horses in the surf or swimming with dolphins, make sure to pre-purchase your favorite shore excursion as soon as your deposit is paid.
Money Matters—Cruising is basically a cashless experience. You put your credit card on file and then charge everything from drinks to souvenirs to your room. The exception is gambling and shore excursions, where cash is needed.
YMT Vacations offers a number of cruise tours, including several transatlantic crossings. To join one of these exciting journeys, call your travel consultant or YMT Vacations at 1-888-756-9072.