---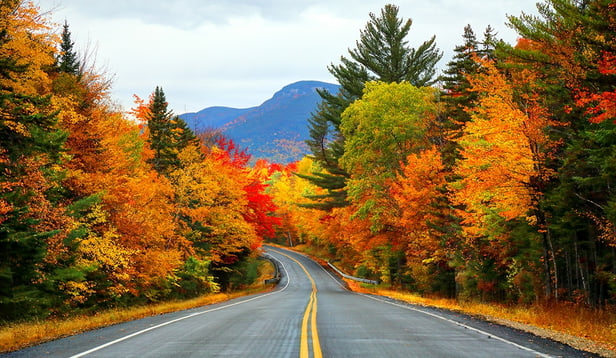 Every fall the landscape is set ablaze in an explosion of autumn foliage. Throughout the Adirondacks and Vermont's Green Mountains, the verdant leaves of summer give way to brilliant reds, oranges, and yellows. The days linger a little while longer as the crisp air hints at the coming of winter and "leaf-peepers" arrive to catch a glimpse of the spectacle. Here are our tips for photographing New England's autumn colors:
---
Plan Ahead -- Many would-be photographers head out in search of color with no real idea of where to go and what to shoot. Knowing when the colors will appear in each area is paramount to a good photo. Rather than winging it, do your research, talk to locals, or consider going with an established tour operator like YMT Vacations. Having someone who knows the area to show you around and point out the best vistas can mean the difference between an average shot and one you'll cherish.
Sit Back and Relax -- Traveling with a tour group means you won't have to drive -- lessening your chances of getting lost and providing you with lots of time to rest and watch the scenery while you scope out your next location from the window seat.
Talk to Locals -- When you stop at the gas station or the roadside stand, take a minute to chat with the folks who live in the area. They'll know the best spots to check out.
Don't Be Afraid of "Bad Weather" -- Don't be detoured when you come across rain, or even an early snowfall, during your travels. This "bad weather" just means more saturated colors against the contrast of a gray day. In fact, an overcast day creates light that is soft and even.
Location, Location, Location -- While colors are brilliant in the Colorado Rockies and the upper Midwest, we prefer the quaint back roads of the New England states. To find out when the peak colors will appear and where, check out the many fall color apps available.
Fog and Mist -- Soften and mute your colors by shooting in fog and mist. You'll also add a bit of mood and mystery to your pictures as well.
Consider Your Point of View -- While being amidst the color gives you up-close views, another great perspective is to go above the trees at an overlook location. A higher elevation gives you a sense of expanse and a broad view of just how many colors there are. You can also do straight-on views, close-ups of individual leaves, and even pictures of the forest floor, which can be just as brilliant as the treetops!
Water Views -- Look for lakes, streams, and rivers to create reflections, contrasts, and texture. Look for spots where the trees are mirrored on the water's surface.
Play With Color -- When you edit your images, try ramping up the colors to make vibrant and rich tones. You can also create a more natural look by toning down the color, leaving less contrast and a woodsier feel to the shot.
Dress the Part -- Remember to wear good walking shoes that will allow you to explore the terrain. You'll also want to dress in layers and bring along a lightweight, waterproof jacket in case the weather turns to rain and the temperatures drop


---
You can create your own fall foliage portfolio on YMT Vacations' Autumn Leaves Tour. This 14-day excursion takes you from the battlefields of Gettysburg to Philadelphia, the birthplace of the Constitution, from Niagara Falls to the Cape Cod National Seashore. To make your reservation, call your travel agent or YMT Vacations at 1-888-756-9072.
---