---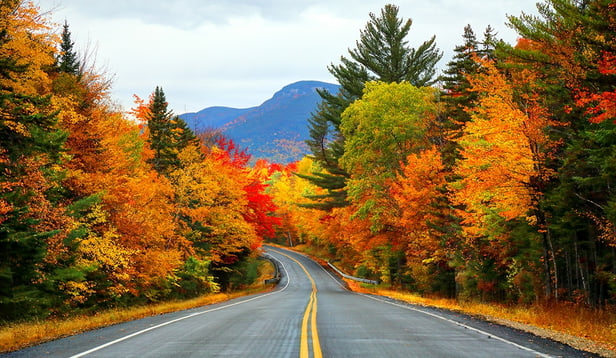 Every fall, New England is set ablaze in an explosion of autumn foliage. The lush green of summer gives way to brilliant reds, oranges, and yellows. The season slowly shifts. Dusk creeps in earlier each day as the crisp air hints at the coming of winter. Brisk gusts shake the trees, rattling down a rainbow of crunchy leaves as the annual crowd of "leaf-peepers" arrive to catch the show.
The colors are spectacular in person, but capturing their beauty in photos can be a real challenge. Discover our favorite, tried and true, easy to follow fall foliage photo tips.
---
How to Take the Best Fall Foliage Photos
Many would-be photographers head out in search of color with no real idea of where to go and what to shoot. Do your research. Know your equipment, prepare for the conditions, shoot at the right time and place, and stay flexible.
If you want to focus on the sights instead of travel logistics, consider going on vacation with an established tour operator like YMT Vacations. Having someone who knows the area to show you around and point out the best vistas can mean the difference between an average shot and one you'll cherish. Here are our tips for photographing New England's autumn colors:
1. Time It Right
Different regions peak at different times. The north of Maine, for example, will see its best colors earlier than Boston. As far as weather, optimum conditions include warm days and cool, frost-free nights. Look online to find the best "leaf peeping" locations in real-time.
2. Light It Up
The most favorable times of day to shoot the fall colors are the half-hours after sunrise and before sunset. Known as "Golden Hour," dusk and dawn provide soft light and warm tones.
3. Consider Your Point of View
For an unusual perspective, go above the trees at an overlook location. A higher elevation captures the variety of colors and allows you to literally see the forest for the trees. You can also do straight-on shots, close-ups of, and even pictures of the forest floor, which can be just as brilliant as the treetops!
4. Isolate the Image
While a grand, sweeping image is beautiful, sometimes a single leaf or a lone tree can be just as powerful. Try mixing in simple, isolated images with the rest of your collection.
5. Just Add Water
Look for lakes, streams, and rivers to create reflections, contrasts, and texture. For a truly striking picture, take pictures of trees mirrored on the water's surface.
6. Shoot Against the Sky
The shocking blue of the autumn sky elegantly compliments the warm colors of the leaves. Just remember to allow for lots of empty space where the sky can peak through the branches.
7. Talk to Locals
When you stop at the gas station or the roadside stand, take a minute to chat with the folks who live in the area. They'll know where to take the best fall foliage photos, and where to grab a bite afterward.
8. Don't Be Afraid of "Bad Weather"
Don't be detoured by rain or even an early snowfall. This "bad weather" just means more saturated colors against the contrast of a gray day. Additionally, overcast days create soft, even, beautiful light that is perfect for fall foliage photography.
9. Take Advantage of Fog and Mist
Soften and mute your colors by shooting in fog and mist. This will also add plenty of mood and mystery to your pictures. Halloween lovers will love the spooky images they can capture on dreary days!
10. Dress the Part
Remember to wear good walking shoes that will allow you to explore the terrain. You'll also want to dress in layers and bring along a lightweight, waterproof jacket in case of rain or snow. New England's weather is famously fickle!
Try Photographing Fall Foliage in New England Yourself with YMT Vacations
Traveling with a tour group means you won't have to plan, drive or stress during your vacation. Instead, you can enjoy lots of time to rest and watch the scenery while you scope out your next location from the window seat. Our Autumn Leaves Tour and New England & Canadian Maritimes Cruise and Tour are great ways to enjoy New England during the vibrant Autumn. Take the best fall foliage photos of your life while you relax and enjoy the changing of the seasons. To book your reservation, call your travel agent or YMT Vacations at 1-888-756-9072.
---