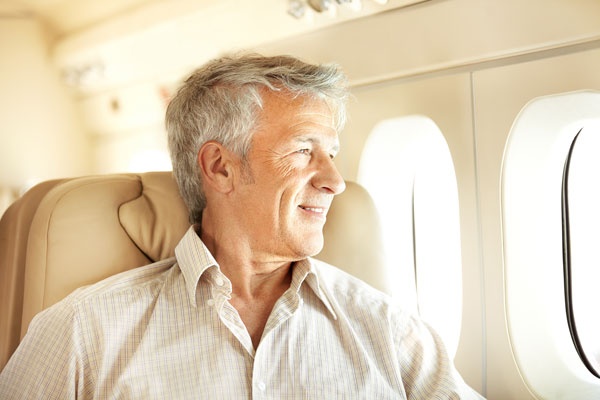 There are more and more long-haul flight paths these days as airlines expand their coverage areas. On the plus side, this means travelers can get to their destinations quicker and with less hassle, but sitting on a plane for an extended period of time can definitely be a challenge. There are ways to travel in comfort during long flights that will allow you to enjoy the journey to your final destination. Follow these 10 tips below to deplane relaxed and ready to enjoy your vacation:

Upgrade
Utilize miles, points, or upgrade privileges on your long flight. Doing so will give you access to a seat that reclines farther than economy, or fully horizontal so you can sleep normally. Attendants will also provide more personalized service, which makes a big difference when it comes to your overall comfort.
Select the Best Seat
Window seats allow passengers to rest more comfortably by providing a place to lean against, and you won't have to get up when someone from your row needs to use the bathroom. However, aisles make it easier to stretch your legs or get up and walk around the plane. Consult sites like SeatGuru and SeatExpert before finalizing your seat assignment to find out more information about the seat you have in mind.
Leave Plenty of Legroom
Anything you put under the seat in front of you means less legroom and less comfort during the course of your flight. Pack your carry-on items carefully so as not to jeopardize the amount of room you have for stretching your legs.
Pack Lounge Gear
A neck pillow, lightweight blanket, eye mask, and noise-canceling earplugs or headphones will help you relax during the flight. This gear also helps block out the noises and distractions from the other 300+ people on the plane. In addition, these lounge-focused items and some basic toiletries like toothpaste, a toothbrush, deodorant, and facial wipes will help you feel clean and fresh when you land.
Wear Comfortable Clothes
The temperature on a plane may be too cold for some travelers and too warm for others. You never know how you are going to feel so be prepared for both by packing some layers in order to adjust accordingly. Layers may include a shawl, light cardigan, and a pair of cozy socks. Avoid attire that will restrict your movement.
Nap When it Feels Right
While the thought of sleeping during the entire flight is appealing, there's a good chance that will not happen. There may be too many factors that distract you during your flight – talkative passengers, crying babies, flight attendants serving meals, turbulence, etc. Trying to force sleep will leave you feeling frustrated, so it's best to just take naps when your body signals that you need some downtime. If you plan to try a sleep aid on your flight, be sure to test them out beforehand. Keep in mind that the side effects may also be different at 30,000 feet. Talk to your doctor about which sleeping aid may be most appropriate for you.
Hydrate
Airplane cabins are often very dry. Drink plenty of water throughout your flight and limit your intake of tea, coffee, and alcohol.
Pack your Favorite Snacks
You will get meals served on a long-haul flight but it may not be what you are expecting. Traveling across various time zones means that you may be served breakfast foods when you expect dinner. To manage your hunger, snack on items you have packed yourself – nuts, protein bars, dried fruit, etc.
Load Up on Entertainment You Enjoy
Charge your electronics to help you pass the time with hours of music, movies, e-books, or games.
Walk Around Regularly
Get out of your seat on a regular basis to walk around and stretch your legs throughout the flight. Keeping your body active reduces the effects of cramps, swelling, blood clots, and deep vein thrombosis. If you are in a bulkhead or window seat where walking around feels like an inconvenience, there are leg stretches you can do while remaining seated.
Long-haul flights can have an effect on your mind and body, but it is possible to travel in comfort by using some of these tips. Look at the bright side of the situation – you've booked a wonderful escorted tour with YMT Vacations! Once you land, a guide will be with you each day as you explore local culture. Your adventures will make up for the long flight!