---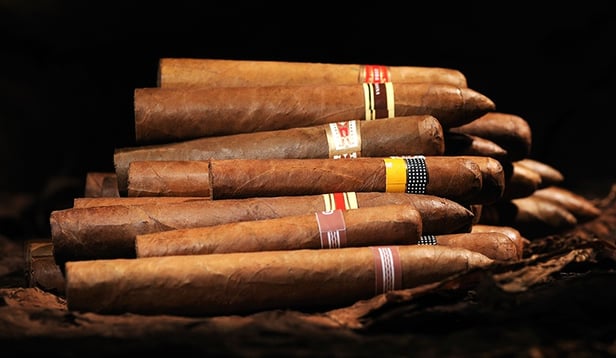 More than half a century after the last Cohibas were imported from Cuba, Americans can now bring $100 worth of the cigars into the country. Thanks to the widening of U.S. travel privileges to this Communist island, you can now legally procure some smokes for yourself but you may be surprised what $100 can (or can't) buy you. Here are some tips you'll want to know on bringing back cigars from Cuba:
Not only do cigar prices vary by brand, but conversion rates shift frequently, making it a bit tough to estimate exactly what you can expect to pay.
Cigars are a premium product, much like caviar or champagne, which means they aren't cheap. While buying them here is the cheapest way to secure them, the expense of maintaining their high quality means the price isn't negotiable.
It's tempting to be lured by the inexpensive smokes sold by street vendors but beware. Since it is virtually impossible to smuggle cigars from factories in Cuba, these are most certainly fakes and of inferior quality. Instead, purchase cigars from official stores known as Casa del Habano, or directly from the factory.
A good cigar is always kept in a humidor, which keeps it moist and pliable. To determine a cigar's freshness, simply give it a gentle squeeze for flexibility. Discolorations and cracks in the surface of the cigar are hints of poor quality.
Look for wrappers that are tight and free from frays.
Real Cuban cigars come packed in boxes marked with the distinctive Habanos S.A. seal in the upper right-hand corner and a Cuban warranty seal on the left.
The bottom of the box should have the words Habanos S.A., Hecho En Cuba. And if the box has the phrase Totalmente a Mano, the cigar is handmade and one of Cuba's best varieties. Below those you should find the factory code and a date stamp.
Avoid buying based on brand name and instead opt for flavors you enjoy.
You can only bring $100 worth of alcohol and/or tobacco products into the country so choose wisely between those Cohiba Esplendidos and your favorite Cuban Rum.
When visiting a cigar factory, look for the lectores, readers whose job it is to read aloud to the workers as they roll.
You can now visit Cuba on a YMT Vacations Cuba, Its People & Culture group tour. This 8-day educational journey features stays in Havana and Cayo Santa Maria. Explore Revolucion Plaza, visit the farm of Ernest Hemingway and attend cultural performances as you learn about modern-day Cuban life. To make your plans to join this exciting journey, call you travel consultant or YMT Vacations at 1-888-756-9072.
---