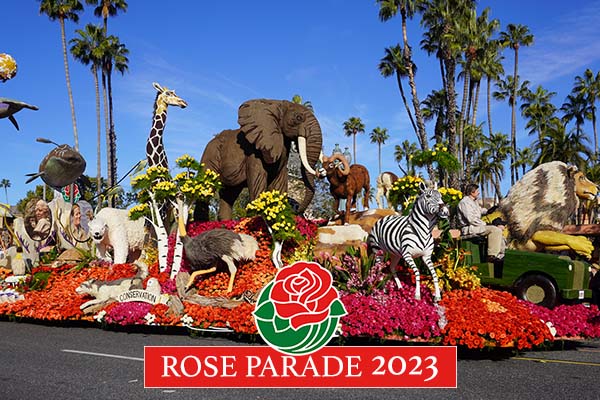 If you're one of the lucky revelers to descend on Pasadena for the 134th annual Tournament of Roses Parade—which features a spectacular procession of flower-covered floats, spirited marching bands, and high-stepping equestrian units—you will want to come prepared.
Whether you're going to sit in the grandstands, camp out for free curbside spots, view the floats up close at a pre- or post-parade event, or simply watch all the fun from home, this handy guide will help you plan and enjoy America's New Year Celebration!
Theme & Grand Marshal
Every year, the Rose Parade has a theme around which to center its year-round events and parade activities. This year's theme is "Turning the Corner." Whether that corner is literal or figurative, like the unlimited potential that each new year brings, we all enjoy the opportunity of a fresh start. Turning a corner means rising above – alone, or with family, friends, and community. This year, as we turn the corner together, we share in the hope, beauty, and joy of what 2023 will bring.
The Grand Marshal of the 134th Rose Parade is Former Arizona Congresswoman Gabby Giffords. Her recovery from traumatic injuries epitomizes the 2023 Rose Parade theme.
Rose Parade History
The first Rose Parade was staged on January 1, 1890 by Pasadena's Valley Hunt Club. The club consisted of wealthy Northeastern and Midwestern transplants who viewed the mid-winter parade as the perfect opportunity to flaunt their new home's perfect year-round weather. Club member Professor Charles F. Holder explained their motivation at a meeting. "In New York, people are buried in the snow. Here our flowers are blooming and our oranges are about to bear. Let's hold a festival to tell the world about our paradise."
That year, members organized an event for a crowd of 2,000. It included flower-draped horse-drawn carriages, foot races, polo matches, and a competitive game of tug-of-war. The abundance of flowers on display prompted the professor to name the event the "Tournament of Roses," and the beloved tradition was born!
Parade Participants
You can look forward to seeing three types of entries at the Rose Parade. Floats, marching bands, and equestrian units travel down Colorado Boulevard in a flurry of sights and sounds. The only cars you'll see carry the parade's biggest VIPs. Wave back to Grand Marshall Gabby Giffords, the Mayor of Pasadena, the Tournament of Roses President, and the 2023 inductees to the Rose Bowl Game Hall of Fame.
Rose Parade Floats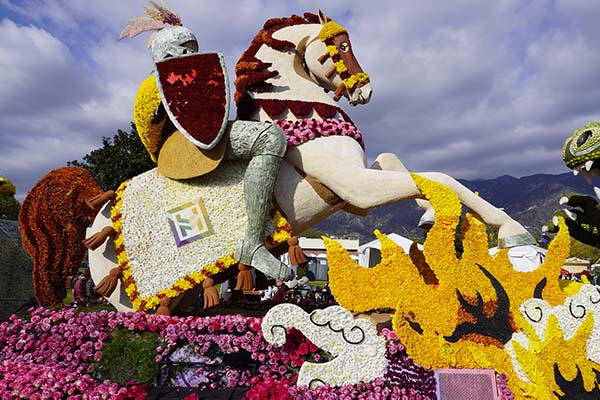 The Rose Parade's extravagant floats often feature high-tech animated creations, and exotic materials from around the world. Rose Parade floats must be covered with flowers or other natural materials. Many of the over 40 floats take professional teams a full year to complete, with final touches of plants and flowers added by volunteers in the days before the parade.
There are still a few smaller volunteer groups that build their own floats, including the Valley Hunt Club. The founders of the Rose Parade stick with tradition and decorate a simple carriage with roses, just as they did when the parade first began more than a century ago.
Marching Bands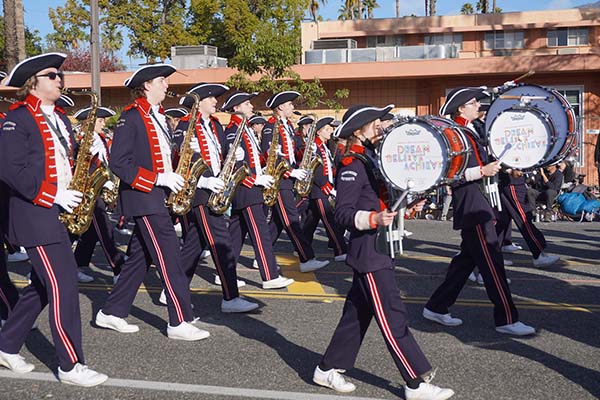 The Rose Parade's musical legacy dates to 1891 when the Monrovia City Band joined the procession in the second Tournament of Roses Parade. Since then, a number of bands have become staples of the event with long-standing arrangements that guarantee their participation: the Official Honor Band hosted by Pasadena City College, the Los Angeles Unified School District Honor Band, the Salvation Army Marching Band, and the United States Marine Corps West Coast Composite Band.

Marching bands from across the world compete for a coveted slot in the parade. Winners are chosen based on musicianship, marching ability, entertainment, and special interest value. Past parades have featured drum and bugle corps, brass bands, and bag pipers, along with high schools, university, and Military bands.

Volunteer members of the Tournament of Roses select each year's participants approximately one year in advance. The early decision gives the organizations time to fundraise and garner support for the trip. Of the hundreds who contended, 19 have been selected to perform on January 2, 2023.

In addition to marching in the five-and-a-half-mile parade, the bands will also perform in Bandfest. Over the course of two days each group, along with its auxiliary performers, will present their halftime show in a battle of the bands held on the field of Pasadena City College.
Equestrian Units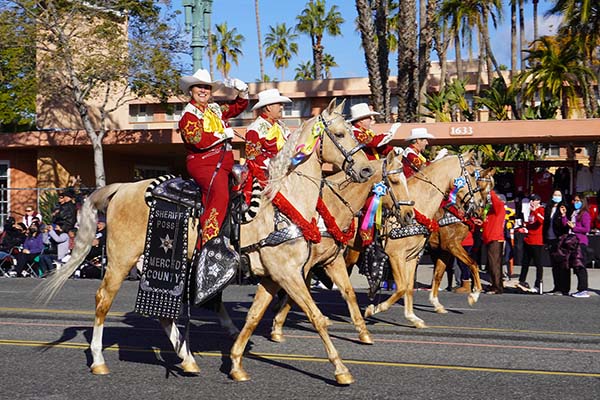 Since the first Rose Parade in 1890, horses have been a staple of the event. A variety of horse breeds, many trained to show off special skills, stride down the parade route to the delight of the crowd. Horse and rider often wear coordinating outfits related to their breed history or the parade theme.
Rose Queen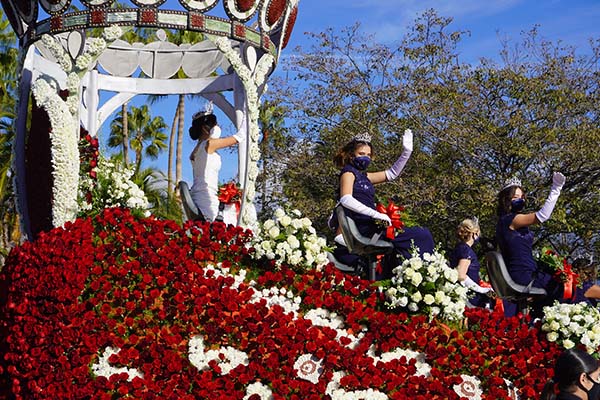 The Rose Queen is crowned each year from a pool of over 1,000 young women from in and around Pasadena. The queen and a court of six Rose Princesses act as ambassadors of the Rose Parade. Over the course of their yearlong reign, these young ladies will attend over 100 local events.
During the Rose Parade, you can see the Royal Court waving from a specially designed float. You can tell who the queen is by the $100,000 crown on her head. It has 6 carats of diamonds and 600 cultured pearls.
Rose Parade 2023 Event Details
2023's parade takes place on Monday, January 2nd, 2023 from 8:00 AM - 12:00 PM. The reason the parade is on January 2nd instead of New Year's Day this year is because of a long-held tradition that the parade never takes place on a Sunday. January 1, 1893 fell on a Sunday, but because parade organizers didn't want their event to spook the horses waiting outside the churches lining the parade route, they moved the event to January 2.
The parade takes 2 ½ hours to cover the 5 ½-mile-long route down Colorado Boulevard, come rain or come shine.
The average temperature range is 50° F - 68° F. The mornings usually warm up around 10:00 AM, but until then, layer up, enjoy a warm drink, and complain about the cold like a true Angeleno!
You should be seated by 7:00 AM if you're at the start of the parade west of Fair Oaks Ave. Otherwise be at your seat by 8:00 AM.
Rose Parade 2023 COVID-19 Protocols
The Tournament of Roses Parade and official activities are closely following all guidelines put in place by Los Angeles County and the City of Pasadena's health departments. There are currently no mask mandates or vaccination requirements.
Rose Parade Seating
Every person must have a ticket to sit in the reserved grandstand seats. The only exception is for children two years of age or younger who can stay on an adult's lap for several hours. Tickets for grandstand seats are available for purchase through Sharp Seating Company.
YMT's grandstand seating is located mid-route near Pasadena City College, on the southside of the street facing away from the sun. Seats are conveniently located near our designated parking area approximately a quarter mile away.
Non-Ticketed Viewing Areas
Curbside viewing is available on a first-come, first-served basis. Pasadena city ordinance allows the occupancy of curbside space along the parade route beginning at noon on the day before the parade.
Accessible Seating Areas
Three street-level viewing areas along the parade route are reserved for people with disabilities and their guests. Each person with a disability is allowed up to four guests.
There is a section with audio descriptions for visually impaired visitors, and another section with sign language interpreters. Tickets to all viewing areas are free. No seats are provided, so viewers must bring their own chairs, cushions, stools, etc.
To request space at one of the three viewing areas, please complete this form.
Rose Parade Safety
A number of items are prohibited along the parade route including weapons, sticks, poles, drones, glass bottles, and any items which may cause injury or interfere with the parade or spectators' enjoyment of the parade. Umbrellas are not allowed in the grandstand if it does rain, for that reason.
Each grandstand has adjacent sanitation facilities. Note that lines can be long right before and after the parade.
Rose Parade Parking and Transportation
Plan to park two hours prior to the estimated time of arrival of the parade for your seating area. For example, if you are sitting at the beginning of the parade route you should park by 6:00 AM
You will need your ticket to gain access to areas within the boundaries of the Tournament of Roses security zone. Arrive at your parade seat within this location by 6:30 AM on January 2. Your ticket or valid credential must be displayed to any usher, public safety personnel, or authorized representative of the Tournament of Roses upon demand. All patrons are subject to search.
Reserved parking for automobiles, buses and recreational vehicles is available for purchase through Sharp Seating Company (626) 795-4171; Colorado Boulevard Parking (858) 692-0868 or (949) 295-6537; City of Pasadena (626) 744-6470; LAZ Parking (626) 578-1705; and AP Parking (858) 692-0868.
Paid parking is also offered on a first-come, first-served basis at various lots and parking structures near the parade route.
Overnight parking on Pasadena streets begins at noon the day before the parade, for that evening only. All "No Parking" areas and red curb zones remain off-limits, and vehicles in violation will be subject to impound and a fine.
There is no parking allowed on the parade route itself. Illegally parked vehicles will be impounded.
Rose Parade Television Coverage
The parade's American television audience is 50 million, with 30 million international viewers.
The Rose Parade starts at 8:00 AM PST, and can be watched live on ABC, NBC, Univision, Hallmark Channel, or RFD TV.
It is free to stream the Rose Parade on your computer or mobile device on KTLA 5. Watch live at 8:00 AM or repeats at 10:00 AM, noon, and 2:00 PM.
Pre-Parade Event: Float Viewing Decorating Places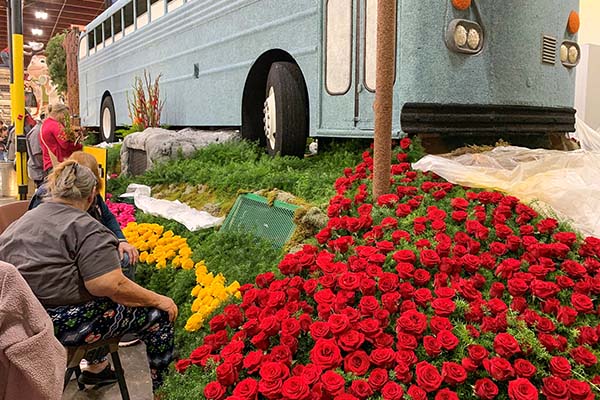 You can watch nearly completed floats receive their final decorative touches in the massive flower-scented Rosemont Pavilion at the Rose Parade Decorating Places pre-parade event. It is included for YMT Vacations guests on our Rose Parade tours.
Every exposed surface on Rose Parade floats must be covered by hand with flowers or other natural materials. It takes an estimated 60 volunteers working 10 hours a day for 10 days to put the final decorations on a single float.
Location: Rosemont Pavilion: 700 Seco Street, Pasadena.
Parking is free and available on a first-come, first-served basis in various parking lots near the Rosemont Pavilion and Jackie Robinson Baseball Field. Please note that these parking lots are shared with other establishments within the Arroyo Seco Park area.
Post Parade Event: Floatfest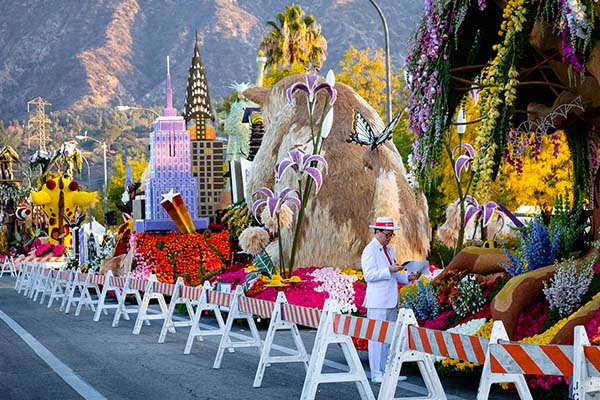 Following the Rose Parade, this event allows spectators to walk within feet of the lavish floats parked along Sierra Madre and Washington Boulevards. Close to 150,000 people will visit Floatfest: A Rose Parade Showcase to look at the design and workmanship of each entry, and to learn more about the process from volunteers.
Location: Sierra Madre and Washington Boulevards, Pasadena.
January 2, 2023: 1:00 PM - 5:00 PM (ticket sales end at 3:00 PM, last entry at 4:00 PM)
January 3, 2023: 7:00 AM - 9:00 AM (reserved for seniors and disabled visitors)
January 3, 2023: 9:00 AM - 5:00 PM (ticket sales end at 3:00 PM, last entry at 4:00 PM)
Cost: $20 General Admission (free for children five and under).
.
Visit the Rose Parade in Person
Enjoy 2023's Rose Parade & Los Angeles or Rose Parade & Coastal California Tour with YMT Vacations starting on December 30, 2022. These tours include the pre-parade float viewing event, grandstand parade seating, and a festive New Year's Eve dinner with a presentation by White Suiters from the Tournament of Roses! Call your travel professional or or YMT Vacations at 1-888-756-9072 to book!