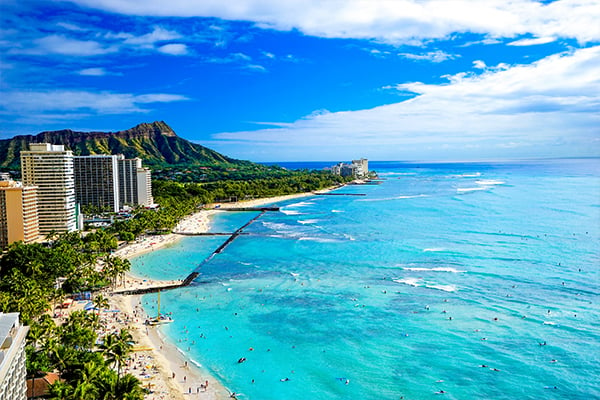 There are countless interesting facts about Hawaii. Because the islands are thousands of miles away from their nearest neighbor, the environment and culture developed and adapted in fascinating and unique ways. The intriguing stories and facts about Hawaii's human and natural history could fill a book, but there are plenty of amusing facts about Hawaii, too.
The birthplace of surf isn't too friendly to snakes, for example. And this tropical paradise has been used as a stand-in for both the moon and the world's most dangerous theme park.
Read on for just a small sampling of interesting facts about Hawaii.
Fascinating Hawaii History Facts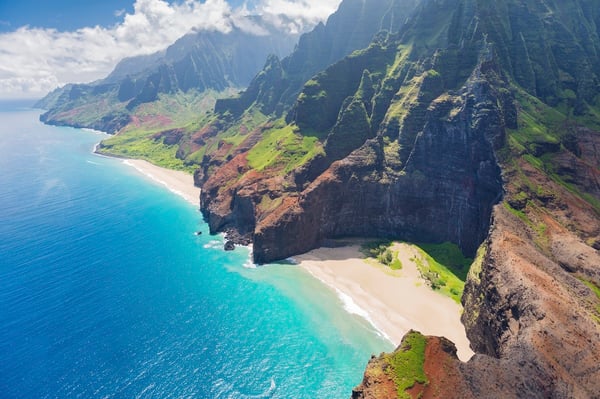 Polynesian explorers navigated by the stars to the distant shores of Hawaii about 1,500 years ago. The 2,000 mile journey was a one-way trip, and the people who took it went on to create one of the most interesting cultures in the world. Modern Hawaii is built on this history, as well as the American, European, and Japanese influences that followed.
A small portion of the Big Island is technically part of Britain. The bay where English Captain James Cook was killed is marked by a 27-foot-tall obelisk surrounded by a small parcel of cordoned off land. A 19th century Hawaiian princess gifted the site to the British government, who still owns and maintains it as a tract of sovereign soil.

Lahainaluna High School on Maui is the oldest school west of the Rocky Mountains. It was established in 1831 as a Protestant seminary, and functions today as a public high school.

The ancient Hawaiians invented surfing hundreds of years ago. They viewed it as a spiritual artform that required strength, skill, and the favor of the gods to master.

Since the 1960s, NASA has used the lava fields of Mauna Loa for

astronaut training

. The jagged, rocky ground is similar to the Martian and lunar surface, and is the perfect place to master the moon walk.

King Kamehameha, one of Hawaii's greatest rulers, united the Hawaiian Islands in 1810. He formed the Kingdom of Hawaii from independent islands across the Hawaiian archipelago.

The first successful nonstop flight from the Mainland to Hawaii landed in June of 1927. Two lieutenants from the U.S. Army Air Corps piloted the 26-hour flight from Oakland to Honolulu.

The day after the surprise attack on Pearl Harbor in Oahu on December 7, 1941, the United States formally entered World War II.

Hawaii became the 50th U.S. state on August 21, 1959. When given the choice between remaining a U.S. territory or becoming a state, 94.3% of Hawaii's population voted for statehood
Interesting Travel Facts About Hawaii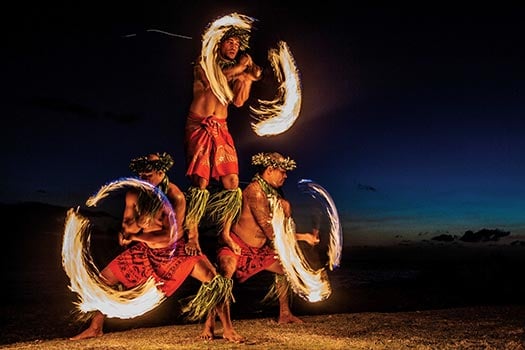 Millions of people visit Hawaii each year. For Americans, it's paradise close to home that doesn't require a passport. What's not to love? Here are some interesting Hawaii facts for vacationers eager to know everything they can about the Aloha State.
Hawaii receives more than 9 million tourists per year. The tourism industry brings $16 billion of annual revenue to the state.

Hawaii is the only state outside of North America. The contiguous United States and Alaska are both on the North American continent, while the Hawaiian Islands are technically located in Oceania.

There are 132 Hawaiian Islands, and more than a hundred islets, shoals, and reefs.

Island Time is real. Hawaii goes by Hawaii Standard Time, a time zone that only exists on the islands. When you set your watch to local time, be sure to remember that Hawaii doesn't follow Daylight Savings Time!

NCL's

Pride of America

is Hawaii's only U.S. flagged cruise ship. That means it is the only ship that can stay in Hawaiian waters and not have to stop at an international port.

You can mail a coconut as easily as a postcard. Slap an address and some stamps on a dried-out coconut, and send it as the perfect "I wish you were here."

Hawaii is the most isolated major population center in the world. It is nearly 2,400 miles from the United States, and more than 3,800 miles from Japan, its next closest neighbor.

Ka Lae on the Big Island is the most southernmost point in America. It's commonly referred to as South Point, a fitting nickname.

Fun Facts About the Islands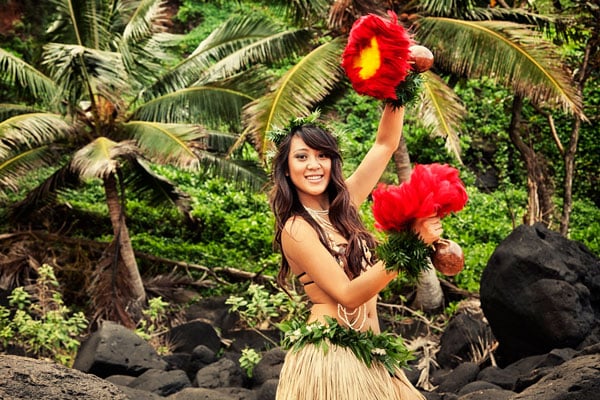 Some of Hawaii's interesting facts can't be categorized as anything but fun. Quirky, interesting, charming, and unique, Hawaii is truly full of fun facts.
Maunakea on the Big Island is the tallest mountain in the world. Measured from its base on the ocean floor to its often snowy peak, this dormant volcano is 33,496 feet tall.

The ancient Hawaiians did not have a written language, and instead preserved knowledge and stories orally and through dance.

Hula

was traditionally one of the most important tools for maintaining their history.

Hawaii's

black sand beaches

are made up of lava fragments. Once hot lava hits the ocean, it cools down instantly and turns into jet black rocks. These rocks maintain their color when they break down, eventually eroding into the gorgeous ebony sand found at Punalu'u and other black sand beaches.

Hawaii is an irresistible shooting location for Hollywood's best directors, and dozens of movies and television shows have been filmed on the islands. Jurassic Park and its successful sequels, Raiders of the Lost Ark,

North Shore

, and both the original and currently filming reboot of Magnum P.I. are among the biggest titles to take advantage of Hawaii's stunning scenery.

You can find the world's largest pineapple maze on the Dole Pineapple Plantation on Oahu. It covers over three acres, and most people celebrate completing the maze with a delicious Dole Whip.

Billboards are illegal in Hawaii. Maintaining the stunning views is better for tourism—and the general Hawaiian quality of life.

Santa Clause arrives in Hawaii on a bright-red outrigger canoe. Don't be surprised to find

Santa decked out in a Hawaiian shirt

and bright red swim trunks. He sometimes even rides his surfboard right up to the beach! The long white beard, however, is the same here as everywhere else.

Hawaii was once one of the world's biggest pineapple producers, but today only 2% of the global crop is grown on the islands. Not that you can tell. Fresh local pineapple is available everywhere on Hawaii, and it is the only fresh produce visitors are permitted to bring back to the Mainland

Hawaii is the only state in American that commercially grows

coffee

, cacao, and vanilla beans. The tropical climate and rich soil make it perfect for these hard to grow crops.

The Hawaii state fish is the Humuhumunukunukuāpuaʻa, roughly translated to "trigger fish with a snout like a pig."

Buildings on Kauai can be at most four stories high. The reason? Law forbids any building taller than a palm tree.

Lei are given as a sign of friendship and hospitality, so turning one down is seen as a severe insult.

There are 75 golf courses in Hawaii, including

ten on Maui

. Golfing is extremely popular for Hawaiian tourists and locals alike.

The Hawaiian alphabet only has 12 letters: A, E, H, I, K, L, M, N, O, P, U, and W.

Gambling is outlawed in Hawaii. You can't play cards on cruise ships in Hawaiian waters, and there isn't even a state lottery. Locals instead have to scratch the gambling itch on the mainland or in international waters. The most popular choice is Las Vegas, nicknamed Hawaii's 9th island.

Mount Waialeale on Kauai receives nearly 400 inches of rain per year. It rains every day and is one of the wettest places in the world.

Spam is very popular in Hawaii, and the islands have the highest per capita consumption of Spam in the United States. The dish you're most likely to find is

Spam musubi

, a type of sushi made with rice and grilled Spam.

It is illegal to bring snakes into Hawaii. There are no native species, and the government imposes high fines and several years in jail to any convicted serpent smugglers. Hamsters and ferrets are also banned.

Hawaiian life expectancy is the highest in the United States. The life expectancy for babies born in 2020 is a stunning 81.15 years.

Hawaii's state motto is Ua Mau ke Ea o ka Aina i ka Pono. In English, that means, "the life of the land is perpetuated in righteousness."
Enjoy a Hawaii Vacation with YMT!
If these interesting Hawaii facts intrigue you, you should visit the islands with YMT Vacations. Drink some homegrown coffee, ship your grandkid a coconut, and sleep easy knowing that there are neither snakes nor hamsters within thousands of miles.
Our island-hopping Hawaiian land and cruise tours are a great way to experience the islands. Call your travel consultant or YMT Vacations at 1-888-756-9072 to book today!