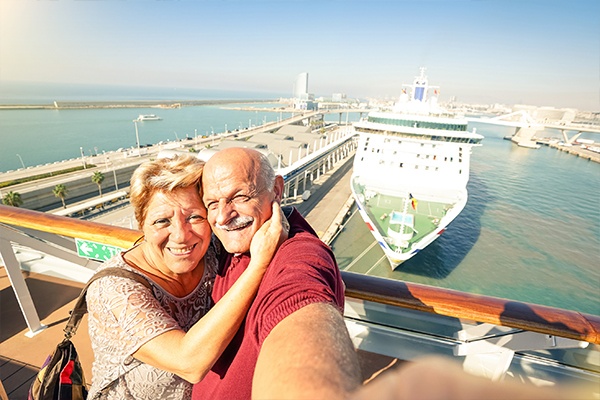 A transatlantic cruise typically spans over a three to four week period, and will take you across multiple countries. Not only do you get to look forward to living on a ship for several weeks, but you also are able to enjoy the added land portion, allowing you to see the best of what of these foreign countries have to offer. One of the best things about transatlantic cruises is that very little is required from you! Slow down, spend time with your loved ones, and enjoy hassle-free travel. Booking this type of trip is a big decision and if you are weighing your options, consider these five reasons you will love a transatlantic cruise:
1. Explore what your ship has to offer — Travelers may be too tired after daily port visits to fully take advantage of all the ship has to offer. But with four to six consecutive days at sea during the crossing, you can enjoy all the ship has to offer if you start feeling bored. Pass by the aquapark, visit the TV studio and bar, try your hand at the bowling alley, and sample various dining options. There are pools, shops, spas, and gyms for all your wellness needs.
2. Soak up the entertainment – Cruise companies do all they can to give their guests a variety of entertainment options. A newsletter is usually delivered to cabins each night with details about activities happening the next day. You can pass some of your time with new and unique experiences if that sounds appealing. For example, vessels may offer original musical productions, live music, karaoke night, talent shows, magic shows, etc. Soak it in and enjoy the options.
3. Embrace your down time – A transatlantic cruise offers you plenty of time to unplug and relax. You are on vacation, so there is nothing wrong with low-key moments. Whether that means sitting near the pool and taking naps, reading a few books, getting spa treatments, spending time in the hot tub, or people-watching, give your mind and body some tender loving care.
4. Do things you've been wanting to do – When you have four to six days of uninterrupted time, you can finally do the things that have been on your bucket list too long. Start the book(s) you've been wanting to read, listen to podcasts, watch movies, use the time to journal, write postcards, master the art of chess, or plan your next big family event.
5. No jet lag involved – One aspect of a transatlantic cruise you will appreciate is the lack of jet lag. This is because when traveling west, you will gain almost an hour each day, while traveling East results in losing almost one hour a day. But many cruise lines adjust their clock at Noon, so your body won't notice a difference whichever way you are going. If jet lag has been a deterrent for previous trips, you can rest assured that you'll be able to step off the ship, refreshed and ready to explore.
Enjoy a vacation where you can experience multiple new cultures on your travels, while having the comforts and amenities of home. Tour guides and cruise staff will take care of your needs so that you can avoid the hassle of planning. YMT Vacations Transatlantic cruise options will give you the freedom and flexibility to do as much or as little as you want, making it a truly unique experience. Contact us today to learn more.