---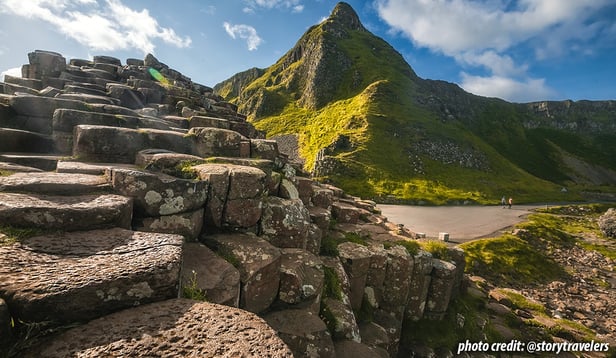 Like stepping stones leading to the sea, the hexagonal pillars of Giant's Causeway are like nothing you've ever seen. A honeycomb of 40,000 columns poking up along the shore, these formations were created 60 million years ago by molten lava that crystallized into basalt pillars as it hit the frigid waters. If you plan to visit Ireland, this other-worldy attraction is a must. However, here are five tips you'll need to keep in mind when traveling to Giant's Causeway:
---
Take a Hike -- There is a bit of a walk from the Visitor's Center out to Giant's Causeway. While the nearly mile-long hike may be a cinch going downhill to see the towering columns, the uphill trek back to the car can be taxing. Make sure that you are up for the moderate physical activity and that you bring along comfy, walking shoes or plan to take the bus which runs both directions.
Keep Hydrated -- If you do decide to get out and walk about, bring some water to drink along the way. Better yet, plan to also stop at a pub for a drink afterward.
Picture Perfect -- To capture the wild beauty of the place, you'll have to be patient. Other tourists will gather at the same viewing areas so be polite and wait your turn. Once you've found your location, you'll want to identify your angle, get your camera ready and wait for the perfect shot. It's also a good idea to go early in the morning or later in the day when the causeway is less crowded.
Weather or Not -- It's hard to predict the weather out here so bundle up in layers on a chilly day and always bring an umbrella or rain jacket to combat the sudden rain and the mist off the ocean.
Hidden Costs, Simple Solution -- While driving Giant's Causeway is free, parking is not. To save on parking fees, consider traveling with a group tour like YMT Vacations. You'll enjoy the history and cultural information told to you by your driver-guide while you sit back and let someone else do the driving.
---
This UNESCO World Heritage Site is one of Ireland's most visited attractions. Travelers from around the world come to witness this strange landscape that has sprouted along the picturesque shores of the Emerald Isle. You can experience the Giant's Causeway and Ireland's other famous sites on YMT Vacations' Best of Ireland Tour. To make your plans to join us, contact your travel professional or call YMT Vacations at 888-756-9072.
---