---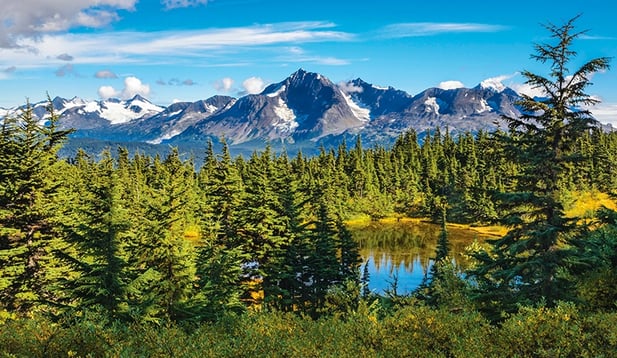 Journeys like YMT Vacations' Alaskan Discovery Tour are a once-in-a-lifetime experience. To make the most out of your group travels to the Frontier State, keep in mind these five tips:
1. Upgrade the Experience

You can make even more Alaskan memories when you add optional upgrades to your vacation. From a scenic train ride from Fairbanks to Denali Park or an optional tundra wilderness tour, these a la cart options let you choose additional experiences that will make your trip even more unforgettable.
2. Extend Your Vacation

It's often the flight that is one of the most expensive portions of your travels. By adding on to your vacation, you can enjoy two trips while only paying the traveling costs of one. The Alaskan Discovery Tour can be extended by adding on a 7-day cruise along the Inside Passage aboard the Norwegian Sun. This 17-day journey includes all the highlights of a land tour plus an all-inclusive sailing, which features all meals onboard ship.
3. Go Exploring

Typically, guided tours allow time for group travel and time to explore the area on your own. Rather than calling it a day after you return to the hotel, venture out to see the highlights of the city or enjoy a good meal -- all at your own pace.
4. Arrive Early or Stay Late

Plan to arrive a day or two early or stay a bit later at the end of the tour. This allows you to explore your arrival and departure cities while adjusting to a new time zone and traveling at your leisure. This is especially beneficial if you have a red-eye flight that you'd like to recover from.
5. Take a Leisure Day

Many travelers enjoy a leisure day mid-trip to unwind and recharge before the remainder of the journey. On the Alaskan Discovery Tour you can explore the quaint town of Homer without any schedule to adhere to. It's the perfect way to take in the breathtaking scenery and laid-back locale before heading to Alaska's largest city.
---
You can experience the inspiring wildlife, undeveloped wilderness, and sweeping mountain vistas of Alaska on an expedition of your own. YMT Vacations' Alaskan Discovery Tour is a 10-day journey that includes Kenai Fjords National Park, Denali National Park, and the Iditarod Sled Dog Headquarters. You'll explore the Alaskan gold mining history of the Gold Dredge #8 and a thrilling glacier and wildlife catamaran tour. To make your plans to join this unforgettable journey, call your travel consultant or YMT Vacations at 1-888-756-9072.
---
</h3