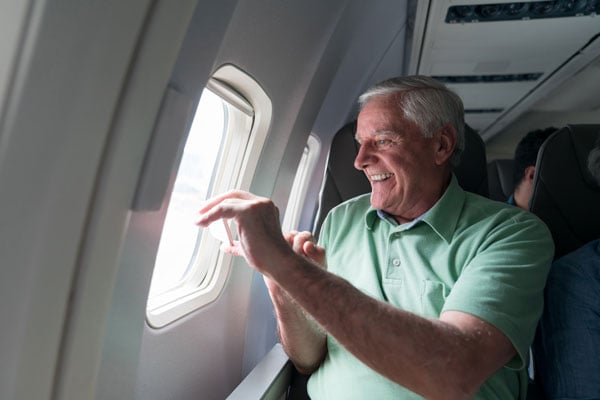 You've been looking forward to your vacation, and getting sick on the flight is the last thing you want to happen. Unfortunately, you can't predict whether you'll be surrounded by other passengers who are fighting a cold or flu, so it's best to take some precautions to avoid getting sick. Here are 5 ways on how to avoid getting sick so you can enjoy your tour:
Cleanliness is Key – Various studies have found that tray tables contain more bacteria than the bathroom flush buttons. Pack travel-sized disinfectant wipes and use them to wipe down your armrests, tray table, and screen when you first get to your seat so you can start out in a relatively clean environment. If you need to use the bathroom, use paper towels as a buffer when touching any surface. Wash your hands, but also use hand sanitizer or wipes once you get back to your seat.
Stay Hydrated – When flying at an altitude between 30,000 to 35,000 feet, humidity levels decrease and cause the natural defense system of mucus in the nose and throat to dry up. Dehydration may make travelers more susceptible to germs, as well as headaches, fatigue, stomach problems, etc. Drinking water throughout the flight helps counter dehydration so that your membranes remain moist and can continue to defend your body against germs. Nasal mists have also been found to be helpful in case you want to pack one in your carry-on.
Choose your Seat Wisely – Did you know there is a greater chance of getting sick if you are in an aisle seat? Passengers in the aisle have exposure to more people and therefore a lot more germs during the flight. Studies have also found that the back of the plane has the dirtiest air in the cabin. If you are comfortable with the idea of sitting in a window seat, you'll be in contact with fewer people. If you prefer to sit in an aisle seat, consider wearing a mask or wrapping a scarf around your nose and mouth to minimize your germ intake.
Allow Air Circulation – Even if you are chilly, keep the air vent above your head turned on to a low or medium setting. It will keep the air moving and reduce the chances of sickness during a flight since viruses associated with a common cold linger in the air. Just make sure to direct the vent away from your face.
Avoid Contact – Hands are the most common point of contact with cold and flu germs on planes and elsewhere. Airplane cabins are tight places so you can't avoid touching everything, but you should be aware that the seatback pocket in front of you is full of germs. If you store your phone, computer, book, or water bottle in this area, wipe these items down before leaving the plane. If possible, do not use in-flight magazines, blankets, and pillows because there's no guarantee these items have been cleaned recently. It is best to bring your own.
Sitting in a contained space for several hours means you will be exposed to germs, but following these five tips on how to avoid airplane sickness should greatly reduce your chances of getting sick. If your YMT escorted tour is to Asia or Australia and New Zealand, be extra diligent since you will be in transit for a longer period of time. These precautions are worth the effort so that you feel relaxed and ready to explore when you arrive at your destination for your guided tour with YMT Vacations.