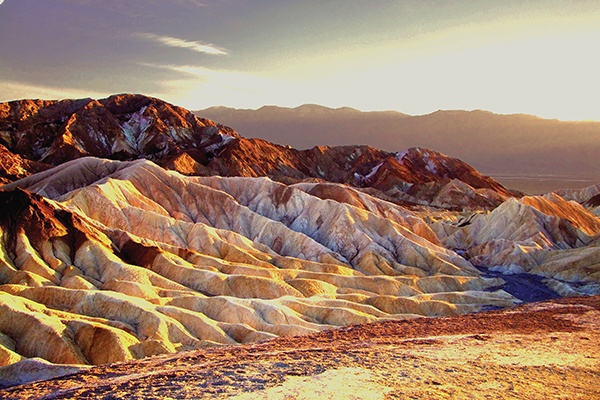 The United States National Parks System covers more than 84 million acres of rivers, mountains, plains and coastlines, attracting over 330 million visitors a year. Many of these visitors flock to the park system's main attractions—the Grand Canyon lookouts, Old Faithful in Yellowstone National Park, and the sandstone arches of Utah's Arches National Park.
While these are all amazing sights, you also need to visit the following hidden gems. And despite some little known national parks being difficult to get to, these parks are easily accessible.

Schoodic Peninsula, Acadia National Park
With views of Mount Desert Island, a picturesque lighthouse, and a stunning rocky coastline, Schoodic Peninsula is one of the few areas of Acadia National Park on the mainland, which may explain why it's not as well-traveled as the rest of the park.
Death Valley's Eerie Rock Formations
Death Valley is often overlooked as a destination when people consider the western national parks. The name itself is off-putting, and the region's reputation for extreme heat makes many visitors think twice. But it's well worth the effort, and actually quite accessible: the best way to view the valley's otherworldly rock formations—the result of volcanic activity, erosion, and a long-gone ocean floor—is from the comfort of a tour bus.
Sliding Sands Trail, Haleakala National Park
If you're traveling to Hawaii, you have to watch the sunrise (or sunset) over the Pacific ocean at the 10,023-foot summit of Maui's Haleakala National Park—an event so popular tour buses take visitors to the summit every day.
Denali National Park Bus Tours
Denali National Park covers six million acres of pristine Alaskan wilderness. While you can hike into the interior, it's rough going. We prefer the guided bus tour. Running from late May to mid-September, bus rides offer a chance to see caribou, grizzlies, wolves, and more—all from the safety of your seat.
The Adirondacks in the Fall
Technically we're cheating here—the Adirondacks Park is a New York state park, not a national park. A patchwork of boreal forest, mountains, and villages, the Adirondacks shines all year round, but is particularly stunning in the fall, when the park turns all matter of yellow, red, and golden with beautiful autumn leaves.
Mammoth Hot Springs
Old Faithful may get all the press, but Yellowstone's Mammoth Hot Springs are an attraction in their own right. Located southwest of the park's north entrance, the springs' calcium carbonate deposits have produced amazing natural sculptures. Watch for elk, which often graze near the springs. The nearby Albright Visitor Center offers year-round exhibits about the park's wildlife and history.
Alternative National Parks
Although not exactly what you might call 'hidden gems,' popular national parks such as Yellowstone National Park and Yosemite National Park are what we'll call must-see gems. Yellowstone offers breathtaking geysers, pristine lakes, and towering mountains. Keep your eyes peeled for the vast array of captivating wildlife, including elk, moose, buffalo, and bears. Discover the tranquility of Hayden Valley and its stunningly vibrant geysers.
California's Yosemite National Park features dazzling waterfalls, towering trees, and impressive granite cliffs. Perhaps the two most popular summits in Yosemite—Half Dome and El Capitan—provide spectacular views, rising thousands of feet into the sky.