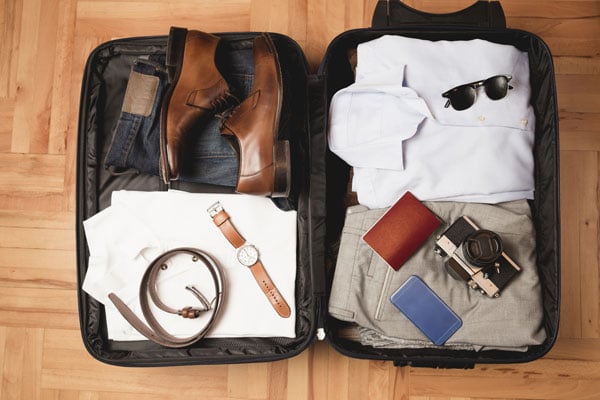 Travelers are typically allowed to bring one personal item and one carry-on bag onboard at no cost whether flying domestic or international. If you decide to forgo checked luggage altogether to save on baggage fees, or just want to make the most of your carry-on, there are some great ways to get everything you need on the plane with you! While you should be prepared for some trial and error, here are six tips for how to pack efficiently when using a carry-on:
Plan around your shoes first – How to pack shoes for travel can be baffling for many travelers. Shoes tend to be the bulkiest items and how you pack them can have a big impact on how many other items you can fit into the rest of the space. Limit the number of shoes you bring to three pairs – flats, walking shoes, and one pair of dress shoes. Wear the heaviest of those options and then pack the other two pairs at the very bottom of your bag. Fill the empty crevices of your shoes with socks, phones chargers, and other small items.
Use packing cubes – Packing cubes organize your items by allowing you to pack similar items within the same space. Sort your baggage into categories, such as tops, bottoms, undergarments, and accessories so that they are not haphazardly placed within your suitcase. In that way, they also act as a great timesaver.
Be strategic about your wardrobe – Pack tops and bottoms that pair well together. Interchangeable outfits give you the option to mix and match combinations with just a few key pieces. For example, pack a few pairs of pants or skirts and only bring tops that would match any of them.
Choose the best folding technique for each item – There are two main folding techniques you can utilize: the traditional fold and the rolling fold. Use the traditional fold for clothes that wrinkle easily such as dress shirts and trousers. Fold these garments along the seams to keep them neat and compact. The rolling fold should be used for tops, dresses, skirts, pajamas, etc. Fold the garment once vertically and then roll from one end to the other.
Wear your heaviest items – If your trip is taking you to a cold destination that requires a coat, wear it! Packing a coat in the carry-on suitcase will not leave room for much else. When heading to a warm weather destination, you may plan to pack a shawl, long pants, and a long-sleeve top. You can wear those items on your flight to create more space in your hand luggage since the air on the plane will likely be chilly.
Be selective about your liquids – Not being able to take more than the TSA allotment is the main reason passengers may feel forced to check a bag. When gathering your liquids, ask yourself if each item is essential. If you are staying in a hotel during your tour, you can opt to use the hotel's shampoo, conditioner, and body wash. If you prefer liquids you are familiar with, invest in mini-versions or use TSA-compliant travel containers.
These are just a few tips when it comes to optimizing your carry-on space in preparation of your vacation. Some of the items you try to pack the first time around may ultimately be omitted, and that's okay! In the end, you'll have everything you need to make the most of your tour, and know exactly how to pack your carry-on luggage for future trips.