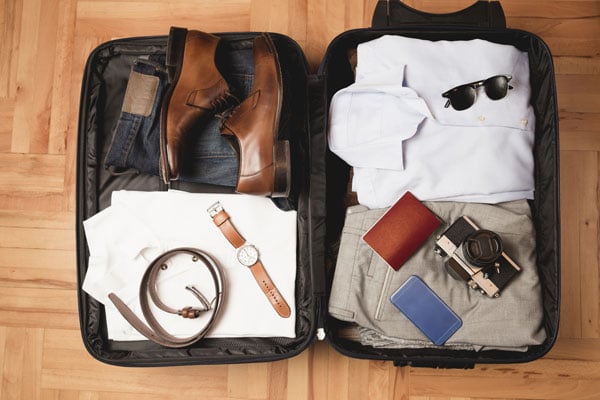 Whether you're flying domestic or international, you can typically bring one personal item and one carry-on bag with you aboard the plane at no extra cost. If you decide to forgo checked luggage altogether to save on baggage fees, or just want to make the most of your carry-on space, there are some great ways to get everything you need on the plane with you!
While you should be prepared for some trial and error, here are six tips for how to pack a carry-on efficiently:
1. Plan Around Your Shoes First
How to pack shoes efficiently for travel is a big concern for many. Shoes tend to be quite bulky and can take up valuable space. In order to pack them efficiently, first start by choosing a versatile pair of shoes that you can use for a variety of occasions. Consider leaving shoes at home that may only match one outfit for one evening out.
Wear the bulkiest pair of shoes on the plane. Pack any other pairs at the bottom of your carry-on and stuff the insides with socks, underwear, chargers, and other smaller items to fully utilize every inch of space.
2. Using Packing Cubes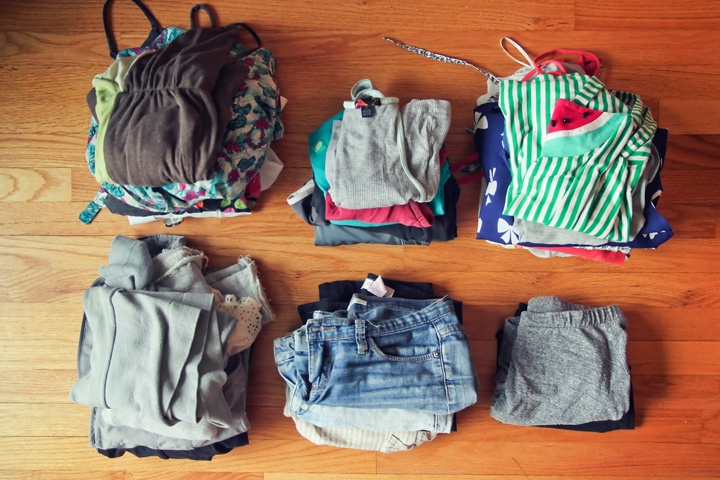 Packing cubes organize your items by allowing you to pack similar items within the same space. Sort your baggage into categories, such as tops, bottoms, undergarments, and accessories so that they are not haphazardly placed within your suitcase. In that way, they also act as a great timesaver.
3. How to Pack Efficiently With a Multi-Functional Wardrobe
Pack tops and bottoms that pair well together. Interchangeable outfits give you the option to mix and match combinations with just a few key pieces. For example, pack a few pairs of pants or skirts and only bring tops that would match any of them.
4. Choose Proper Folding Techniques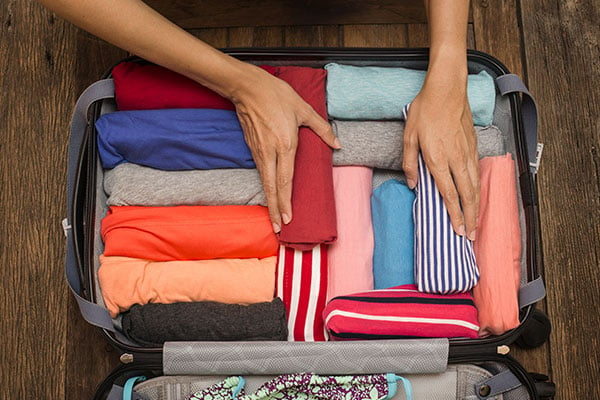 There are two main folding techniques you can utilize: the traditional fold and the rolling fold. The rolling fold is the preferred method by most travelers now. Fold garments once vertically and then roll them from one end to the other. Not only does rolling your clothes save space, but it also actually helps prevent clothes from wrinkling.
One specific question does come up frequently – how to pack pants in carry-on luggage. Fold pants carefully using the seams of the garment. Place them in your carry-on last, on top of your other items to avoid excess wrinkling under the weight of other garments.
5. Wear Your Heavy Clothing
If your trip is taking you to a cold destination that requires a coat, wear it! A bulky coat in your carry-on will take up too much space. In fact, if you're taking a bulky sweater or sweatshirt, wear that, too. This is a great way to pack efficiently and save valuable space in your carry-on.
6. Be Selective About Liquids
If you decide to only bring a carry-on, you will be limited in the amount of liquids you can pack. This usually defaults to a one-quart bag and liquids that weigh 3.4 ounces or less. In order to pack efficiently, only bring toiletries that are absolute musts.
Consider buying travel-size bottles of shampoo, conditioner, body wash, mouthwash, and other liquids when you get to your destination. Most hotels offer these toiletries complimentary in your room. If you do bring liquids, it is wise to use the TSA-compliant travel containers.
These are just a few important tips for how to pack your carry-on luggage efficiently. Plan ahead, make a list, and eliminate items that are not absolutely essential to your travels. With each trip you take, you'll gain valuable experience on what you need and what you can live without, as well as the most efficient way on how to pack your carry-on luggage for future trips.
Bon voyage! To join one of our exciting journeys, call your travel consultant or YMT Vacations at 1-888-756-9072.