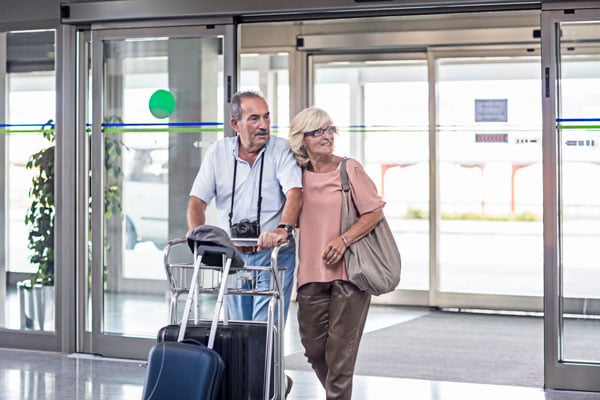 Finding affordable airfare these days can be a challenge, especially with many airlines charging additional fees for checked baggage. These fees can range from anywhere between $25 to $50 and are enough to leave the most excited travelers feeling blue since that money could go toward meals, excursions, and souvenirs while on vacation. If you are interested in keeping your travel costs down, here are seven ways to avoid paying these for airline baggage fees:
Choose your airline wisely
Spend your travel dollars by booking flights with airlines that do not charge for checked luggage. Southwest, for example, still allows two free checked bags per person. Other airlines allow your first checked bag for free but charge for the second piece. Consult this list of airline baggage fees to review before you book your next trip.
Bypass checked luggage altogether
Limit your luggage to carry-on if that is manageable. Most airlines allow one piece of hand luggage and one personal item free of charge. When traveling solely with a carry-on, check your airline's website or call their customer service team to make sure your suitcase is within the required size limits. And while crews rarely take the time to weigh carry-on luggage, airlines do have the right to enforce their weight limit.
Show your loyalty
Many airlines offer a frequent flyer program that includes waiving baggage fees for preferred members. Contact a few different airlines you enjoy flying to learn more about their offers. Many airlines will also waive your baggage fee if you have purchased a ticket through their co-branded credit card. This is one of the easiest ways to avoid pesky fees.
Check one bag for multiple travelers
If you are traveling with one or more individuals, consider checking one large bag that holds most of the essential items, instead of using multiple suitcases which will require you to pay the baggage fee for each person.
Gate check
Airlines may ask for volunteers to have their bags checked at the gate depending on how full your flight is. They usually do this on a complimentary basis in order to make room in the overhead compartments. While this may not always be an option, take advantage of the opportunity if you can.
Opt for an upgrade
First-class and business passengers are rarely required to pay for checked baggage. While you may not want to spend hundreds of dollars extra for a first-class ticket, some airlines offer day-of upgrades at a fraction of the usual cost. If the cost is $90, for example, you'll get your bags checked for free and enjoy the luxury of traveling in comfort.
Ship items ahead of your trip
Depending on where and how long you are traveling, shipping certain items could be cheaper than transporting it with you. As an added benefit, you will not have to deal with handling it to and from the airport to your ultimate destination.
Airline baggage fees can sneak up on consumers and take some of the excitement away when booking a vacation. Prepare for possible fees by searching an airline's website and being aware of their policies. Try to apply one or more of these strategies to save where you can. And remember that you are about to embark on an exciting tour, so don't let these fees get you down for long.