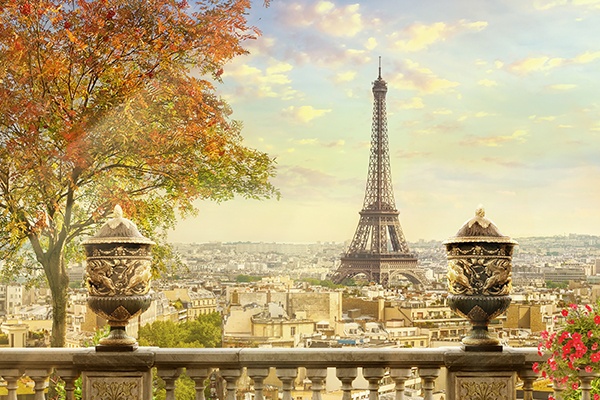 By taking the time to snap a great travel photograph, you can freeze your favorite moments forever—and where is that more important than in France? To help create the perfect Parisian memory, here are the best places for viewing and photographing the City of Light's most recognizable monument.
1. A Seine River Cruise—Experience the Eiffel Tower aboard a popular and relaxing river cruise. Enjoy an overview of the city's most popular attractions including the Louvre, Musee d'Orsay and Notre Dame.
2. Printemps—This well-known shopping center offers an outdoor terrace where you can rest your feet, enjoy a light lunch, and marvel at the beauty of the Eiffel Tower and Paris' famous skyline.
3. Place du Trocadero—This large square directly across the river is perhaps the best place for viewing the tower and taking the perfect photo. It's especially magical at night when the monument shines with twinkling lights.
4. Pont de Bir-Hakeim—This bridge connects the 15th and 16th arrondissements, and thanks to its symmetrical stone archway offers an ideal spot to photograph the tower.
5. The Bridges—The 7 bridges that cross the Seine's left bank offer great views of the Eiffel Tower, especially at night.
6. Beneath the Eiffel Tower—Sometimes all the perfect picture needs is a new perspective. When you stand below the Eiffel Tower you can appreciate the metal work, and how high the tower soars into the sky thanks to the gradation of three specially formulated shades of brown paint that get progressively lighter as the structure rises.
7. Champ de Mars—It may seem cliché, but there is still no better way to experience the Eiffel Tower than with a picnic and a bottle of wine on the lawn below. It's also nice to capture the antique-looking lamp posts in the foreground to add a vintage feel to your pictures.
8. Notre Dame Cathedral—You'll no doubt visit Notre Dame during your time in Paris. While you're there, take a look at the ghastly gargoyles up close, and enjoy the amazing views of the city and the Eiffel Tower in the background.
YMT Vacations takes you to the Eiffel Tower and other Parisian favorites on the Ultimate European Cruise and Tour with Spring Blooms tour and the Rendezvous on the Rhone tour. Both itineraries can be booked by calling your travel agent or YMT Vacations at 1-888-756-9072.