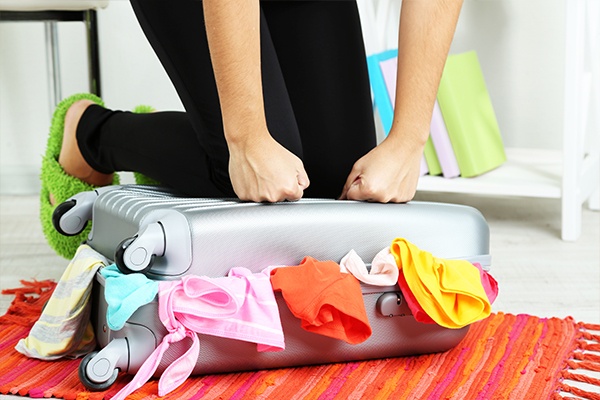 An upcoming vacation is certainly a reason to get excited! It is understandable that travelers may focus their attention on tour activities and excursions instead of the details involved in packing luggage. However, packing poorly adds unnecessary stress to any trip. It can compromise your plans, cost you money, or unintentionally offend locals. Below are eight common packing mistakes and how you can avoid them to ensure the best experience possible on your escorted tour:
1. Making assumptions about the weather – It is easy to assume that weather in the Caribbean or Hawaii is sunny at all times, but that is simply not the case. You will likely want to pack layers and rain jackets for these destinations, as precipitation is a common occurrence. No matter where you plan to travel, checking the weather will allow you to pack the right attire so that you can adjust to the climate and avoid uncomfortable situations.
2. Not familiarizing yourself with TSA guidelines – Avoid the scenario where you get to the airport's TSA checkpoint only to be told that bottles of your favorite toiletries must be discarded due to size limitations. Before packing your carry-on luggage, double-check that your liquids are under the 3.4 ounces (100 ml) limit. They must also fit into a one-quart clear plastic bag.
3. Over-packing - While it is best to be prepared for temperature fluctuations you may encounter during European vacations and other international destinations, there is no need to pack a completely different outfit for each day. Over-packing may also put your suitcase over the allowed baggage weight and cost you money at the airport. Pack the essentials you need to stay comfortable and utilize layers to go from hot to cold. Avoid over-packing by choosing a color scheme that will make it easy to mix and match for a different look each day.
4. Not maximizing space in your suitcase – Did you know that rolling your clothes is a great way to get the most out of the space in your suitcase? Fold items lengthwise, and then roll tightly like a sleeping bag. Lay heavier items like jeans or sweaters along the bottom of your suitcase and near the wheels for balance. If you are worried about wrinkles, pack anti-wrinkle spray to keep your items looking fresh throughout your trip. Leave fancier items on hangers and place them at the top of your suitcase.
5. Waiting until the last minute to pack – It is not uncommon to forget things! Waiting until the last minute to pack will not give you the opportunity to double-check or triple-check your luggage to ensure you have all the essentials. Start some initial packing a few weeks before your departure date so you can purchase items you need and organize your clothing without feeling stressed out.
6. Packing too many shoes – Shoes take up vital space in your suitcase while also increasing the weight. If possible, plan to wear a comfortable pair of walking shoes and pack a second pair that is stylish but still comfortable.
7.Not taking local culture into consideration – Avoid unknowingly offending locals with your attire by reading up on the dress code for the countries you are visiting. For example, religious sites in some countries require visitors to cover their shoulders or legs. Packing an oversized shawl to wear in these instances will show respect for locals and their customs.
8.Using a hard-sided and bulky carry-on suitcase – If your tour involves traveling from one destination to another by bus, packing a large, hard-shelled carry-on may be trouble. If it does not fit in the overhead compartment, it will be stored below which can be an inconvenience. Hard exteriors are also subject to scratches, dents, and even cracking depending on how much force you use to try to fit it above your seat. Keep in mind that the standard size of overhead compartments in buses is about 9 x 16 x 20 inches, though sizes may vary based on country. If in doubt, check with your tour company so you can be sure to have the items you need within reach at all times.
While you can't control everything that occurs during your vacation, you can control what goes into your suitcase. Planning ahead and packing wisely will minimize unexpected stress at the airport and your destination. Now that you are aware of common packing mistakes and how to avoid them, start early for maximum success!