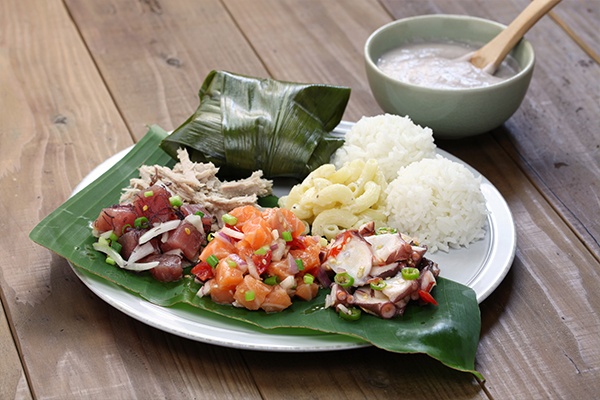 You've finally made it to Hawaii. You've got an umbrella drink in one hand, a paperback in the other, and your only shoes are several pairs of brightly colored flip flops. But before you get the idea that a Hawaiian escape is all about the pool deck, we invite you to head a bit further afield to discover the real flavors of the islands. Pull up a seat at the table and enjoy the best of the Aloha State with these 8 beloved Hawaiian foods:
Poi—Poi is a staple on the islands. It's made from taro root, similar in texture to a yam or potato, that has been steamed or baked and then pounded to a pudding-like consistency. Add pork or lomi-lomi to your bowl to make it more interesting.
Laulau—The most traditional version of this dish features pork wrapped in several layers of taro leaves, then cooked for several hours in an underground hot rock oven. The meat is tender, smoky and juicy, with leaves the consistency of spinach.
Saimin—A local staple, Saimin is an Asian-style noodle soup. It begins with a homemade dashi, or chicken broth, and wheat-flour noodles. Depending on the diner's preference, the dish is then topped with strips of omelet, green onions, fish cake or roast pork.
Poke—Fresh 'ahi or tako (octopus) poke, pronounced "po-key", is the Hawaiian version of sashimi. Instead of slicing the fish, poke is served in bite-sized chunks seasoned with soy sauce, sea salt, Maui onions or seaweed. For something a little heartier, try a poke bowl, a heaping mound of rice topped with fresh poke.
Lomi-lomi Salmon—Similar to salsa, lomi-lomi is made from raw, salt-cured salmon diced up with tomatoes, onions and chili peppers.
Kalua Pig—Throughout the Aloha State, Kalua pig is front and center at any luau or family gathering, and it's a culinary must-have for visitors. Cooked in an underground oven known as an imu, the pork is slow roasted until tender and delightfully smoky in flavor—similar to pulled pork on the mainland.
Spam—Yes, you read it right. Spam is Hawaii's most popular grab-and-go snack. Often served atop musubi rice cakes, it is fried and wrapped in seaweed for the perfect mini-meal. Introduced during World War II when fish was rationed, today about 5 million cans are sold in the islands.
Kona Coffee—Though not technically a food, this local drink is well-loved in the islands and had to be included on our list. Grown on the slopes of Hualalai and Mauna Loa on the Big Island, Kona is one of the most treasured coffees in the world. The sun, rain and volcanic soil combine to give the beans a rich, robust flavor.
Savor all the tastes of Hawaii on a YMT Vacations tour. To make your plans to visit, contact your travel professional or call YMT Vacations at 1-888-756-9072.