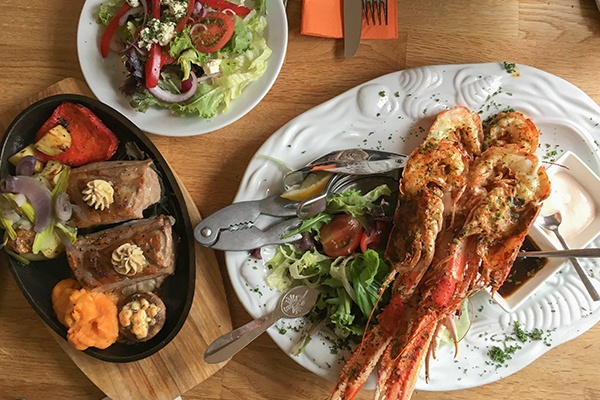 Mention Iceland and most people immediately think of cascading waterfalls and rugged mountain cliffs, brilliantly-colored auroras and towering glaciers. What doesn't often come to mind is Icelandic cuisine.
Like most of Scandinavia, Reykjavik and its surrounding countryside features food inspired by the land. Simple and unfussy, it is tied to the climate and reflects the region's isolation from the rest of the world. Expect fresh, pure dishes that are the very definition of farm-to-table.
As more and more people arrive on the island, Iceland's culinary scene is exploding and the simple, yet elegant, food is experiencing a renaissance. Here's the food you can expect to enjoy in Iceland:
Icelandic Yogurt—Skyr is a thick, creamy marriage of yogurt and cottage cheese. Order it with skim milk and berries or in a smoothie.
Fermented Shark—No longer part of the daily diet, fermented shark is deeply tied to tradition. Originally made to help locals survive the harsh winters, the fish would last for months. Today's varieties are fermented with vinegar and paired with a shot of black death schnapps to help it go down smoothly.
Seafood—Stewed, boiled, fried or grilled, seafood is front and center in any Icelandic meal. From cod to haddock, salmon to lobster, it is as delicious as it is plentiful.
Pylsur—The Icelandic hot dog is a major national point of pride. In fact, President Clinton once called them the "best hot dogs in the world." Made from beef, lamb and pork they are best served with the works: fried onions, raw onions, brown mustard and remoulade.
Rúgbrauð—This dark rye bread is a staple. You'll find it served with smoked salmon and cream cheese, blended into ice cream, or with butter and lava salt. The most authentic variation is prepared by burying the dough in wooden casks deep in the ground next to a hot geyser.
Dried Fish—Harðfiskur literally means "hard fish." This jerky-like treat is made from cod or haddock and dried in the North Atlantic air to become a favorite local snack.
Ice Cream—It's true, Icelanders go crazy for ice cream year round. From simple vanilla gelato to rye-bread ice cream, there are plenty of gourmet creameries and trendy shops.
Roasted Lamb—Icelandic sheep are some of the purest breeds on the planet. Never fed grain or given growth hormones, they are raised with glacier water and berries to produce the most succulent meat. Enjoy lamb in stew, as a sirloin or alongside hearty root vegetables.
You can savor the flavors of Iceland on a brand new YMT Vacations tour. The Wonders of Iceland with Prague & Transatlantic Cruise takes you to 8 countries, starting with a land tour and ending with a 17-night Transatlantic cruise. Explore the fairytale castles of Prague and the post-war landscape of Berlin, the rowdy of pubs of Belfast and the stone-age history of Southampton. For information on how you can join the fun, call your travel agent or YMT Vacations at 1-888-756-9072.