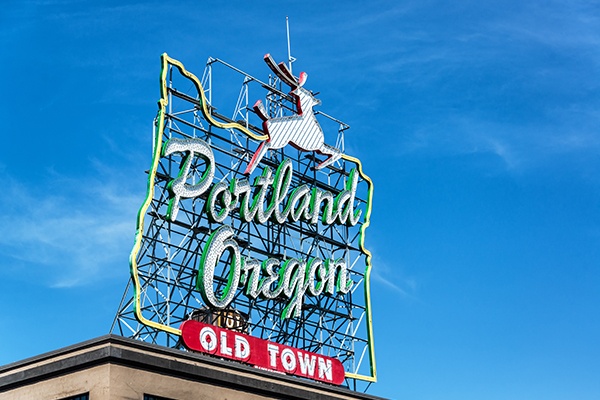 Portland, Oregon is a city that offers plenty of things for travelers to see and do. In a perfect world you'd have a week to explore and uncover all the secrets of this Pacific Northwest gem, but what if you're just passing through?
What can you discover in a single day in Portland?
1. Portland's Bridges
Portland is split in two by the Willamette River, and spanning "Bridge City" are 12 bridges; the newest of which is Tilikum Crossing. This pedestrian bridge is the ideal way to cross from north Portland to the south. Grab a bike and cycle across, or pick up a hot cup of coffee and enjoy a leisurely stroll.
2. Cycle the City
The best way to see Portland is on two wheels. The city's bike share program lets you grab a bike from more than 100 locations. Pedal to dinner, shopping, or on 315 miles of paved pathways. A beautiful waterfront loop skirts around downtown for some pretty incredible river views, plus there's no traffic or stop lights to deal with.
3. Explore the Portland Art Museum
Wander around the oldest art museum on the West Coast and one of the oldest in the country. Enjoy the impressive works of Monet, Renoir and van Gogh, as well as the permanent Native American and Asian exhibits.
4. Forest Park
In this city of tree huggers, the country's largest urban wooded park is a welcome oasis from the daily grind. The park features more than 70 miles of hiking paths where suburbanites can walk, bike and escape the real world—all within walking distance of a freshly brewed cup of joe.
5. Powell's Books
Powell's is still the largest independent chain of bookstores in the world thanks to the geeky Portlandians who support this store and its love for paper page-turners.
6. Join the Food Cart Revolution
Some of Portland's best dining can be found in "food cart pods" in the West End neighborhood near 10th Street and Adler. More than 500 food trucks dot the city, offering virtually everything your taste buds crave—from Korean to Indian, Thai to classic American. There are traditional dishes and innovative flavor combinations you never thought to try but won't soon forget. Best of all, it's an affordable way to get out, meet the locals and experience a bit of the real Portland.
7. Voodoo Doughnuts
Portland may not be the only city where "good things come in pink boxes," but it is the original. Grab a vanilla-frosted doughnut piled high with Froot Loops, or one shaped like a voodoo doll, at this crazy confectionary shop where there's no end to the creative concoctions.
8. Breweries and Distilleries
Portland is more than a city of breweries—it's "Beervana" thanks to dozens of microbreweries. Add to that a long list of spirits made right here in Distillery Row and you have plenty of top-shelf reasons to have a good time in Portland.
Explore portland with YMT Vacations
Visit Portland on our Sights Of The Pacific Northwest. Spend a week falling in love with the beautiful state of Maine. Maine is affectionately called Vacationland thanks to its exceptional natural beauty, easy-going charm, exquisite cuisine, and the warm welcome it extends to all.
To make plans to join the tour, call your travel consultant or YMT Vacations at 1-888-756-9072.