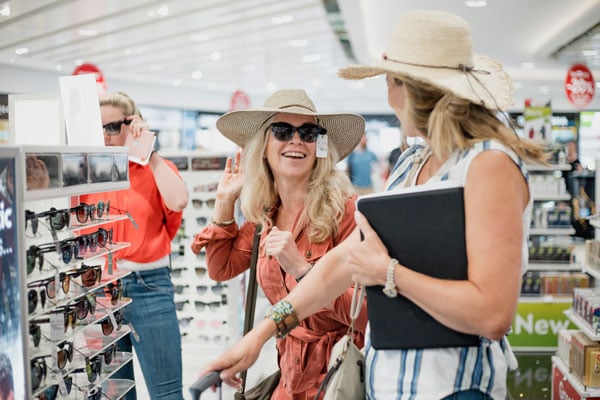 Browsing at the airport may seem like a pleasant way to pass time before your flight, especially if there are plenty of shops and restaurants to explore. However, be wary when making purchases at the airport unless absolutely necessary, as you are likely to pay a hefty markup for almost everything! Here is a list of 8 things you should never buy at the airport and why:
Bottled Water
Airport stores may charge as much as $5 for bottled water, which can add up quickly if you are traveling with your family. Staying hydrated is important during your travels, but bring a refillable water bottle in your carry-on bag instead of buying bottled water at the airport. Once you get through security, fill up from the public fountain.
Magazines
Foreign airports may charge as much as $10 for magazines that cost just half the price back home. Magazines are more of a throwaway purchase because you are unlikely to keep them or use them after you've flipped through them once or twice.
Foreign Currency
Exchanging money is just one of the many things you will need to do before embarking on your guided YMT tour. You will not get the best exchange rate at the airport, but rather pay the price for convenience. If time allows, order foreign currency from your bank ahead of time or use an ATM once you arrive at your destination.
Neck Pillows
Purchase your neck pillow before your trip if you have a long flight ahead of you. Options at the airport are not only overpriced but have been touched and tried by other travelers. Germs are hard to avoid on airplanes so you'll want to minimize your chances of getting sick from the start!
Food
Traveling when hungry is not ideal so it is always a good idea to eat before you fly. If possible, pack a sandwich or snacks from home instead of purchasing meals at the airport. Prices at airport restaurants tend to be much higher, and can even differ depending on which terminal you visit.
Wi-Fi
Many airports offer free Wi-Fi, but if yours does not, there may be a paid option. Instead of purchasing a service that may be slow and expensive, use your mobile phone as a hotspot. Alternatively, sit at an airport café where you can pay a few dollars for a beverage and get free access to their Wi-Fi network.
Headphones
Headphones may be an important item for your travels, especially if they have noise canceling capabilities. Buying a new pair at the airport will cost you a hefty markup. If you only need headphones for in-flight entertainment, wait until you board as your airline may provide a complimentary headset.
Gifts and Souvenirs
Gifts and souvenirs at the airport may be more generic than you care for, at a much higher price compared to local goods. Purchase unique souvenirs you come upon throughout your tour rather than waiting to shop at the airport on your way back home.
Preparation is key to ensuring you have all the items you need for your YMT vacation. Forgetting items at home, or not giving yourself enough time to gather everything you need may impact your travel budget before you set foot in your destination. And while you'll want to be aware of the markup on goods and services at the airport, you should certainly purchase items that are urgently needed to make your trip more comfortable.