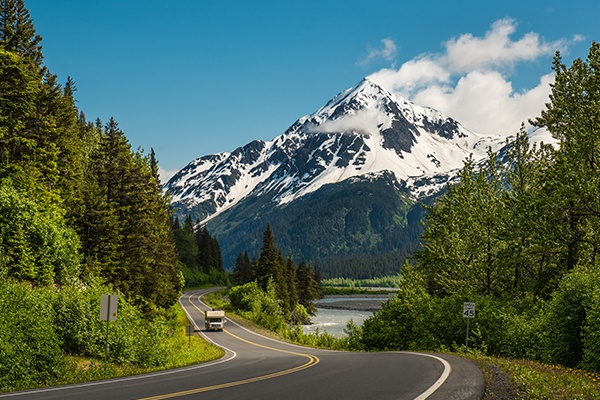 As the days grow longer and the weather warms, travelers heed the call of the wild and head to the Frontier State. Hulking moose meander alongside the roadway and icebergs the size of school buses break from glaciers before crashing into the sea. There are totems where history is carved in wood and an endless stretch of sky where snow-covered mountains kiss the clouds. If an Alaskan adventure is in your plans, here are some need-to-know travel tips to help you make the most of your time:
1. Bring a Sleeping Mask

The "Land of the Midnight Sun" is a very fitting nickname. Due to the tilt of the planet, daylight can last up to 22 hours in the summer, making it hard to get enough shut-eye. While many rooms and cabins have black-out curtains, it's wise to bring a sleeping mask and keep track of the time so you can stay close to your normal sleep schedule.
2. Take a Guided Bus Tour

Alaska's roadways can lead to some spectacular scenery. Take your time and allow for detours to enjoy the sights. Better yet, hop aboard a chartered bus, like the ones used on YMT Vacations Alaska tours. Not only can you look out the window instead of focusing on the road, your driver-guide is also a knowledgeable source of history, the landscape and local tales. Plus, you'll be able to snap incredible photos of the wildlife you see along the way.
3. Layer Up
As the rest of the lower 48 heats up, Alaska offers mild temperatures and weather that is predictably unpredictable. Even in direct sunlight, lows can dip into the 40's and 50's, especially along the Inside Passage. Make sure to pack a water-proof jacket, a lightweight sweater, and even gloves since it can get cold really fast in Alaska.
4. Bring Cash

Don't be surprised when many restaurants and small business do not accept credit and debit cards. Cash is often the only guaranteed means of payment in small town bars, farmers markets and art galleries.
5. Cruise on the Right Side of the Inside Passage

Since the highlight of a cruise on the Inside Passage is the scenery outside the window, it's important to consider which direction you'll be sailing. If you're sailing south, request a port side room. With northbound itineraries, aim for the starboard side. Booking early will give you the most options.
6. Pack Motion Sickness Medication

If you're sailing the Inside Passage, prepare for a stretch of open water between the passage and Seattle. If you're prone to motion sickness, use over-the-counter or prescription nausea aides, and opt for a cabin mid-ship.
7. Gear Up for the Northern Lights

Most of us rely on our smartphones for taking photos but the Northern Lights require better gear. To avoid blurry shots, bring along a decent camera and research photography techniques before you depart.
8. Choose a Land and Sea Adventure

Cruise tours are the combination of a cruise with a land tour. This hybrid itinerary not only gives you the chance to see everything from marine wildlife to calving glaciers, it also allows you to fully experience the Alaskan interior. You can explore Mt. McKinley and see the "Big Five" of Denali, and you'll also get the best bang for your buck by condensing two trips into one plane ticket.

YMT Vacations offers five affordable Alaskan cruise and land tour packages, including our brand new Alaska Cruise & West Coast Train Tour. For information or reservations for these thrilling Alaskan adventures, call your travel agent or YMT Vacations at 1-888-756-9072.