---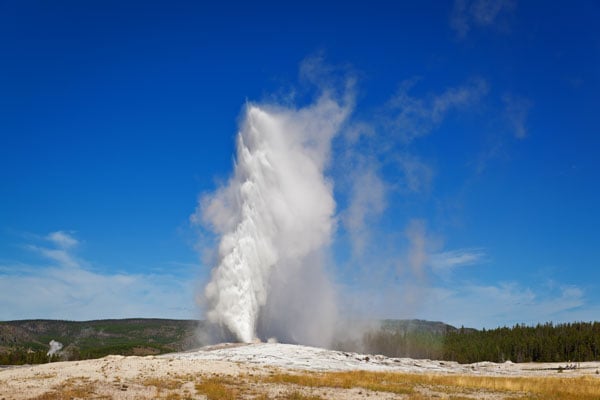 Travel back in history to a time when cell phones were unthinkable, cars did not exist and the only roads were dirt ones. More than a century in the rearview mirror, this was a day when man stumbled headlong into wonder and a legend was born. Let your imagination take you along with the exploration party of Washburn, Lanford and Doane as they amble on horseback through the landscape of the Firehole River Valley.
---
Anxious to reach the Maddison Valley settlements, the men were headed away from the wonders of Yellowstone country that long-ago day when all of a sudden they were astonished to see a fountain of water spit into the air. Projected what looked to be 125 feet, the fount appeared in the distance and the men spurred their horses for a closer look. The team gathered around the unexpected phenomena and would remain, enthralled, until the geyser had spouted another eight times into the expansive big sky.
Old Faithful remains the number one attraction of Yellowstone National Park, the country's oldest, and arguably most famous, National Park. Drawing upwards of 30,000 folks daily, the geyser continues to fascinate us as much today as it did when that exploration party came across it in 1870.
The geyser gets its name for being one of the most predictable geographical features on earth, erupting every 35-120 minutes. While some visitors mistakenly believe you can set a watch by it, the geyser varies some but does average about every 90 minutes. Hurling a column of boiling water into the air, Old Faithful shoots as much as 8,400 gallons of water in eruptions lasting from one-and-a-half to five minutes.
To best predict when it will next blow, look for one of the park rangers who regularly make the rounds of the Upper Geyser Basin, checking the status of the geysers. There is also a herd of volunteers known as "geyser gazers" who monitor every detail of the park's thermal features. Most of this group has worked in the park for decades and know the basin better than most -- making them an excellent source of history, science and folklore.
---
Old Faithful is just one of the jaw-dropping sights in this National Park known for its wildlife, massive Yellowstone Lake and scenic waterfalls. You can visit Yellowstone National Park on YMT Vacations' Rocky Mountains & Western Frontiers Tour. This 14-day itinerary takes you from Mount Rushmore to Little Big Horn, from the majesty of the Tetons to the wonders that lie along the Highway to the Sky. To make your plans to join the journey, call your travel consultant or YMT Vacations at 1-888-756-9072.
---