---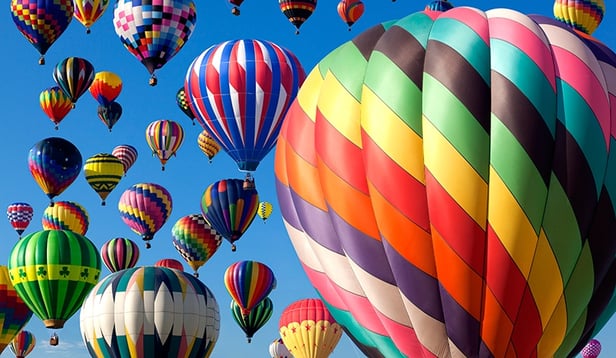 In 1972, an Albuquerque, NM radio station began making plans to celebrate its 50th anniversary. Amid a flurry of ideas, one soon began to take shape: hosting the world's largest balloon race. Invitations went out to 21 balloons but, at the last minute, a fierce Midwestern storm whittled the participants down to 13. And so on April 8th, with 20,000 spectators watching, the pilots fired up the balloons and rose into the air above the parking lot of the Coronado Center Shopping Mall.
---
Today, the Albuquerque International Balloon Fiesta has grown to be the largest hot air balloon festival in the world and the most widely photographed event on the planet. With more than 500 balloons, what began in the parking lot of a shopping mall is now a nine-day event that welcomes the entire world. Not only is the weather here considered the best for the sport, the unique pattern also creates clear skis and low humidity -- ideal for being outdoors on a lovely October day.
Here are just some of the events you can experience at the Balloon Fiesta:
Dawn Patrol -- This event takes off before sunrise and goes until first light. Besides the beautiful glowing orbs in the night sky, it lets pilots gage wind speeds and directions at various altitudes before the day's main races.
Mass Ascensions -- This favorite event features two enormous waves of launches, filling the desert sky with hundreds of balloons at once.
Special Shape Rodeo -- Oddly-shaped, non-traditional balloons are launched simultaneously to the delight of the young and old alike.
Balloon Glows -- This is when a large number of stationary balloons sit with propane burners lit, illuminating the night sky.
The Fiesta Challenge -- In this game, balloonists attempt to drop a marker closest to a target far below on the ground.
Artistic Vision -- In this artistic event, balloons provide the subject matter for painters.
American's Challenge Gas Balloon Race -- In this race, long-distance balloons are launched to see which can travel the farthest. In past events, balloons have traveled as far as Canada and the East Coast.
The Flight of the Nations -- In this mass ascension, balloons from every nation launch, one at a time, to the sounds of their national anthem while waving their nation's flag.
---
YMT Vacations' Southwestern Tour & Balloon Fiesta is an incredible journey that takes you from the Grand Canyon to the Painted Desert, from Carlsbad Caverns to the amazing spectacle that is the Albuquerque Balloon Fiesta. To experience the thrill for yourself, call your travel agent or YMT Vacations at 1-888-756-9072.
---