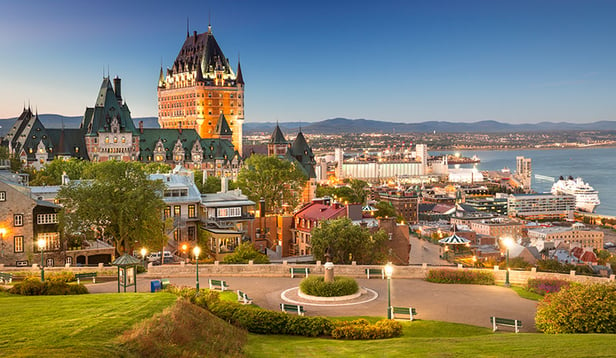 Strolling down the cobblestone streets, the sound of church bells tolling from a cathedral drowns out the French pleasantries spoken by the passersby. The smell of fresh-baked croissants drifts through the air and dappled sunlight spills across gabled rooftops. It's easy to think you've arrived in France, but despite the Old European charm, you are wrong. This is the Vieux-Québec, the old section of Canada's Quebec City.
---
A UNESCO World Heritage site, this "New France" is a reflection of the motherland -- offering all the charm of a European vacation without the passport. Ranked the fourth Best Place to Visit in Canada by U.S. News & World Report, its fortified walls encircle a maze of narrow streets that meander past a maze of 17th and 18th-century row houses. There are window boxes bursting with color and carriages fueled by the clip-clop of horses' hooves, charming squares flooded with a sea of cafe tables and patisseries offering every kind of decadent treat.
Stroll through the Upper Town of Haute-Ville with its Château Frontenac, a luxury hotel designed in the style of the Loire Valley and the centerpiece of the city's skyline. Or, make your way to the Terrasse Dufferin, a grand promenade dotted with green and white gazebos. You can climb the stairs that lead to the Promenade des Gouverneurs, a pathway along a sheer cliff wall, or worship in Notre-Dame Quebec Cathedral, the first church in the New World to be elevated to a basilica.
---
Experience all the charm and allure of Quebec City on YMT Vacations' New England and Canadian Maritimes Cruise & Tour. This 15-day land and sea journey takes you from Boston to Montreal, Cape Cod to Halifax. Tour the mansions of Newport, see the best of New England's fall foliage and relax aboard a seven-night cruise on the Norwegian Dawn. Your itinerary includes all meals onboard ship, seven nights hotel accommodations, sightseeing, baggage handling and the service of a dedicated tour director to make your trip truly unforgettable. To make your plans to join this journey, call your travel consultant or YMT Vacations at 1-888-756-9072.
---