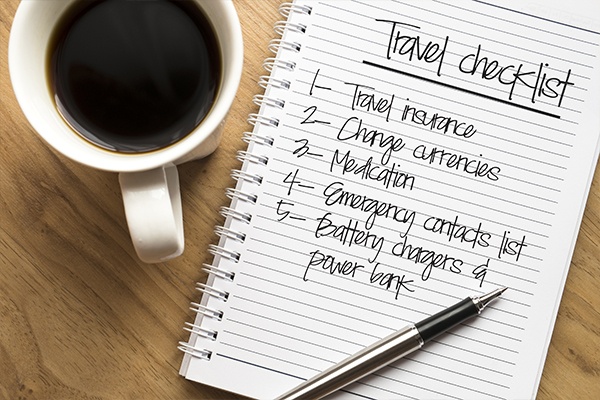 6 Months Until Your Departure
Ensure your passport is valid for at least 6 months after the end date of your international travel – Every country requires a valid passport, but some destinations also require a U.S. passport be valid for a fixed number of months from your date of entry. Renew your passport to avoid difficulties.
3 Months Until Your Departure
Confirm the details of your trip – Finalize you itinerary with your travel agent or tour operator.

Obtain any required visas – If you need a visa for your tour, apply early enough to avoid any unforeseen delays.

Buy travel and health insurance – Although you may be looking forward to a guided European tour or travels to a different continent, protect yourself in case of delays, cancellations, or illness.

Share your travel itinerary with family, friends, and colleagues – It is wise to give advance notice so they can handle various tasks in your absence.

Identify an emergency contact and share it with your travel company, if required – Let that person know you are listing them as your emergency contact so they can keep their phone nearby while you are away.
1 Month Until Your Departure
Purchase items needed for your trip – Weather during tours in France may be different from a Hawaiian vacation. Use one of our helpful packing lists as your guide.

Read blogs, articles, and guidebooks on the countries you will be visiting – Immerse yourself in content that will give you a sense of local culture before you arrive.

Receive travel documents from your travel provider and create digital copies of your itinerary – If you lose a hard copy, have your documents readily available to print.

Arrange for a pet sitter – Book boarding or a sitter for your pet one month before your trip. If you plan to ask a friend or family member, advanced notice will be appreciated in case they need to alter their schedule to help.

Arrange for someone to water your plants – Consider a neighbor you trust or a relative who lives nearby.

Exchange US dollars for local currency – Visit your local bank or a currency exchange before your trip, as doing this at your destination can be stressful if there are long lines, or signs in a foreign language.
3 Weeks Until Your Departure
Consult your doctor for necessary vaccinations and fill any necessary prescriptions – Use the visit as an opportunity to discuss any other medical measures that may be needed during your vacation.

Ask a trusted friend or family member to collect your mail and keep an eye on your house – Burglars take notice when mail accumulates after a few days. It is best to err on the side of caution.

Decide what to do with your phone – Update your data plan, buy a local sim card, purchase a cheap pre-paid phone, or stay on airplane mode.

Purchase optional activities – With your trip only a few weeks away, take another look at available excursions and reserve a spot for those that interest you.
2 Weeks Until Your Departure
Do your laundry and dry-cleaning for clothing you plan to pack – No need to purchase new clothes if you already have everything you need at home!

Purchase last minute items needed for your trip – Run through your daily routine on paper, making note of items you do not have on hand.

Finalize all items for your luggage and carry on – You can breathe a sigh of relief that your packing is all done. If you plan on traveling by motorcoach, please note that busses often have different carry-on restrictions than planes.

Buy local adaptors or convertors – Many locations utilize plugs and outlets that differ from the US. For example, you will not be able to charge your phone, tablet or laptop on Italy tours without an adaptor.
1 Week Until Your Departure
Ensure all upcoming bills are pre-paid – Doing so will help you avoid late fees.

Make copies of important documents like passports and insurance info, and save them digitally or in the cloud – It is also recommended that you keep a few copies in your luggage and carry on.

Call your bank and credit card provider to inform them to expect international transactions – Your attempts to purchase items or change money may otherwise be rejected.

Sign up for the Smart Traveler Enrollment Program (STEP) - a program that allows you to receive the latest security updates from the nearest US embassy or consulate when traveling.

Get excited! Your trip is almost here!
3 Days Until Your Departure
Charge all electronics – Start your trip off with everything fully charged.

Purchase remaining items needed for your trip – Didn't realize you need something extra or ran out of an essential item? No problem!

Arrange transportation to the airport – If you book a taxi service, get a confirmation number in case you need to call the company on the day of your departure.
1 Day Until Your Departure
Clean out your fridge – Share recently cooked food with neighbors and dispose of items that are perishable.

Finish your packing and add locks to your luggage (TSA Approved) – Keep these keys in a safe place in your purse or backpack.

Organize travel documents and place in your hand luggage – You'll need them frequently during the check-in process.
The Day of Your Departure
Take out the trash – Come back to a fresh-smelling home.

Do a walk through of your house to unplug electronics and turn off all lights – Save money on your electricity bill and reduce the risk of accidents!

Ensure you have all luggage and documents before getting into your transportation – Forgetting your passport or flight information at home may lead to unfortunate delays.

Enjoy your trip – and remember, don't post about your trip on social media until you get home!