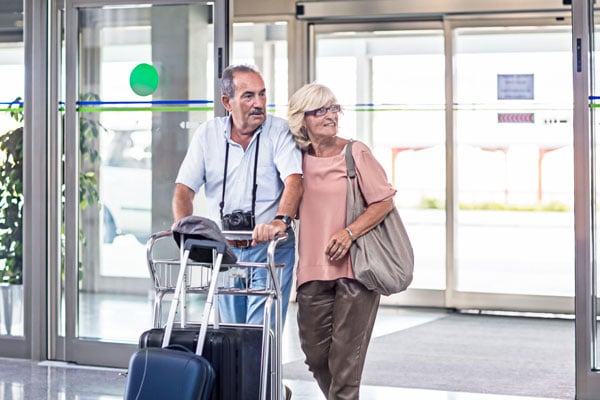 Your vacation should be fun and relaxing, but dealing with airlines and chaos at the airport can add unnecessary stress to the whole experience. To have a smooth journey from start to finish, there are some key airport hacks and airline hacks you can utilize to ensure comfort and peace of mind.
Airport Hacks
These tips will help you avoid stress in an airport.
Scope Out the Terminal Where You Land
If you are arriving and departing from the same airport, take the opportunity to check out what the terminal has to offer instead of going straight to the baggage claim area. Since your return flight will most likely be from the same terminal, make note of coffee shops, restaurants, and other amenities you may need on the way back home. Having a good understanding of what is available will also inform your decisions on timing.
Go Left at Security
The majority of travelers will select security lines on their right when faced with the choice, so your best bet is to go with the line on the left.
Find an Empty Gate to Relax
Find an Empty Gate to Relax. Have a few hours before your flight? If you want to unwind and put your feet up, find an empty gate. No need to feel guilty about taking up a few seats for yourself or using multiple outlets to charge your electronics. You will also have more peace and quiet than you would at your gate. Just be sure to set a reminder on your phone close to your boarding time.
Fly Red-Eye
One of the best ways to avoid an overcrowded airport is to choose an overnight flight, especially if you are going to a faraway destination. If you book a flight that leaves after 10:00pm, you'll avoid rush hour traffic on the way to the airport, have a shorter wait for security, and be able to have dinner at the airport without waiting for a table. Once on your flight, go to sleep and wake up refreshed to start your YMT Vacations guided tour!
Avoid Turbulence on Early Morning Flights
Because thunderstorms and high winds usually occur later in the day, book an early morning flight for your best chance to avoid turbulence. Seats in the middle of the plane, near the wing, tend to experience less movement so keep that in mind when selecting your seat.
Airline Hacks
These tips will help alleviate stress when interacting with an airline.
Say 'No' to Vouchers, and Opt for Cash
If you are bumped from a flight due to overbooking, the U.S. Department of Transportation has compensation rules up to $1,300 in cash if the airline does not rearrange plans within two hours of your flight. Airlines will typically offer vouchers first since most people do not know they are entitled to cash.
Cancel Flights Within 24 Hours at No Cost
Most airlines will allow cancellation of your ticket with a full refund within 7 days of your scheduled travel date if you call within 24 hours of having booked the flight.
Offer a Small Gift to Your Flight Attendant
Airline staff can make or break your experience on a flight so it's helpful to have them on your side. Flight attendants will appreciate small gestures like snacks, used magazines, or an inexpensive souvenir.
Bring Your Own Blanket and Pillow
The items you find in your seat are likely just refolded from the previous flight. Reduce your exposure to unwanted germs by packing a blanket, neck pillow, and comfort items in your carry on luggage.
It's Not Necessary to Wait in Line to Rebook a Flight
If your flight is canceled, a long line usually appears at the customer service desk. As an alternative, call the airline to rebook your flight instead. The representative on the phone can do the same thing as the person at the check-in counter, and usually faster.
YMT Vacations handles your tour itinerary and travel details so you never have to worry about where to stay or how to get from place to place. Keep your experience as relaxing as possible by using these travel hacks on the way to your destination and on the way back home!