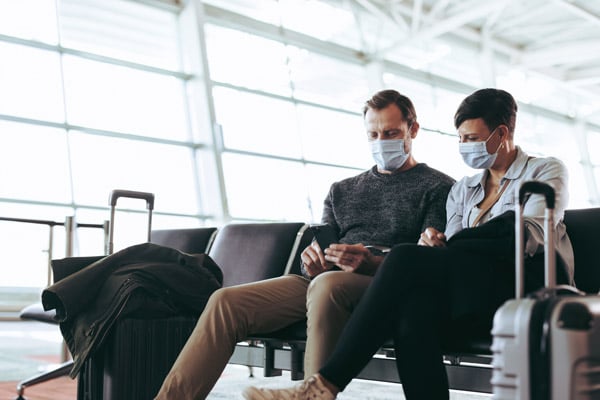 Travelers taking to the skies during the COVID-19 pandemic should be aware of current mask mandates. The TSA and CDC are in charge of the rules and regulations for airports, airlines, and passengers. Their basic rule is that all travelers over the age of 2, regardless of vaccination status, must wear a mask when in an airport or on a plane. These regulations were recently extended to April 18, 2022. Here are a few more specifics you might like to know.
What Kinds of Masks Are Allowed?
Homemade or manufactured masks following these rules are acceptable:
A properly worn mask completely covers your nose and mouth.
A mask should fit snugly but comfortably against the side of the face.
Masks should be secured to the head with ties, ear loops, or elastic bands that go behind the head.
Masks should be a solid piece of material without slits, exhalation valves, or punctures.
Masks can be reusable or disposable.
Cloth masks should be made with two or more layers of a breathable fabric that is tightly woven (i.e., fabrics that do not let light pass through when held up to a light source).
Masks can have inner filter pockets.
Clear masks or cloth masks with a clear plastic panel may be used to facilitate communication with people who are hearing impaired or others who need to see a speaker's mouth to understand speech.
Medical masks and N-95 respirators are acceptable.
What Kinds of Masks Are Not Allowed?
There are a few types of masks that are not approved by the TSA. If these masks are all you have, simply ask an employee for a complimentary disposable mask:
Masks not made of a solid piece of material, including those with slits, exhalation valves, or punctures.
Face shields (face shields may be worn in addition to a mask that meets the above required attributes).
Bandanas, scarves, ski masks, or balaclavas.
Shirt or sweater collars (e.g., turtleneck collars) pulled up over the mouth and nose.
Masks made from a single layer or thin fabric that do not block light.
Masks that do not fit properly (large gaps, too loose or too tight).
When Do I Need to Wear My Mask?
You are required to wear a mask while entering or when located in the indoor areas of airports, and throughout the flight including boarding and deplaning.
Expect to wear your mask at all times except:
When necessary for identity verification purposes such as during Transportation Security Administration screening or when asked to do so by employees or law enforcement officials.
While eating, drinking, or taking oral medications. Prolonged periods of mask removal are not permitted for eating or drinking; the mask must be worn between bites and sips.
While communicating with a person who is hearing impaired when the ability to see the mouth is essential for communication.
If, on an aircraft, wearing of oxygen masks is needed because of loss of cabin pressure or other event affecting aircraft ventilation.
If unconscious (for reasons other than sleeping), incapacitated, unable to be awakened, or otherwise unable to remove the mask without assistance.
When Will the Mask Mandates be Over?
As of now, the requirement to wear a mask on airplanes, rail travel, and public transportation extends to March 18, 2022. You can see any policy changes on the CDC, TSA, or White House websites. Most domestic airlines don't have any additional requirements for their passengers, but you can check on their websites:

YMT's Commitment to Safety
The team at YMT is committed to doing everything we can to keep you safe. Along with following all current government guidelines, we have implemented our own Travel Safe Program. We have increased cleanliness and sanitation, improved tour director training, and follow TourCare health and sanitation guidelines. These best practices were developed by the tour industry's major global associations including the USTOA, CATO, and ETOA.
To start planning your next vacation with YMT, call your travel consultant or YMT Vacations at 1-888-756-9072.