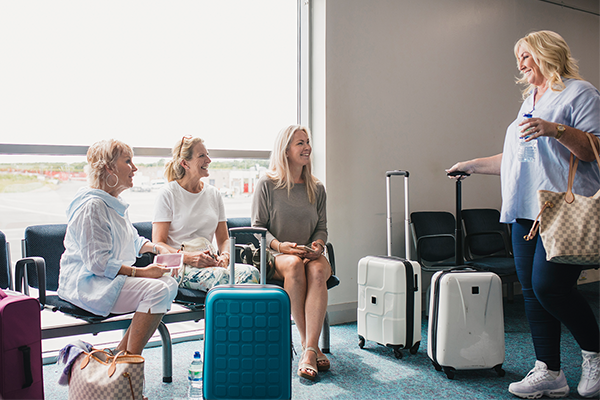 Planning your next vacation and deciding where to go is an exciting endeavor. The anticipation builds as your getaway draws near, but sometimes the thought of navigating the airport can be stressful. With some preparation and our list of tips for airport travel, you can enjoy a stress-free airport experience as you embark on your next vacation.
Study the Airport Layout Before You Arrive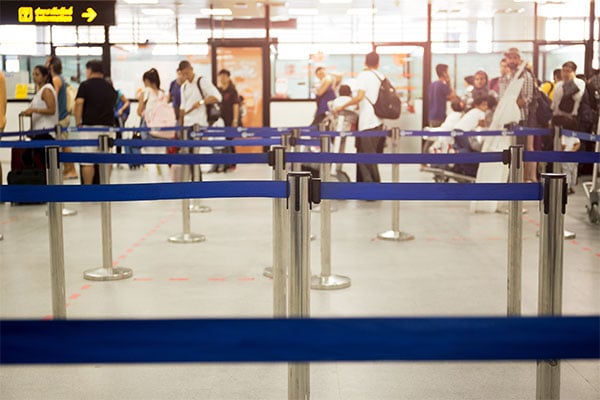 If you're traveling through a particular airport for the first time or it's been a while since you visited, check out the airport's layout online. Search the airport's website and look for an interactive airport map. Review the map to see available restaurants and shops where you can unwind or pick up last-minute essentials before your flight.

You can also use the airport map to figure out how to get to your gate from your arrival point. You may need to take a shuttle or hop on a monorail between terminals, especially if you are taking a connecting flight. By following this simple airport hack, you'll become familiar with the airport and help reduce potential stress.
Anticipate Your Airport Needs
Make a list of the items you want close at hand in your carry-on bag: books, magazines, and perhaps a crossword puzzle. Download a couple of games to your smartphone and make sure you fully charge your electronic devices.

Consider your dietary needs. If you're flying out of a small airport with limited dining options or you have dietary restrictions, you may want to pack your own snacks. To see what restaurant options are available, check out the interactive airport map we mentioned above.

Many airports offer food delivery right to your gate through apps like AtYourGate and Airport Sherpa. You can download the apps for free to see if they serve your airport. Follow the directions on the app to have your food delivered but be aware that the service will require an extra fee.

It's also important to consider COVID-19 precautions and protocol when flying. You might be required or prefer to be prepared with personal protective equipment like masks and hand sanitizers. In addition, you may be required to provide proof of vaccination to the airline if you are traveling internationally. So be sure to have digital or paper COVID vaccination records with you at the airport if needed.
Understand Health and Safety Requirements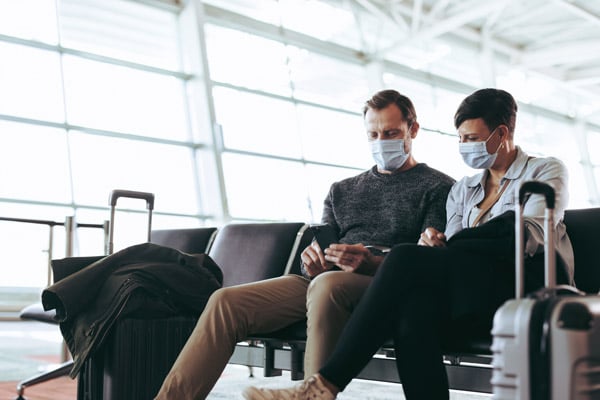 It's important to consider COVID regulations when traveling. Airline requirements, entry restrictions, and vaccination and booster mandates all vary. Be aware of what the rules are for your airline and your destination. Check airline, state, and country websites for up-to-date regulations. Download any location specific COVID apps. Most importantly, be flexible in case of changes or delays. It will make your vacation a lot more enjoyable!
Arrive to the Airport Early to Avoid Stress
The standard rule of airport travel is to arrive two hours before your domestic departure time. For international flights, airlines suggest arriving three hours before your departure time. To give yourself even more peace of mind, we recommend changing departure time to boarding time. You'll have an extra cushion of about 20-40 minutes when you take this extra step.

To ensure you get to the airport on time, calculate extra time into your commute. Give yourself plenty of time for unforeseen circumstances like unexpected traffic or hard-to-find airport parking. The more time you have, the lower your stress level will be.
Consider Applying for TSA PreCheck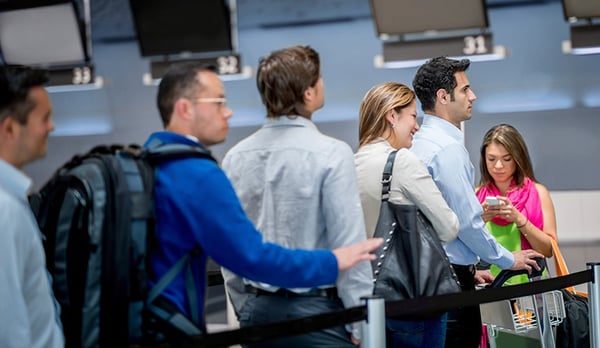 TSA PreCheck streamlines the airport security process, providing members a dedicated line at airport security. PreCheck passengers are screened before they arrive at the airport, so checking in is usually faster and less stressful. It costs $85 to apply for PreCheck membership. Once approved, membership lasts for 5 years.
Upgrade to a Premium Airport Lounge Experience
If you want the ultimate stress-free airport experience, you may want to consider treating yourself to a premium lounge. Many airports offer a premium lounge experience for an extra charge, even without a first-class ticket. These lounges provide a quiet area away from the hectic gate scene. Here you can enjoy complimentary food and beverages and high-speed Wi-Fi.

These perks do come with a price (typically an annual fee), so think about whether you travel often enough to make the cost worth it. Not all airports or lounges offer this service; do some research ahead of time if you want to take advantage and help make your trip more comfortable.
Get in Touch with a YMT Representative
By using these expert airport tips, you'll enjoy a smoother, stress-free experience. Get in touch with an expert from YMT Vacations and let us help you schedule your next guided tour. We'll work hard to ensure you have an enjoyable and memorable experience. To get more information about any of our trips, call your travel consultant or YMT Vacations at 1-888-756-9072.