---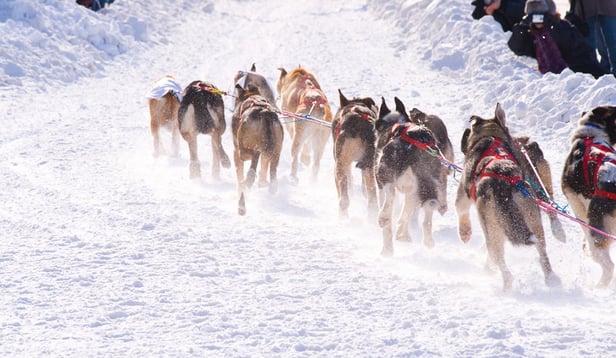 It appeared the small town of Nome, Alaska was doomed. Isolated by bad weather and miles of frozen tundra, the diphtheria outbreak of 1925 would surely mean certain death for the men, women, and children trapped in this remote corner of Alaska. Racing against time, teams of heroic sled dogs tore across 700 miles of harsh, unforgiving terrain to deliver the medicine that would stem the outbreak and save the town.
---
Dog sledding has always been a part of the culture here in Alaska. In fact, the Iditarod Trail was used by early settlers looking for gold and to deliver mail and supplies to the most isolated areas of the territory. To celebrate Alaska's Centennial Year and to recognize its long history of dog sledding, the modern-day Iditarod was born. Originally, the race was going to end in the ghost town of Iditarod, but later it was decided that the race would go all the way to Nome -- nearly 1,000 miles from the starting line!
The race is always held on the first Saturday in March. It begins in downtown Anchorage at 10 in the morning when the teams depart in intervals for a short run to warm up for the main event. After a good night's rest, the dogs and their mushers take off in the morning on one of two trails. If it's an odd year they'll race the southern trail, and if it's an even year they will run the northern course in an effort to reduce the impact the race and its fans have on the towns along the route. During the race, teams generally battle blizzards, sub-zero temps, and gale-force winds.
---
You can learn the history of the "Last Great Race," the course rules, and the breeding and training of Alaskan Malamutes at the Iditarod Sled Dog Headquarters near Wasilla. It's just one of the many fascinating encounters you'll have on YMT Vacations' Alaskan Discovery Tour. This 10-day journey takes you from Denali National Park to the Kenai Fjords National Park, from Fairbanks to Anchorage. Along the way you'll even board a catamaran for a glacier and wildlife tour that takes you up close to whales, sea otters and puffins. After your tour is complete, you can choose to extend the fun by adding a 7-night cruise through the Inside Passage. To learn more about YMT Vacations or to book this unforgettable experience, contact your travel professional or call 888-756-9072.
---