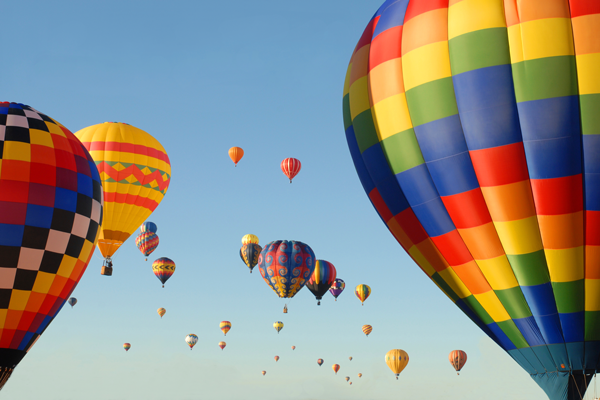 As opening day approaches, Balloon Fiesta Park becomes a boomtown. It buzzes with the sound of trucks and people rushing to prepare the site of one of Albuquerque's premiere events.
In this makeshift city, experienced workers and volunteers alike must come together to set up booths and facilities in anticipation of 900,000 guests. Since 1972, visitors have flocked to New Mexico each year to gaze upward and be awed by the magnificence of hundreds of hot air balloons.
About 600 balloons take to the skies in Albuquerque—a far cry from the 13 that launched this celebration in the parking lot of a local mall nearly 50 years ago. Today, as the world's most prestigious ballooning event, the Fiesta tops many travelers' bucket lists. This is thanks to its impressive balloons, impeccably organized special events, and one-of-a-kind atmosphere.
Here are 12 interesting tips and facts sure to balloon your interest in the Albuquerque Balloon Fiesta:
1. It's Worth Getting Up Very Early for the Dawn Patrol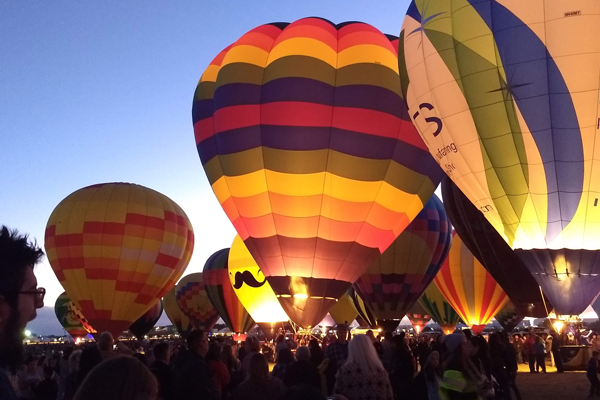 Photo Credit: Thomas Carter
This event, where balloons are launched before dawn to rise with the sun, is a choreographed spectacle set to music. It has been a beloved tradition since 1978. On mass ascension days, about a dozen Dawn Patrol balloons perform the Dawn Patrol Show, a choreographed inflation and launch set to music.
Dawn Patrol inflations begin at about 5:45 AM, with launch around 6:00 AM.
2. The Albuquerque Box Makes Central New Mexico Perfect for Flying Hot Air Balloons
The weather phenomenon known as the "Albuquerque Box" is the reason Albuquerque is ideal for the Balloon Fiesta. A predictable combination of wind and air pressure allows balloons to lift off and land from nearly the exact same spot. This enables a larger number of balloons to fly safely at the same time.
3. Look to the Heavens to See the Patriotic Mass Ascension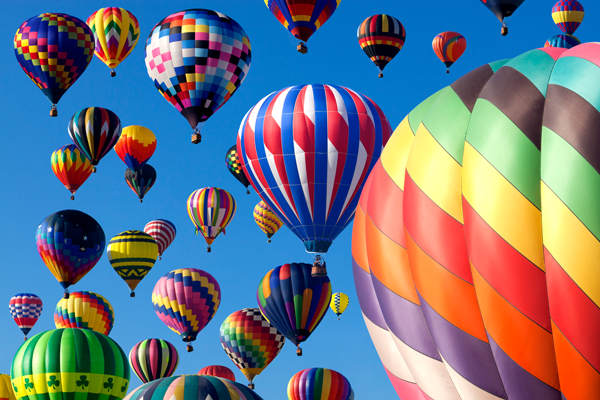 Mass Ascension, a launch of all the Balloon Fiesta's participating balloons, is considered one of the most spectacular display of sound and color in all of aviation. It is coordinated by launch directors known as zebras because of their black and white striped uniforms.
Weather permitting, balloons launch at about 7:00 AM. Balloons launch in two waves, led by a balloon flying the American flag as the Star-Spangled Banner plays.
4. You're Free to Walk Among the Balloons and Talk with Pilots
This is one of the only events in the world where attendees are granted this level of access. You can see the balloons up close, and chat with the experienced balloon pilots. They are expert sources for ballooning facts and festival history. If you're especially nice, you may be able to convince a pilot to let you take the perfect balloon-selfie.
5. Say Hello to the Balloon Glow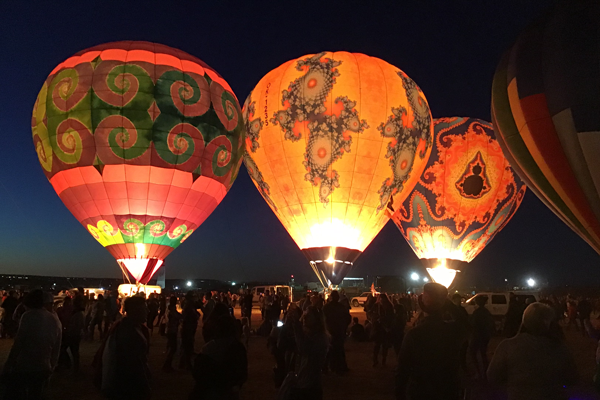 Photo Credit: Lee Muffoletto
Balloon Glows are nighttime events where grounded balloons fire their burners and light up at the same time. They are one of the ballooning world's most beloved traditions.
The first glow was held in Albuquerque in 1979, when local pilots inflated balloons the night of Christmas Eve as a thank you to local residents. The sight of hundreds of balloons lit from within like giant ornaments is breathtaking. Albuquerque follows their Balloon Glow with a spectacular fireworks display.
6. You Should Be Prepared for the Altitude
Albuquerque is over 5,000 feet above sea level, so be ready for the thinner air. Be sure to take it easy and drink plenty of water before and during the event. Also, wear extra sunscreen, as the higher elevation increases your risk of sunburn.
7. The Launch Area is on an 80-Acre Site
The launch area sits on over 80 acres, about the equivalent of 50 football fields. So it's vital that you wear shoes that are comfortable enough to stand and walk in all day. Compared to other international ballooning events, Albuquerque's Fiesta is the largest in terms of attendance, number of balloons, and site size.
8. Work Those Camera Angles
When snapping pictures, avoid shooting directly at the balloons. Instead, watch the wind to anticipate when they will enter your field of vision. This lets you prepare your camera, strike a pose, and capture the perfect pic.
9. Wear Layers
The weather can vary significantly throughout the day. October morning and evening temperatures in Albuquerque are around freezing, and daytime highs often approach 70 degrees. For optimum comfort, it's important to wear light layers you can take on and off as the weather changes.
10. Cash Is King
Keep plenty of cash on hand to get the most out of the experience. ATMs are available, but they charge hefty fees, and many of the vendors are cash only. The last thing you want is to say no to the perfect churro because you've run out of dough.
11. The Festival App is Your Go-To Source for Current Information
The festival has an official app that is an invaluable tool for visitors. Refer to it often to see a calendar of events, locations, food vendor maps, and even up-to-date weather conditions.
12. Feel the Heat of Competition
Any large gathering that attracts the world's elite participants is sure to spark competition—and hot air ballooning is no exception. Throughout the Fiesta you can watch highly skilled balloon pilots from around the world compete for prizes and bragging rights. Competitions include activities such as races and agility exercises.
Visit the Albuquerque Balloon Fiesta with YMT Vacations
You can experience this bucket-list event on YMT Vacations' Albuquerque Balloon Fiesta & Southwestern Tour, where you'll also experience White Sands National Monument and the mystery of Roswell, the limestone landscape of Carlsbad Caverns and the history of Tucson. For information, or to make reservations for this breathtaking journey, call your travel professional or YMT Vacations at 888-978-7406.