---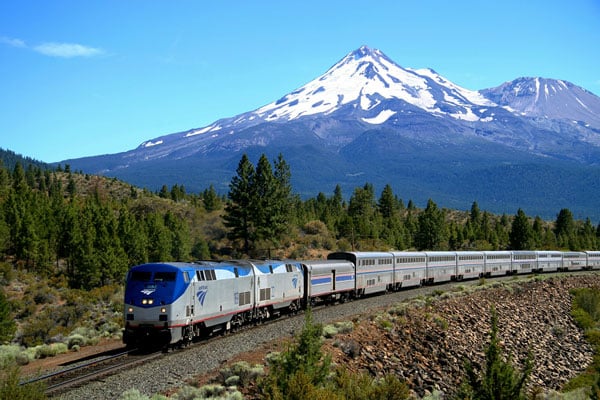 Feed your wanderlust and yearning for the elegance of travel from a more genteel era on a leisurely train trip up the breathtaking West Coast! You can enjoy comfortable accommodations, superb dining, and gracious service all while watching some of America's most beautiful scenery slowly pass you by on the Coast Starlight.
The Coast Starlight train covers 1,377 scenic miles, from Downtown Los Angeles, through the rugged Central Coast, the San Francisco Bay area, towering Redwood forests, and the Cascade Mountains of Oregon and Washington State. The journey ends in bustling Seattle 35 hours after that first cry of "All aboard!"
History of the Coast Starlight Route
Amtack's Coast Starlight commenced operations on May 1, 1971 as a triweekly train service between San Diego and Seattle—making it the first passenger train to ever traverse the length of the West Coast. It was cut back the following year to its current route from Los Angeles to Seattle. Most of the Coast Starlight rail route is along former Southern Pacific Railroad tracks, which had a significant influence on the location of its 28 stops.
One of the Most Scenic Train Rides in the USA
The route begins in Union Station in Los Angeles, and continues up through urban Los Angeles and Ventura counties before turning to the coast. The long section from Oxnard to San Luis Obispo is especially beautiful, as it travels just feet from the Pacific Ocean. As you travel through Northern California, you will see the San Francisco Bay Area and Napa Valley transition into the gold country around Sacramento, and the towering Redwood trees that dominate the landscape of the upper section of California. Oregon is likely the most beautiful part of the route—the lush forests, flower-filled meadows, icy streams, and oft snow-capped peaks of the Cascade Mountains are sure to take your breath away. The Cascade Mountains continue almost all the way to Seattle, which you'll find in the scenic Puget Sound and very near Olympic National Park. The full list of train stations served is available in the Coast Starlight brochure.
Trails & Rails
Amtrak and the National Park Service have partnered in a public education program called Trails & Rails. Volunteer experts come aboard to talk at length about places of interest along historic and scenic rail routes, which allows guests to connect to the natural and cultural history of the land they are passing through.
On the Coast Starlight, Trails & Rails volunteers from the Juan Bautista De Anza National Historic Trail run a program between Santa Barbara and San Jose, while volunteers from the Klondike Goldrush National Historical Park are on board between Portland and Seattle. During this final section, you will learn about the thrilling experience of the local prospectors (then known as Stampeders) of the late 1800s—50 years after the initial California gold rush. Many volunteers bring historic artifacts including maps and authentic gold mining tools, and some even dress up in authentic period garb!
The Coast Starlight Experience
With room to stretch your legs, and the freedom to move around, train journeys offer a relaxing experience rarely felt when participating in modern travel. The observation car has panoramic windows, the dining car is always open, and free WiFi is available to all passengers. Guests with YMT Vacations are afforded an even higher level of comfort and service due to their Superliner Roomette tickets. Enjoy complimentary bottled water in these private, secure, climate controlled quarters designed for one or two passengers. Roomettes feature a large window anchored by two ground-level seats that convert to a bed, and an upper bed that can be folded out to enable guests to get a good night's sleep. Breakfast, lunch, and dinner are all included for Roomette passengers, as are bed turn down and coffee service.
The dining aboard the Coast Starlight is nothing short of spectacular. After reserving a meal time, passengers are invited to sit 4 to a table (a great chance to turn a stranger into a friend!) and enjoy elegant white tablecloths and stunning views while devouring Amtrak's delicious dining. Don't miss the Griddle Seared Norwegian Salmon or the Amtrak Signature Steak—a freshly grilled USDA Choice Black Angus flat iron steak finished with a flavorful béarnaise sauce.
Pacific Coast Starlight Travel--and Tours with YMT Vacations!
Take a Coast Starlight train ride year-round. It is an unforgettable experience for passengers—whether they love taking in the gorgeous scenery, indulging in the glorious food, or feeling for just a few hours like they've gone back to a more pleasant era of travel. Join YMT in a Roomette aboard the Coast Starlight on our Alaska Cruise & West Coast Train Tour. Take the Coast Starlight from San Francisco to Seattle, then set off via comfortable coach, and Holland America Line's ms Westerdam, for the breathtaking Alaskan coast. Call your travel professional or YMT Vacations at 1-888-756-9072 to book one of our spring or summer tours!

---