---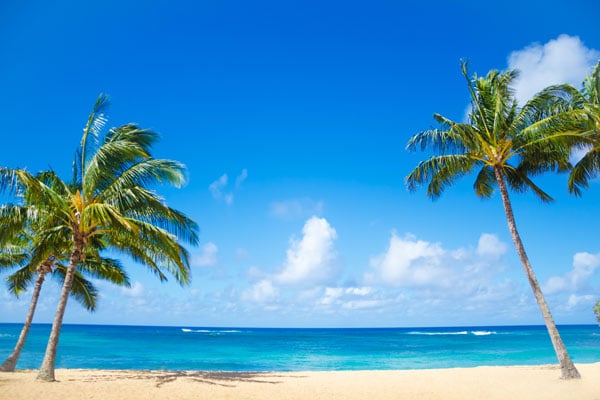 For twelve nights you can get away on a Hawaii Islands cruise and tour. YMT Vacations offers affordable and memorable Hawaii vacation packages that are sure to please the young at heart. Our Hawaii tours offer visits to four of the Hawaiian Islands and the opportunity to experience the best of those islands.
Oahu is where we begin our tour. Known as "The Gathering Place," it is a melting pot of cultures, traditions and geographic regions. You can hike into a rainforest valley untouched by time and stroll along the world-famous Waikiki Beach. You can walk through downtown Honolulu, see the historic buildings, and tour Punchbowl crater and Pali lookout. You will also tour the USS Arizona Memorial at Pearl Harbor.
Maui has a certain magic that is undeniable by anyone who has visited this paradise. It has been voted the best island in the world twenty consecutive times. Maui has a vast appeal to visitors from all over the world, and an abundance of activities. As the home of Volcanoes National Park, it offers the opportunity to view a side of nature one rarely sees.

The Big Island of Hawaii is also the youngest of the Hawaiian Islands chain. It has the most active volcano in Hawaii, Kilauea, which continues to add to the island's mass with lava flows. We will visit Kona, where the world-renowned Kona coffee comes from.
Kauai is renowned for its lush rainforests, crystal clear waterfalls and the amazing Waimea Canyon. Catch a glimpse of the amazing cliffs along the Na Pali coastline. Kauai is a "slice of heaven."
Hawaii Islands Cruise Features:
Sightseeing is one of the mainstays of our tours. We want you see all that Hawaii has to offer and experience the best of every island. Your professional Polynesian Tour Director is knowledgeable on the local area and will provide you with a wealth of information. They will get you excited about the area as well as help you create memories to last a lifetime.
Experience Hawaii with our Hawaii Islands Cruise & Tour. See things that you cannot see anywhere else in the world. Hawaii is a plethora of sights and sound unique to the area. Waterfalls, beaches, volcanoes, untouched natural beauty, history, culture and more await!
YMT Vacations offers affordable vacation packages that include the four main islands of Hawaii and the sights and culture of those islands. Learn about Hawaii's history and culture and take home some unique arts and crafts that can only be found in Hawaii on our Hawaii Islands Cruise & Tour. Book your vacation today!
---