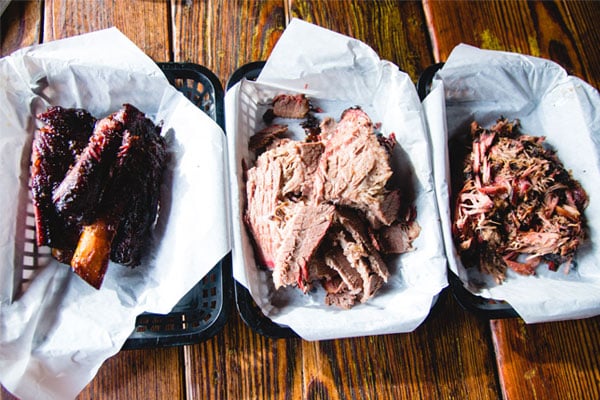 Smoky, savory, juicy, and delicious, barbecue is arguably Americas greatest culinary tradition. Unlike grilling, which involves quick, high heat cooking, proper barbecue must be done low and slow. Cooked over a wood fire whose flavorful smoke permeates the meat, the art of barbecue creates some of the tastiest food in the world. Barbecue regions have their own distinct styles with signature flavor profiles, sauces, cuts of meat, and iconic restaurants.
Where Can You Find the Best Barbecue?
There are four major barbecue regions in theU S: Kansas City, Memphis, the Carolinas, and of course, Texas. What sets each region apart? And where's the best place to sample their most popular dishes?
Kansas City Style BBQ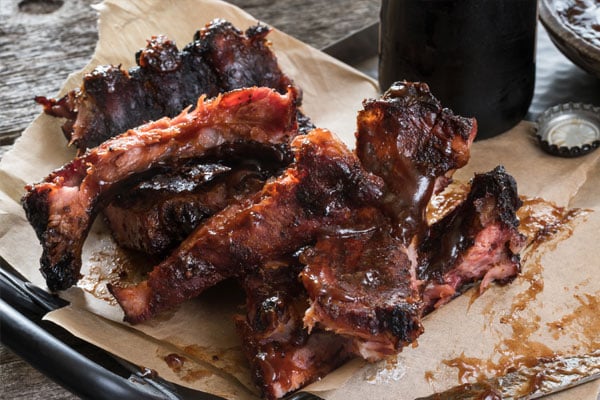 Kansas City is one of America's biggest meat packing hubs, so no matter your meat preference, you can find it here. Kansas City's barbecue sauce is what many people imagine when they're in the mood for standard, classic, lick-your-fingers-clean barbecue. The thick, sticky sauce has ingredients like tomato, molasses, and brown sugar. It is a complex combination of sweet, spicy, savory, and tomatoey.
Kansas City barbecue is traditionally crusted with a sweet and spicy rub. It is smoked slowly over hickory wood and finished with a delicious coating of that signature sauce. If you want to order like a local, Kansas City is the first place where burnt ends exploded in popularity. To this day nowhere does burnt ends better. The best places in Kansas City to sample barbecue include Arthur Bryant's Barbecue, Joe's Kansas City Bar-B-Que, and LC's Bar-B-Q.
Memphis Style BBQ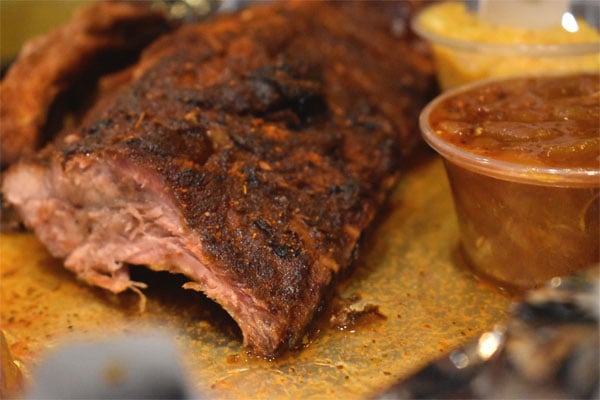 Tennessee produces much of the country's best pork, so it's no surprise that the most popular barbecue items in Memphis are pulled pork and baby back ribs. Memphis style barbecue leads with more of a tangy flavor. It starts with a rub heavy on garlic, paprika, and other sharp, complex flavors, with some recipes calling for upwards of 40 different spices. The sauce is thin and tastes of vinegar, tomato, and that same complex spice mix.
Smoke is an especially important element in the flavor of Memphis style barbecue. Hickory wood smoke is the first choice, but smoke from fruitwoods like peachwood are great options, too. If you can find it, the best, most traditional Memphis barbecue is served straight out of a big pit. Try to score an invite to a wedding or big church function, because that's where you'll find a barbecue pit. The meat is buried and smoked for hours and hours, producing some of the most tender ans flavorful BBQ. Popular places in Memphis for barbecue (above ground, unfortunately) include Rendezvous, Central BBQ, and A&R Bar-B-Que.
Carolina Style BBQ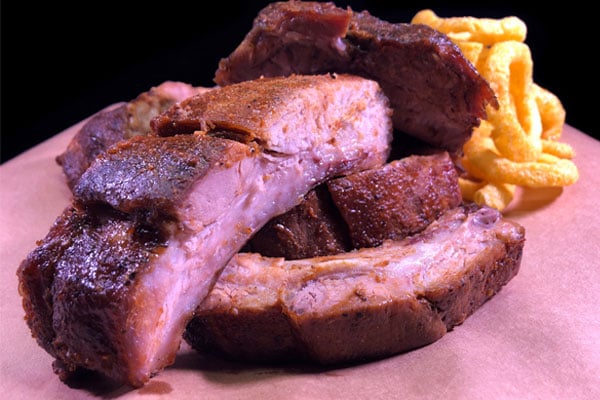 If you want to go the whole hog—literally—head on down to the Carolinas. Pork is king here, with popular BBQ cuts including pork shoulder, ribs, or an entire pig. Carolina barbecue is cooked low and slow, over indirect heat and with a heavy oak wood smoke. Along with ribs, the most common menu item is pulled pork. It's usually served as a sandwich topped with crunchy coleslaw. Or by itself with sides like baked beans, collard greens, or tasty hush puppies.
Carolina barbecue rubs and sauces are distinguished by their use of mustard. The rub traditionally includes mustard seeds, paprika, cayenne and various other savory seasonings. The barbecue sauce starts with mustard that's thinned with a tart, fruity cider vinegar. Finished with brown sugar and other spices, it comes out tangy, sweet and golden. The smooth sauce clings to each delectable bite of Carolina pork. Our favorite places to enjoy Carolina barbecue include Shealy's Barbecue, Sweatman's Barbecue, and Hite's Bar-B-Que.
Texas Style BBQ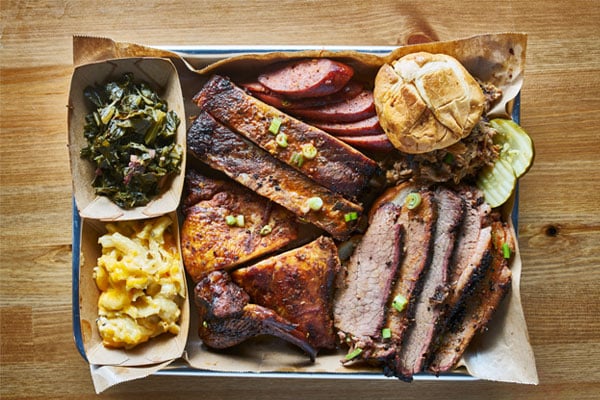 According to Texans everything is bigger in Texas, including barbecue. Although you will often find pork ribs, turkey breast, and sausage, in Texas beef is king. The specialty is brisket, cooked low and slow for up to 12 hours. The long cooking process transforms brisket from one of the toughest cuts of beef into one of the most flavorful and tender.
The preparation of Texas style brisket is simple. Starting with a salt and pepper rub, the beef's long smoking imbues it with oaky flavor and gives it a delicate smoke ring. The smoke ring's telltale border of pink indicates a tender meal and an accomplished pit master. Brisket is usually served without sauce, allowing its meatiness and simple smoky flavor to really shine. When BBQ is served with sauce, it is thinner and less sweet than other regions. It typically includes vegetables as well as a beefy flavor. Some of the best places in Texas to enjoy authentic barbecue include Snow's BBQ in Lexington, Franklin Barbecue in Austin, and Kreuz Market in Lockhart.
Taste the Nation's Best Barbecue with YMT Vacations
If your mouth is watering, there's only one solution: take a trip down to barbecue country with YMT Vacations! Our Historic Route 66 and Blues Highway tours take you through the heart of the Barbecue Belt, where the food promises to be just as great as the scenery! For information, or to make your reservation, call your travel agent or YMT Vacations at 888-978-7406.