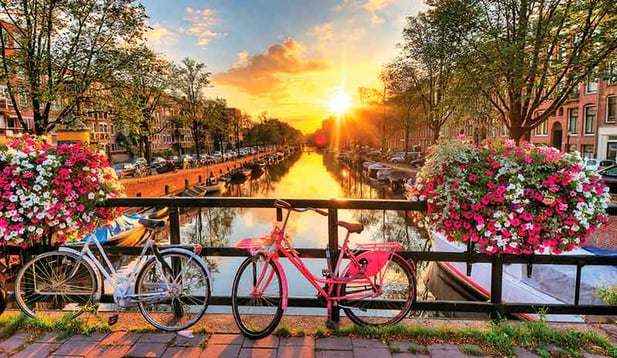 From the historic Anne Frank House to the masterpieces of the Museumplein, the aromas of the city's coffee shops to the cobbled alleys of The Nine Streets shopping district, Amsterdam is best explored by pedal power. With over 800,000 bikes, there are more cycles than people, and even infants are accustomed to life on two wheels. With many paths criss-crossing the narrow streets and canals, there's no better way to get out and discover this 17th century Dutch town. Here are some tips on what you should know to cycle in Amsterdam:
---
Take a Guided Cycle Tour -- Not only is cycling in Amsterdam great fun and good exercise, it's also a way to explore what interests you. Local guides can create an experience that caters to your tastes -- from art to Dutch food, history, to architecture.
Rent a Bike -- Not only is cycling convenient, it's also an essential part of Dutch life. Ride along the canals or to a summer concert and through the beautiful flower strip. With numerous rental shops, a flat landscape and a multitude of wide bike paths, nothing could be easier or more fun. Just remember to always lock up.
Know the Road Rules -- Obey traffic lights and signs, never cycle on footpaths and stay on the right-hand side of the road where lines and symbols dictate the bike path.
Light Up -- You are required to use a light on the front and rear of the cycle after dark.
Watch for Tram Rails -- Bike tires easily catch in the deep tram rails, so always cross at an angle.
Avoid the Rush -- Rush hour in Amsterdam is between 8 and 9 in the morning, and 5 and 6 in the evening. To avoid the thousands of bikers going to work or returning home, plan to travel at alternate times of day.
Go Further -- Outside of the city, interurban cycling tracks connect the towns and villages of the Netherlands in the Dutch National Cycle Network. Three long-distance cycling routes traverse the nation and offer the perfect indulgence for those wanting to experience a century ride in some of the world's most beautiful countryside.
Lock It -- Always lock your bike to something that is immovable, preferably one of the city's many bike racks.
Pull Over -- To avoid a collision, head to the side of the road before checking your phone or map.
Enjoy the Savings -- Not only is cycling the Dutch way, it's also a lot cheaper than public transport and often times much faster.
---
Spending a day in Amsterdam is just one of the exciting things to enjoy on YMT Vacations' Two Continents Cruise & Tour. This 20-day land and sea itinerary begins with five European ports before crossing the Atlantic on the Norwegian Breakaway. Then, you'll explore the 'New World' cities of New York, Philadelphia and Washington D.C. To make your reservations to join this unforgettable journey, call your travel agent or YMT Vacations at 1-888-756-9072.