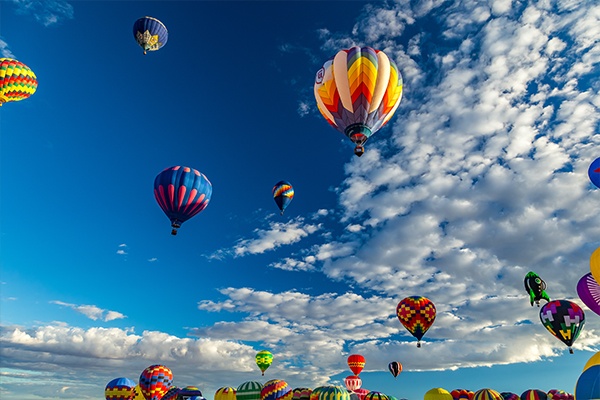 Balloon festivals launch giant, colorful orbs into the skies to go, quite literally, "where the wind takes them." Whether you're lucky enough to see a nighttime glow, a dawn launch, or a mass ascension, it's an experience you won't ever forget. Here are our favorite balloon festivals taking off around the world:
Albuquerque International Balloon Fiesta—It's no secret that Albuquerque's Fiesta is the balloon world's greatest event. The mild October temperatures and desert climate combine to create a phenomenon known as the "Albuquerque box," which allows for a spectacular mass ascension and allows pilots land extremely close to their launch sites. This is the biggest balloon festival in the world, and our personal favorite.
International Balloon Festival of Saint-Jean-sur-Richelieu—Over 100 balloons and almost half a million visitors make this event Canada's largest ballooning celebration. Guests are treated to live music, rides, a crafts fair and, of course, ballooning events like nighttime glows.
Mondial Air Ballons—Held in Lorraine, France every other year to commemorate the French Revolution. The event recently broke the mass ascent record of 456 balloons in less than an hour.
International Hot Air Balloon Festival—The 9-day celebration welcomes pilots from 20 countries to the Swiss Alps. Spectators marvel at the sight of balloons floating across a crisp, blue sky. Explore the sport's history at the local ballooning museum.
Saga International Balloon Fiesta—Guests can learn the basics of ballooning at the Hot Air Balloon School. Each year, around 100 balloons gather along a river in Japan, with over 800,000 visitors watching on.
Bristol International Balloon Fiesta—Europe's largest event brings more than 130 balloons from around the world to Bristol, England. There are several mass lift-offs, live music, glow events and a fireworks finale.
YMT Vacations invites you to experience the granddaddy of all ballooning events, the Albuquerque International Balloon Fiesta. You can witness the event for yourself on the Albuquerque Balloon Fiesta & Southwestern Tour, a 15-day journey featuring the Grand Canyon and the Painted Desert, Carlsbad Caverns and the spectacular Fiesta. To experience the thrill for yourself, call your travel agent or YMT Vacations at 1-888-756-9072.