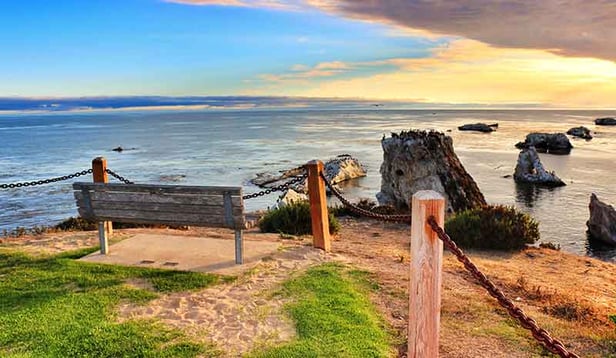 Sandwiched between the blue surf of the Pacific and the green vineyards of wine country, Pismo Beach is a laid-back beach town that begs you to slow down, take off your shoes, and stay for a while. In the heart of California's Central Coast, this charming surfside city is where wine country meets the salty life. Here are some things you'll want to see and do on your travels to Pismo Beach:
---
Taste the Valleys -- San Luis Obispo County wine country boasts hundreds of vineyards thanks to its unique climate, rich soil and long growing season, which produces complex profiles any wine enthusiast will want to explore. Enjoy a guided winery tour, a local wine bar tasting or a self-led wine adventure of your own creation.
Saddle Up -- There's nothing more romantic than a sunset horseback ride by the sea. Enjoy the ocean views and the mountain vistas on a day - or sunset guided-ride.
Get Dirty -- Kids are not the only ones who can have fun in the sandbox. The Oceano Dunes are more than five miles of rolling sand that spills toward the sea. Offshore winds create excellent conditions for ATVs, dune buggies, and other off-road adventures.
Cowabunga! -- From surfing to stand up paddle boarding and body boarding, there's plenty of ways to get wet in this city by the sea. Grab a wet suit, take a session and paddle out for your chance at the perfect wave. For something a bit tamer, explore the southern end of the rocky coast and its secluded beaches on a guided kayak tour.
Retail Therapy -- From charming boutiques to designer-brand outlets, Pismo Beach lets you tailor your shopping excursion to fit your style. Stroll through the beachside surf shops before heading to the discount outlet mall for the latest sales.
Clam Up -- As the "clam capital of the world," Pismo's salty treasure lies with the mollusk. Dig for a few in the sand, visit the annual festival every October or order-up a plate at any seaside shake -- just don't forget the chowder that comes served inside a freshly-baked sourdough bread bowl.
Take a (Board) Walk -- Take a stroll down the 1,200-foot pier to look for whales swimming off the coast, catch a glimpse of what the locals are catching or watch the sun slip below the horizon.
Castle Tours -- The historic Hearst Castle is one of America's greatest displays of wealth. Built over 28 years, this former home of William Randolph Hearst encompasses 90,000 square feet of living space with 56 bedrooms, two pools, a movie theatre and even an exotic animal zoo.
---
Pismo Beach is just one of the exciting stops on your YMT Vacations Rose Parade and Panama Canal Cruise. This diverse 22-day itinerary begins with the legendary Rose Parade before traveling along the Southern California Coast. On the cruise section of the journey you'll visit five ports: Mexico, Guatemala, Nicaragua, Costa Rica and Columbia before making an iconic Panama Canal transit. To make your reservation to join this once-in-a-lifetime trip, call your travel agent or YMT Vacations at 1-888-756-9072.