---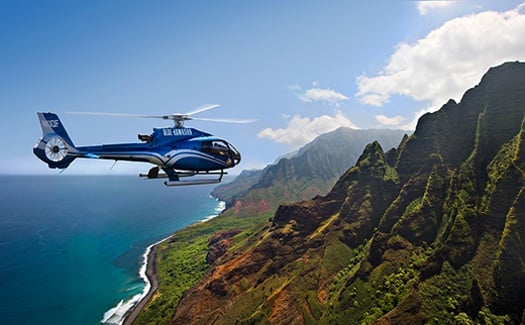 There are many ways you can explore the islands of Hawaii but perhaps one of the most memorable is through a helicopter tour. While most travel itineraries do not include them in the cost of your vacation, these optional tours are a once-in-a-lifetime experience that is well worth the additional expense. But before you take off, here are a few tips for your helicopter tour of Hawaii:
Stay to the right. Since most companies fly clockwise around the islands, choosing a seat on the right-hand side of the helicopter will give you the best view.
• Time matters. Typically, late morning and early afternoon flights allow for fewer shadows and more brilliant colors with the sun overhead.
• Be flexible. Obviously, window seats are the ideal on most six-seater flights. However, seating is based on weight. While couples are rarely separated, weight distribution determines whether you will be seated in the front or the back. Just be flexible and cooperative with your pilot.
• Fly first. When you take a helicopter tour early in your trip, you have a good lay of the land before you explore the island from the ground. This helps you get your geographic bearings.
• Dark is best. To avoid glare on the windows from showing up in your photos, wear dark, solid-patterned clothing.
• Photo tips. If you're flying in a helicopter without doors, always wear your camera strap for obvious reasons. Also, keep you camera speed set on high since you'll be moving at a good speed. Finally, while there are certainly many vistas to capture, make a point of lowering the camera and just enjoying the view first hand.
• Be prepared for motion sickness. If you're prone to a queasy stomach, take a motion sickness pill or wear a patch since winds can make for a bumpy ride.
• Layer up. If your flight is on a helicopter without doors, wear warm layers to prevent a chill and consider wearing a water-resistant outer layer.
• Listen up. Make sure to listen carefully to safety instructions prior to the flight. It's something you'll more than likely never need to know but it's best to be prepared.
Helicopter tours of Kauai make for a great optional tour on YMT Vacations Hawaii journeys:Hawaii Four-Island Tour, Hawaiian Islands Cruise & Tour and Hawaii Four-Island Agricultural Tour. To learn more about which tour is right for you, or to make your reservations, call your travel agent or YMT Vacations at 1-800-922-9000.
---