---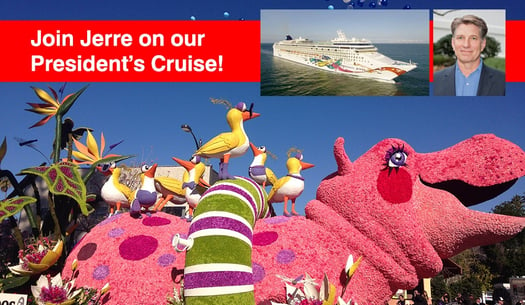 Every year, YMT Vacations offers travelers a chance to venture into the world with our President, Jerre Fuqua. Not only is Jerre a very knowledgeable man, a great storyteller and a lover of people -- he's also a lifelong traveler. While work and everyday obligations often keep him in the office, he relishes the chance to pack his bags and head out into the world. It doesn't really matter where -- Europe, China, even the back roads of our country. Because according to Jerre, every village, every monument, every person has a story worth discovering.
This January, Jerre will join us on YMT Vacations Rose Parade & Mexican Riviera Cruise. This "President's Cruise" not only gives you a chance to interact with this global traveler but you'll also be welcomed into his hometown of Los Angeles where you'll get a local's perspective of the area along with some fascinating looks into the lives of some other presidents as well:
The Ronald Reagan Presidential Foundation & Library -- In a stellar career that spanned more than five decades and crossed into many arenas, Ronald Reagan inspired Americans to act and achieve greatness. Not only is The Ronald Reagan Library the repository for all presidential records of his administration, it also features a historical museum and the actual Air Force One aircraft that served seven U.S. Presidents. During your visit you'll have the chance to act in a movie with the president using green screen technology, deliver the presidential oath of office on the steps of the U.S. Capital and tour a number of interactive exhibits.
The Richard Nixon Presidential Library and Museum -- Situated on nine rolling acres in Yorba Linda, California, this historical attraction features 22 museum galleries, a movie detailing Nixon's early life and political career, and a host of interactive presentations. See the First Lady's Garden, the restored 1910 home where the president was born and even a replica of the White House East Room. Learn about Nixon's travels to more than 80 countries, relive the cultural turbulence of the 1960s and climb aboard Marine One, the presidential helicopter used by four U.S. Presidents.
YMT Vacations Rose Parade & Mexican Riviera Cruise is a 13-day tour that includes exclusive, private viewings of the legendary Rose Parade floats as well as grandstand seats along the parade route. Afterward, you'll embark on an exciting 7-night cruise of the Mexican Riviera with ports of call in Cabo San Lucas, Puerto Vallarta and Mazatlan. To learn more, or to make your reservations to join us, call your travel agent or 800-922-9000.
---