---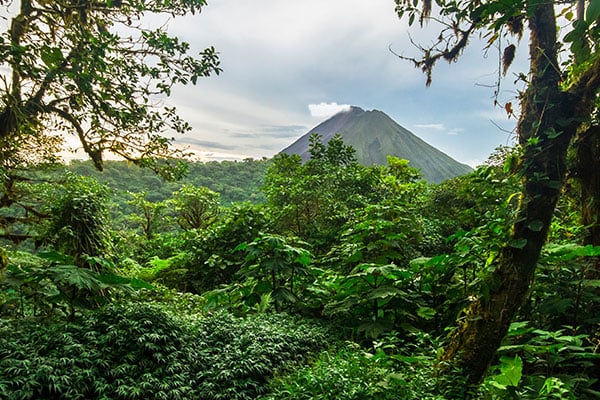 Costa Rica's legendary rainforests are teeming with life. The small Central American country covers barely 0.03 percent of the earth's surface but is home to almost 6 percent of its biodiversity. What does that mean to visitors? Lots of amazing animals, glorious plants, and interesting things to do, all while surrounded by more shades of green than you'll find at a paint store. Costa Rica's rainforests truly are a sight to behold and are at the very top of the Bucket List for countless nature lovers.
Before you embark on your Costa Rican adventure, here are some things we think you should know:
Types of Rainforests in Costa Rica
Costa Rica has both tropical rainforests and cloud forests, which are different types of rainforests.
Tropical Rainforests
Tropical rainforests have high annual rainfall and year-round warm temperatures. They feature tall trees, dense vegetation, and a large quantity and variety of plant and animal life. There is not much plant life on the ground because sunlight can't get through the leafy trees to the ground—this can make walking through tropical rainforests quite easy for visitors.
Cloud Forests
Cloud forests, meanwhile, are characterized by constant fogginess, which is caused by their position on the sides of mountains, and their altitude. Cloud forests are covered with mosses; the ground is thick with vegetation and the trees usually grow thick and short, with gnarled trunks and branches. The high moisture of cloud forests allows a massive variety of plants, like lichens, firms, and colorful orchids, to thrive.
Popular Rainforests
These are some of the most visited rainforests in all of Costa Rica.
Manuel Antonio National Park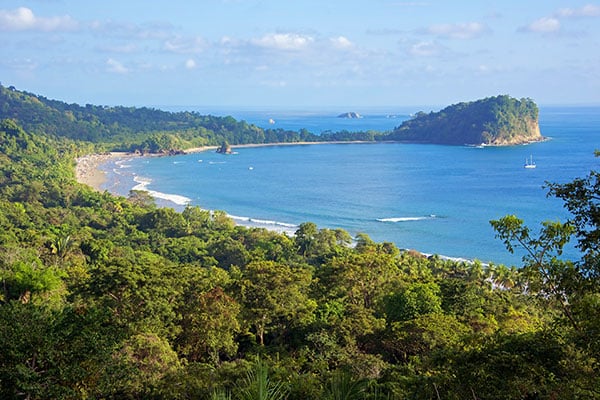 Discovered by Ponce de Leon in 1519, Manuel Antonio National Park is one of the best tropical rainforests in the country. Bordered by gorgeous beaches, the compact national park's well-marked paths snake through the dense rainforest and allow visitors to see a wide variety of plant and animal species. Guests are highly encouraged to heed the "No Food Allowed" signs posted at the entrance to Manuel Antonio, as the park's monkeys are infamous for their sticky fingers when it comes to snacks.
Monteverde Cloud Forest Reserve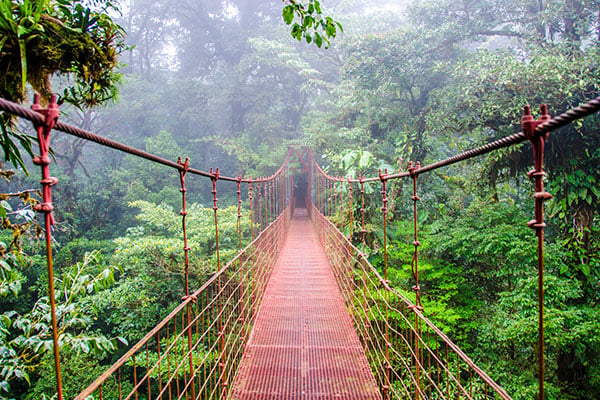 The region of Monteverde has the world's highest concentration of orchids, many of which you will see in the 26,000-acre cloud forest reserve that contains 2,500 plant species, 100 types of mammals, and 400 kinds of birds. Beyond Monteverde's impressive biodiversity, you'll experience the otherworldly mistiness that characterizes cloud forests. Don't miss out on taking a walk on a suspension bridge into the clouds—you'll never forget the experience of being totally surrounded by the forest's thick, warm, nourishing vapor.
Animals You Can See in the Rainforest
Costa Rica's rainforest animals are some of the most incredible in the world. Hyper-adapted to their surroundings, many species only exist in this tiny region; Travelers to the rainforests of Costa Rica should keep their eyes and ears peeled from the moment they enter the jungle.
Mantled Howler Monkey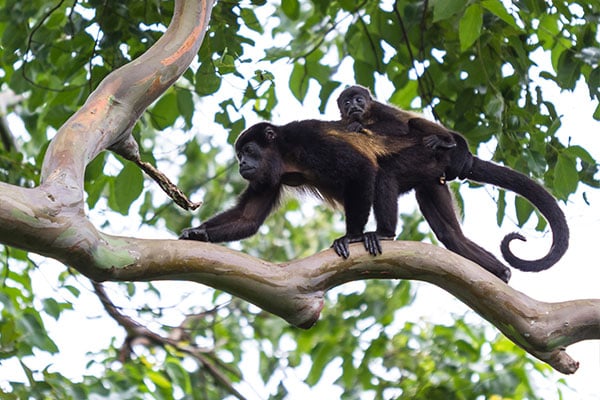 One of the loudest animals in the world, you're likely to hear the howler monkey well before you see them. Males call out—in a sound that National Geographic says sounds like a combination air raid siren and heavy metal guitar solo—and can be heard clearly for three miles—to protect their group, guard their mates, and simply to communicate with one another from across the jungle.
Mantled howler monkeys are covered in thick black fur, with a fringe of golden hair on their flanks, and have an excellent sense of smell that enables them to sniff out fruits and nuts from over a mile away. Found in both tropical rainforests and cloud forests, they live in groups of 10-20 individuals, moving mostly in the canopy or rainforest floor, and using their strong prehensile tails to climb, leap, and sleep amongst the branches. They spend the vast majority of their day resting and napping, and their extraordinary laziness enables them to live for an average 25 years.
Scarlet Macaw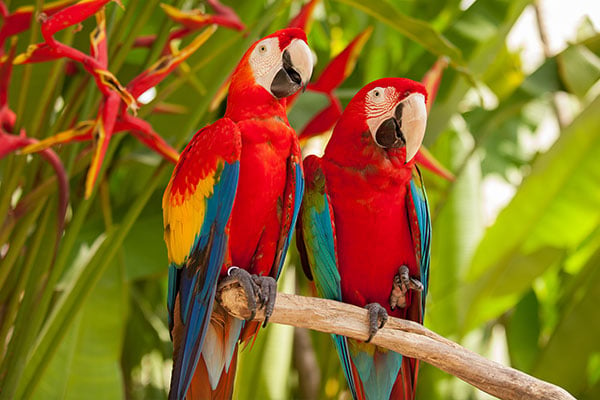 The tropical rainforest's most iconic bird, the scarlet macaw is a rainbow come to life. One of the largest parrots in the world, scarlet macaws can span up to 33 inches from beak to tail. They live high in the rainforest canopy in family units or flocks of up to 50 individuals, and are most often seen from the ground as a bright red flash flying by at up to 35 miles per hour.
Sloth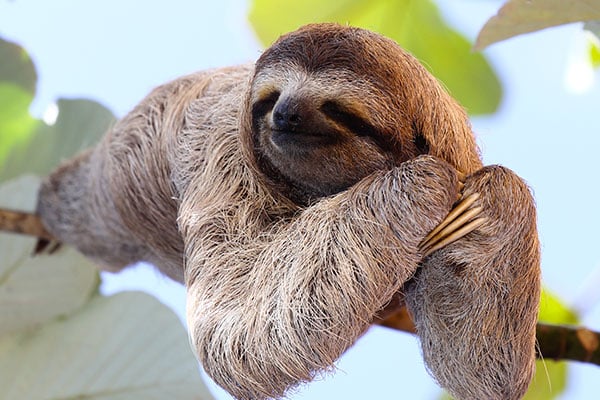 You have the chance to see both the three-toed sloth (marked with a distinctive brown mask) and the two-toed sloth (with more uniform brown markings) in Costa Rica's tropical rainforests and cloud forests—and if you see one of these elusive tree-dwellers, count yourself lucky!
Sloths are perfectly adapted to expend as little energy as possible, moving at just an average of 41 yards each day to maintain their exceptionally slow metabolic rate and to avoid detection by the myriad of predators looking for an easy meal. They spend the lion's share of their time using their claws to hang upside down from tree limbs, moving only when absolutely necessary, and visiting the ground once a week to relieve themselves.
Jaguar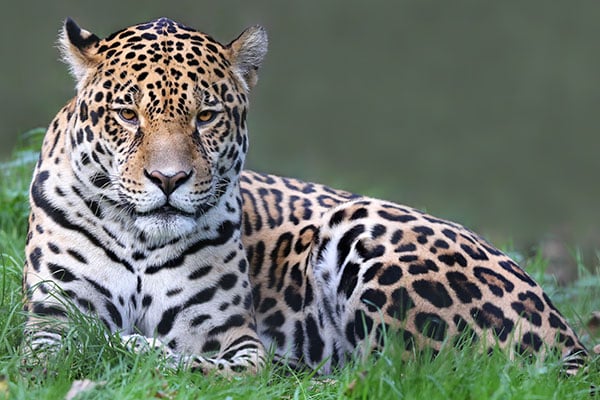 The largest cat in the Americas, jaguars are the de facto kings and queens of Costa Rica's tropical rainforests. They weigh between 120-210 pounds, and eat deer, monkeys, reptiles, fish, and almost any other animal they can get their powerful paws on. After securing a meal, jaguars famously drag their food up to a secluded tree to eat at their leisure.
Unlike the average housecat, jaguars love the water and are keen swimmers, even preferring to stay near water—it makes fishing or spotting a potential snack's footprints that much easier. Jaguars are quite shy, and when they are seen, it's usually at night.
Red-Eyed Tree Frog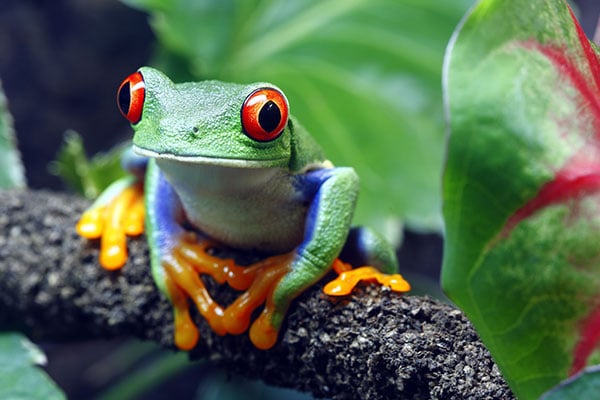 Vibrantly colorful, the dramatic red-eyed tree frog is a very common sight in Costa Rica's cloud forests and tropical rainforests. They hunt at night for insects, and rest and elude predators during the day. They sleep on the underside of leaves, and would be quite visible were it not for their incredible camouflage; they close their eyes to hide the telltale red, curl up their orange toes, and tuck in their limbs to conceal the blue and yellow stripes on their sides. When they're tucked in for bed time, they closely resemble the very leaves they cling to.
Prepare to Visit the Rainforest
Before you visit Costa Rica's rainforests, it's important to know what special supplies you'll need to bring, and what precautions you should take to keep yourself safe during and after your great adventure.
Rainforest Gear and Supplies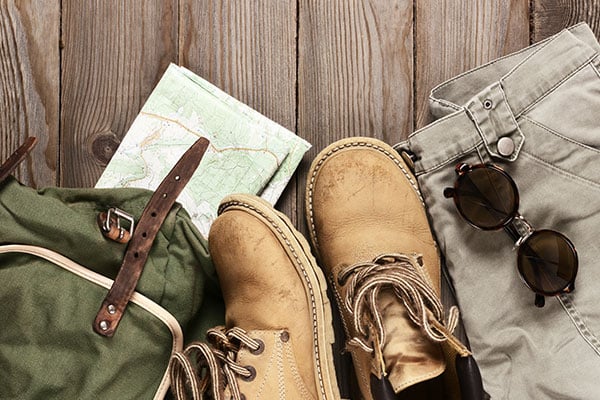 First, you will need to pack rain gear, proper clothing, appropriate footwear, and basic gear. These recommendations are by no means exhaustive, but should be a good jumping off point:
Walking/hiking shoes that can get wet. Because rain is common even during the dry season, your shoes need to be able to provide good support while keeping your feet dry and comfortable.
Light rain jacket—to protect you from the elements without causing you to feel too warm.
Umbrella—rain can come fast and furious at any time.
Quick dry clothing—the tropics are famously damp, you need to choose the right materials if you don't want your clothes to be.
Insect repellant and a mosquito net - protecting yourself from mosquitoes and other stinging or biting insects is essential.
Camera (ideally with a waterproof casing)—beauty is everywhere you look in Costa Rica.
Reusable water bottle—hydration in the warm tropics is very important. Costa Rica is committed to sustainability and has banned the use of single-use plastics, including water bottles, so you must bring your own reusable water bottle or buy one when you arrive. Be sure to refill it several times a day.
Vaccinations Recommended for Central America
Next, you will need vaccinations, ideally 4-8 weeks before departure. Check the CDC and WHO websites before you go for the most up to date recommendations, and be sure let your general practitioner know your travel plans. He or she might have more recommendations based on what's happening in country at the time, or you might be up to date with some of the suggested vaccinations already, and not need them all. As a general rule, the CDC and WHO recommend and/or require visitors to Costa Rica to be current on the following vaccinations:
Hepatitis A
Hepatitis B
Typhoid
Yellow Fever
Rabies
Polio
Meningitis
Measles, Mumps, and Rubella (MMR)
Tdap (Tetanus, Diphtheria, and Pertussis)
Chickenpox
Shingles
Pneumonia
Influenza
The food is excellent in Costa Rica, and the water is safe to drink, so we don't recommend any additional precautions beyond what you do at home. Also, medical care in the country is readily available, and most medicines you would want in the United States are available in Costa Rica, as well.
Things to Do in the Rainforest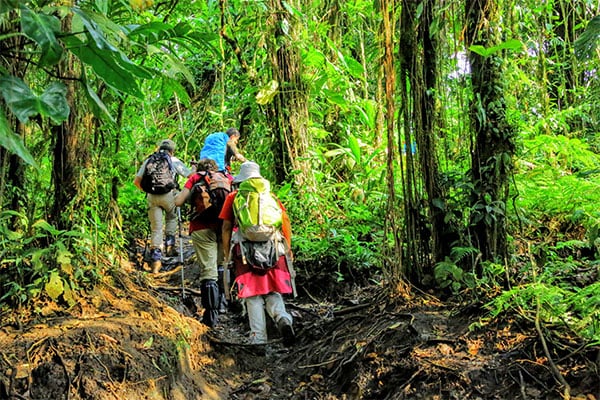 The great thing about visiting rainforests is that they're so interesting that you don't really have to do anything to enjoy them. A simple walk around the rainforest—but be sure to bring plenty of water, a good book, and a nice camera—can be an absolute dream come true for a lot of people. However, if you want more a bit more structure or excitement to your rainforest activities, we have plenty of suggestions:
Horseback riding
There are many ranches and barns that can arrange trail rides throughout Costa Rica. Whether you want to see the tropical rainforest or the cloud forest on horseback, there are outfitters that can help.
Birdwatching
Costa Rica is a mecca for amateur ornithologists. The country is home to 850 species of birds—a whopping 10 percent of the total number of bird species in the world.
Hiking
We recommend that hikers thoroughly research the trails or areas they wish to explore on foot before setting off. Do not push yourself further than you're able when hiking Costa Rica's rainforests, because it's very easy to get lost and disoriented in the dense jungle.
Ziplining
A fun, heart-pounding activity for guests of all ages, ziplining tours are an exciting experience that provides unforgettable forest views.
Take a Costa Rica Rainforest Tour Yourself!
Does this sound fun and wonderfully exciting? We think so, too, which is why we are so thrilled to invite you to join us on a guided tour of Costa Rica. Our 8-day Costa Rican Discovery tour will bring you straight to the heart of the rainforest—walk across a misty bridge in the Monteverde Cloud Forest, listen for howlers at the Arenal Volcano, and relax in hot springs while surrounded by dense jungle at Tabacon. A wild adventure awaits, so grab your passport and join us by calling your travel professional or YMT Vacations at 1-888-756-9072 to book!
---