---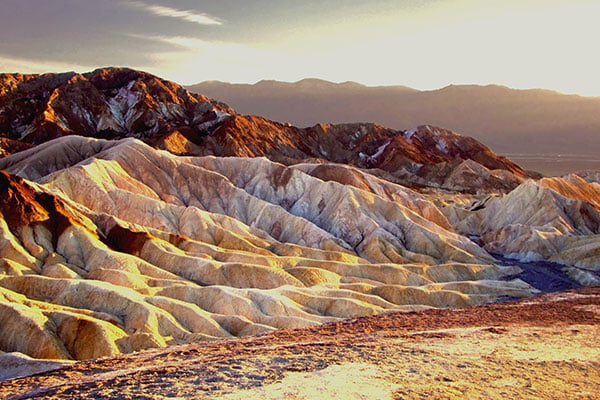 The strikingly beautiful Death Valley National Park in the heart of the Mojave Desert is a land of extremes. It is the lowest, driest and hottest place in the nation with scorching temperatures that can soar above 120 degrees.
This eerie desert landscape is as varied as it is beautiful. Dramatic mountains give way to expansive salt flats, sand dunes and unique hillside landscapes. There is much to do experience and see in this stunning stretch of desert.
Here are some of the top things to do in Death Valley National Park:

1. Artist's Palette
This area of hills is bathed in a rainbow of color — red, pink, orange, purple and green — thanks to the mineral deposits created by eons-old volcanic ash.
Naturally occurring metals have oxidized the clay creating a dazzling display of colors so beautiful they seem like showpieces painted by the great masters of history.

2. Zabriskie Point
This favorite photo stop in the Furnace Creek area of the park is known for its views. Take a short walk from the parking lot down the trail to Zabriskie Point. You will find a stunning overlook with panoramic views of miles of beautifully sculpted hills.
3. Dante's View
Dante's View is found at the top of the Black Mountains at an elevation of 5,472 feet. The panoramic views found atop this towering overlook are some of the best in Death Valley.
Visitors can look down at Badwater Basin, the lowest point in North America, or across to Telescope Peak, the highest point in the park.
4. Stovepipe Wells
After a few hours in the heat, grabbing a bite and cold drink in Stovepipe Wells is one of the best things to do in Death Valley. This well-appointed rest area features a hotel, saloon, restaurant, ghost town, Indian petroglyphs, and exceptional views.

5. Badwater Basin
Badwater Basin is named for the undrinkable salty pools that taunted thirsty travelers making their way through the inhospitable region in centuries past.
Badwater Basin is a 200-square-mile salt flat famous for being home to the lowest point in North America, sitting 282 feet below sea level. It is a barren expanse of flat land, except for the pools of salt water that fill and evaporate according to the park's weather and precipitation levels. You can walk out into the massive salt flat, its billions of geometric salt crystals give a satisfying crunch with each step.
6. Mesquite Flat Dunes
Despite being the most iconic "Hollywood" desert landscape, sand dunes are quite uncommon in American deserts. This makes Mesquite Flat Dunes an extra special treat. They are easy to access; just park your car and walk to whichever one looks best. Because the sand dunes are constantly changing, there are no maps or set trails.
As you wander, be sure to maintain your bearings. The Mesquite Flat Sand Dunes cover a large area of the park, with some dunes rising up to 100 feet in the air.
7. Furnace Creek Visitors Center
To make the most of your trip, the park offers self-guided ranger tours to more than 80 GPS hotspots in the park. Just drop by the Furnace Creek Visitors Center to pick one up.
If it's your first visit, you may want to join a group tour that features guided excursions to this National Park.
Visit Death Valley with YMT Vacations
Seeing Death Valley in person is a must for nature lovers. YMT Vacations' Golden California National Parks Tour is a great way to visit Death Valley National Park and several other of California's most popular parks.
To make arrangements to join us on either, or for information about any of our other National Parks journeys, call your travel consultant or YMT Vacations at 1-888-756-9072.