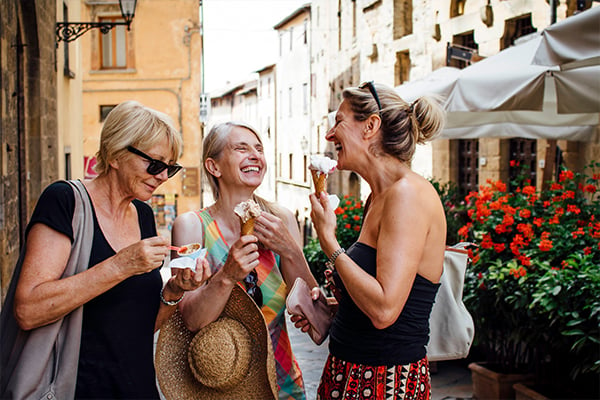 The quality of a destination's food has become one of the first considerations for travelers—there's no better way to appreciate a new culture than by pulling up a seat at the table and digging in. At the end of each year, there is a glut of must-eat lists. Here are a few of our favorites for 2018.
The top 10 global food cities according to travelers
We all know chefs, experts, and journalists all have their thoughts on where we should be dining, but here are the cities travelers like yourself rated as the best in the world to eat, according to booking data from TripAdvisor:
Rome, Italy—Don't miss the seasonal artichokes or a sweet gelato on a summer day.
Florence, Italy—Foodies love this city for the Mercato Centrale market and the legendary Bistecca alla Fiorentina steak.
Paris, France—From a record number of Michelin-starred restaurants to its overflowing patisseries—even the simple pleasure of a warm baguette—dining in Paris is always in fashion.
Barcelona, Spain—The capital of Catalan is home to tapas, sangria and some of the freshest seafood in the world.
New Orleans, Louisiana—The Big Easy is a fiery mash-up of Caribbean, French, African and Southern flavors. Don't miss trying a freshly fried beignet, whose generous covering of powdered sugar is guaranteed to leave you with a telltale snowy white smear.
New York City, New York—The unexpected vote for most-affordable option for locals.
Venice, Italy—Guests expect the spectacular seafood dishes, but don't dismiss the vegetarian and vegan options before giving them a try.
Madrid, Spain—Home to upscale restaurants, mom-and-pop dives, and food tours, this culinary hotspot is a perennial favorite for gourmands on the go.
Tokyo, Japan—From textbook ramen to street side hot pots and an emerging hub of fine dining establishments, Tokyo is becoming one of the best cities for eating.
Bangkok, Thailand—Bangkok's street food is some of the world's best. Come hungry, and enjoy spicy curries, screaming hot grilled meats, fresh green papaya salad, and the best pad thai of your life from local street vendors. The American dollar goes far here, so you will be able to sample a tremendous variety of dishes for very little money.
Most Food Diversity:
Topping the Forbes list for Most Food Diversity are New York City, London and Toronto. These metropolitan cities offer more options in their downtown areas than certain countries do within their borders. Whether you're craving Nepalese, Eritrean, Guatemalan, or pizza, chances are whatever flavors you have in mind are on the menu.
World's Best Street Food:
Not all good food has to be expensive, like CNN's list of its Best Cities for Street Food proves. Among the best street food are Tokyo and Honolulu. Beyond Tokyo's high-end food scene are innovative street food vendors, while Honolulu practically rules the food truck world with its oceanside poke wagons.
Whatever food you're in the mood for, chances are YMT Vacations has a tour that'll take you there. To learn more, contact your travel professional or call YMT Vacations at 1-888-756-9072.