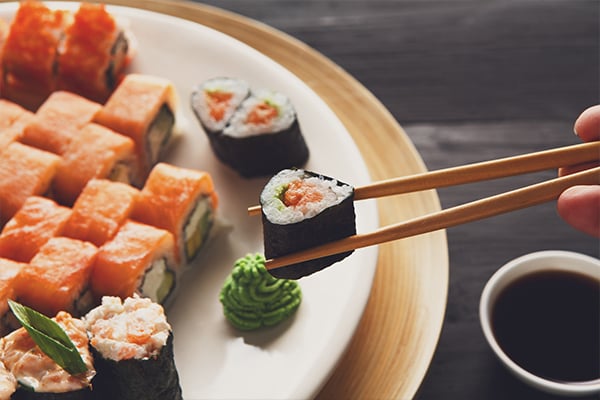 Tokyo, Japan has a well-earned reputation as one of the finest foodie cities on the planet. Tokyo's culinary offerings run the gamut from Michelin-starred haute cuisine to humble street food.
No matter the cost, you can expect perfection from each dish served in the bustling Japanese capital. Fresh ingredients, centuries of knowledge, and a culture with exacting taste all ensure that the food you eat in Tokyo will be a highlight of your trip.
Popular Foods Found in Tokyo
There is plenty of great food to eat in Tokyo. With 160,000 registered restaurants in the city, where do you start? How do you find the best local food in Tokyo?
These popular traditional Japanese foods are must-haves for locals and visitors alike.
Sushi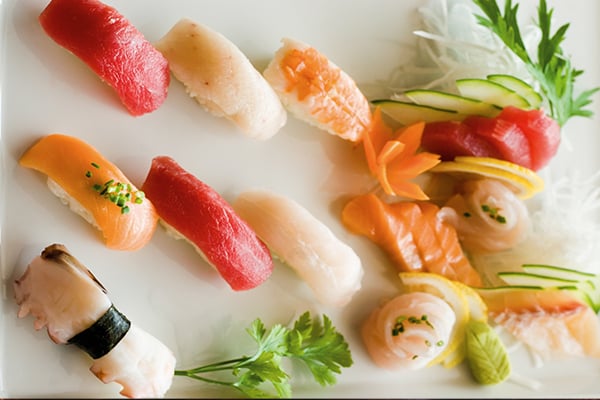 If you want to eat the best food in Tokyo, start with sushi. These small bites require perfect balance. With a simple pairing of seasoned rice and often just a single piece of raw fish, each element needs to be flawless. The highest level of execution is the standard in Tokyo, which is why the sushi is so good.
The finest freshest fish is used. The vegetables are all selected and prepared by hand. Finally, the special sushi rice has been elevated to an art form. Its texture and flavor are a result of countless years of practice.
In addition, Tokyo's sushi chefs are the best in the world. Tokyo attracts top culinary talent, many of whom have devoted decades of their lives to sushi. Don't miss out on your chance to sit down at the highly regarded sushi hotspots of Matsuei or Kyubei.
Ramen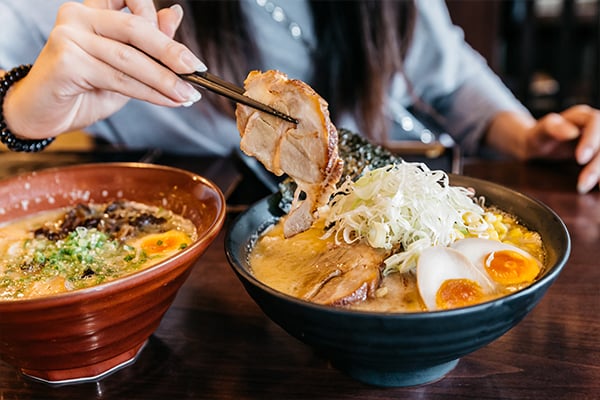 Many Americans have the wrong idea about ramen. It is much more than just a cheap, fast dorm room staple. Great ramen—which you will find an abundance of in Tokyo—is a delicious, flavorful, texturally sophisticated delight.
Chewy noodles and savory ingredients including meats, vegetables, and often a runny egg, are served in an intensely flavored broth. Steam rises above the freshly prepared soup, each beautifully displayed ingredient cooked perfectly to lock in its vibrant color. Dig in with your special ramen spoon, and feel free to slurp. The chef will take it as a compliment!
The best spots for ramen in Tokyo include Afuri and Sobahouse Konjiki Hototogisu.
Tempura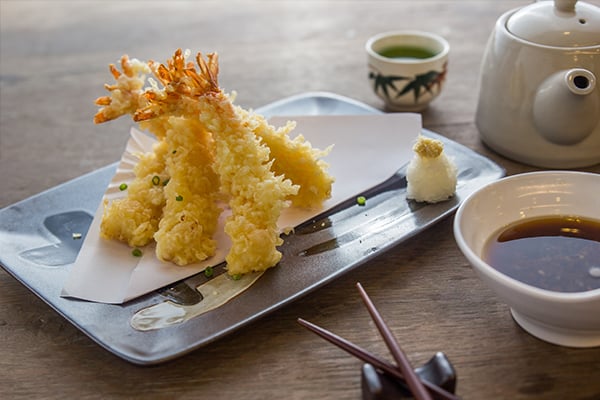 The simple act of deep frying has been perfected in Japanese cuisine. Tempura, fried seafood or vegetables, is light and crispy. The airy batter doesn't overwhelm the fresh ingredients. It is meant to showcase the different flavors and textures of green beans, sweet potatoes, and shrimp—and to improve them in the way that only deep frying can.
Enjoy tempura as an appetizer or entrée, being sure to dip generously in the provided sauces. We recommend you try either Tempura Abe or Tsunahachi.
Soba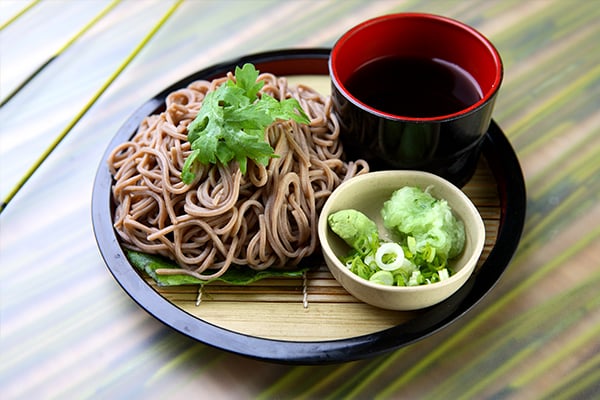 Soba, a simple dish of buckwheat noodles served chilled or in a hot broth, is one of Tokyo's favorite comfort foods. Buckwheat is full of fiber and protein, which makes soba as filling as it is delicious. Soba soup can be served in as many varieties as ramen, while chilled soba is served with scrumptious dipping sauces.
It makes for a refreshing and satisfying summer meal. Hand-made soba noodles are the best tasting and most authentic. Try them at Kawakami An or Kanda Yabusoba.
Yakitori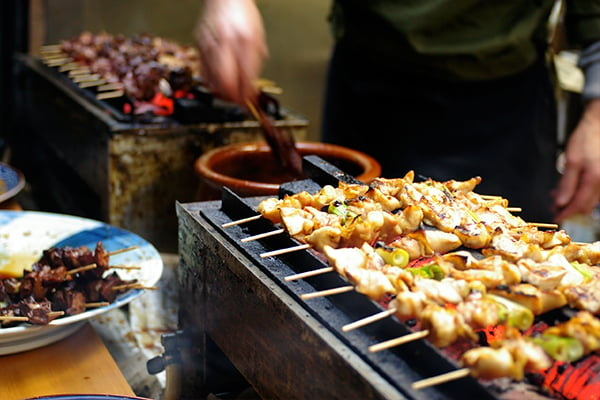 Grilled meat on a stick is found around the world, and nowhere is it better than Tokyo. Yakitori chicken or pork is skewered with a steel or bamboo stick, grilled over a charcoal fire, and finished with a flavorful tare sauce. Salty-sweet, crunchy, and intoxicatingly aromatic, yakitori is impossible to resist.
Utterly unpretentious, yakitori goes best with a beer and a boisterous atmosphere. Easily a top 10 food in Tokyo, sample the yakitori at a pub or a specialty restaurant. Our favorites are Torikizoku and Torishiki.
Unexpected Places to Eat in Tokyo
When people say everything is good in Tokyo, they mean it quite literally. The restaurants in Japan aren't the only places to enjoy great food. Vending machines dispense drinks and candy, sure, but they also sell delicious meaty pork cutlet sandwiches and fresh fruit.
Even gas station food in Tokyo is delicious, with 7-Eleven's egg salad sandwiches being a particular standout. Tokyo truly is a paradise for foodies, no matter how humble the setting.
Here are some of Tokyo's most unexpected hidden treasures.
Airport Dagashi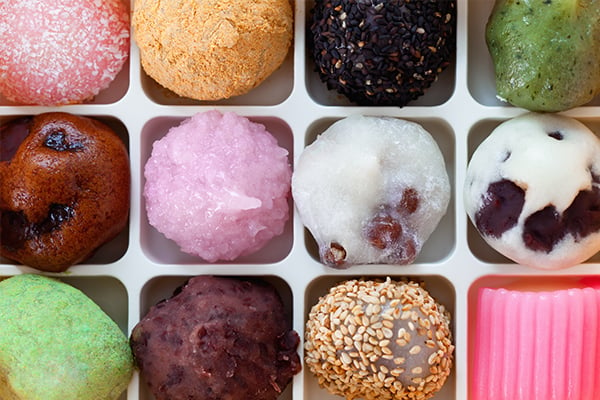 Dagashi are the inexpensive little novelty snacks served at every corner store in Tokyo. They are traditionally candies, cakes, and crackers in bright, eye-catching packaging. They're a more evolved form of American penny candies.
Japanese dagashi are often exquisitely beautiful. Expect colorful, intricately carved little morsels bursting with unique flavors. Japanese airports always have great selections of dagashi. They are the perfect authentic, yet inexpensive, souvenir to bring home.
Street Food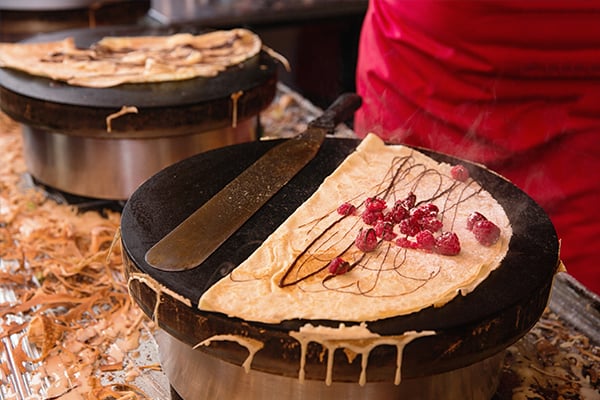 Some of the best Tokyo restaurants for foreigners and locals alike aren't technically restaurants at all. Stalls and street food restaurants in Tokyo serve cheap, abundant, and varied cuisine. Some of the best places to eat in Japan, Tokyo's street food is made with tremendous care and pride. Don't miss the chance to pig out on the streets of Tokyo!
Ikayaki, or grilled squid, is highly traditional. Dango, colorful mochi dumplings, or fruity crepes are the perfect dessert. Savory okonomiyaki pancakes, baked sweet potatoes, rolled omelets, grilled corn, octopus balls, and gyoza dumplings are just some of the standouts. Come hungry, because the varieties of Tokyo's street foods are endless!
Try the Best Food in Tokyo on a Tour with YMT Vacations
If your mouth is watering just imagining what the best food in Tokyo must taste like, it's time to book your ticket. Delicious cuisine, fascinating traditions, thousands of years of history, and a unique culture await you in Japan.
Join us in Tokyo, home of many of the best restaurants in Japan, on our Alaska, Russia & Japan Tour, a scenic and culturally rich cruise tour through three incredible countries. Call your travel consultant or YMT Vacations at 1-888-756-9072 to book today! ­