---
National Parks are the best place to see wildlife in USA. They offer protected habitats for wild animals to roam freely. Visitors can observe wildlife as they live and interact with each other in their natural environment.
The best wildlife viewing can be found at these National Parks.
Yellowstone National Park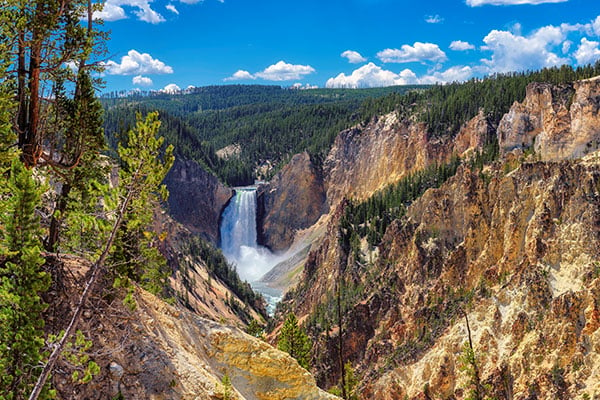 America's first national park, Yellowstone is located in Montana, Wyoming, and Idaho. The park is actually the largest active supervolcano in the United States. At 30-by-45 miles, it last erupted 640,000 years ago. No need to worry, though. Experts say there will be decades of warning signs before the next eruption.
Yellowstone National Park is home to many animals native to the Rocky Mountain region. The park's abundant and diverse wildlife includes an estimated 300 species of birds, 16 types of fish, and 67 species of mammals. More than 4 million people visit the wildlife at Yellowstone each year.
Bison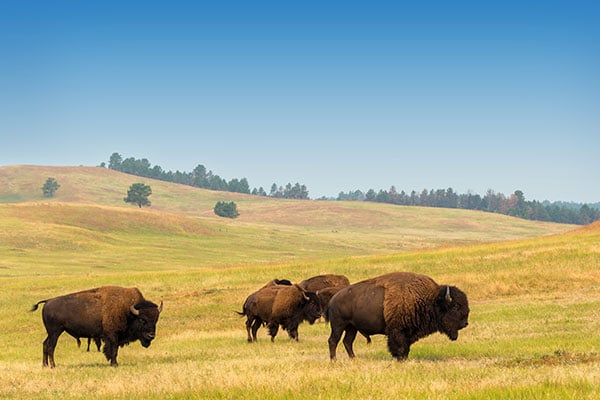 Yellowstone is the only place in the U.S. where bison have lived continuously since prehistoric times. These powerful herbivores are the largest mammals in the park. Males weigh up to 2,000 pounds, while females weigh up to 1,000 pounds.
Bison still display wild behavior like their ancestors. They congregate during breeding season to compete for mates, and explore in search of new habitats.
Unlike other herds can be seen all year long in the Hayden and Lamar valleys.
Bears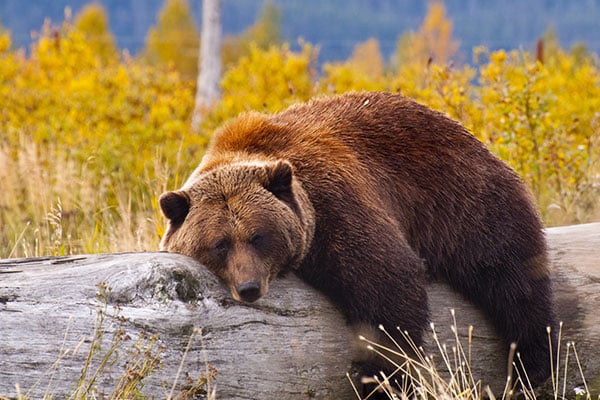 Inhabited by both black bears and grizzly bears, Yellowstone is one of the best places to see wild bears. Black bears can be black, blond, or brown, but grizzlies tend to have a prominent shoulder hump. This is the best way to ID them. Additionally, grizzlies can get up to 700 pounds, while black bears are typically half that size.
Bears are active in Yellowstone during the spring, summer, and fall. They hibernate all winter, emerging again in March or early April. Visit Lamar and Hayden valleys for your best chance to spot bears.
Other Wildlife to Spot at Yellowstone National Park
A variety of wildlife is abundant throughout the park. During your visit, you'll have a great chance of seeing the national park's animals listed above. Additionally, these are some of the other animals you could see when visiting Yellowstone National Park:
Gray wolves
Wolverines
Canada Lynx
Elk
Bighorn Sheep
Denali National Park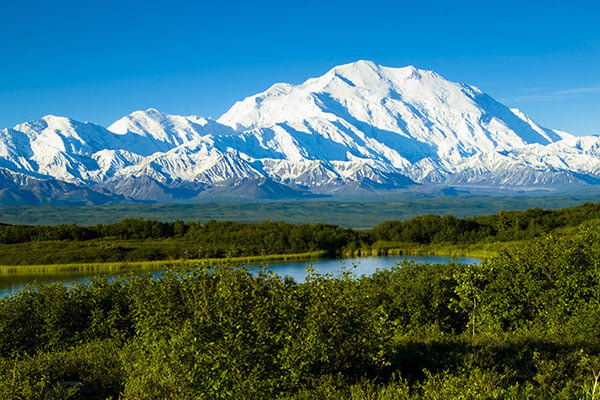 This National Park was established to protect the immense wildlife population in Alaska. Offering beautiful scenery, fascinating wildlife and plenty to do, Denali made it on our list of National Park gems.
It is home to countless species of animals and is often compared to an African safari. Denali consists of 6 million acres and wild animals roam these unfenced lands, living as they have for ages.
Caribou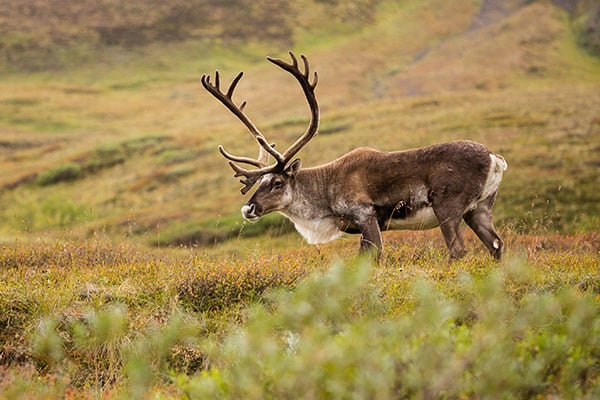 Caribou belong to the deer family but are the only species in which both males and females grow antlers. They grow and shed their antlers each year.
Herds travel constantly and rely almost completely on their sense of smell to detect danger. They can run up to 40+ miles per hour and are excellent swimmers. Mature caribou stand about 8 feet in length and weigh anywhere between 130 to over 350 pounds.
There are about 2,000 Caribou in Denali. During the early summer, they can be seen in the open areas east of the Savage River. Later in the summer, they move west of Sable Pass. One particular herd, the Denali Herd, inhabits most of the park east of the Foraker River and north of the Alaska Range most of the year.
Other Denali National Park Wildlife
In addition to caribou, other large and small mammals that can be spotted in Denali National Park include:
Grizzly bears
Moose
Wolves
Lynx
Red fox
Dall sheep
Marmots
Denali also has a varied bird life. Ravens, gray jays and mew gulls are some of the most commonly seen birds. Golden eagles are among the largest birds in the park.
Yosemite National Park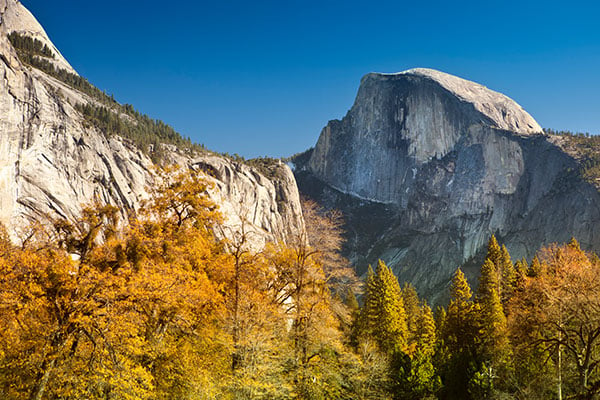 Located in California, Yosemite is a popular park that has stunning views and abundant wildlife. The park is home to more than 400 types of species of animals.
In addition, there are plenty of recreational opportunities ranging from relaxed to very active. El Capitan is one of the most iconic summits in Yosemite and was the site of Alex Honnold's free solo ascent in 2018.
Sierra Nevada Bighorn Sheep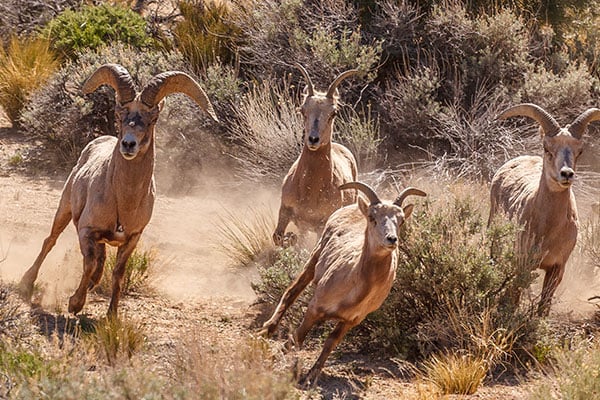 These sheep are the rarest mountain sheep in North America. They are an endangered species because of their low numbers and vulnerability to disease. Yosemite offers the best habitat for bighorn sheep, because of the plentiful high elevation alpine meadows. It is an important source of nutrition for the bighorn sheep.
Visitors are most likely to view bighorn sheep in low elevation areas during the winter. The weather is less severe at lower elevations and food is more accessible. During the summer, they return to the highest elevation peaks of the Sierra Nevadas.
Other Wildlife at Yosemite National Park
Here are some other animals you could see when visiting Yosemite National Park:
Black bears
Mule Deer
Bobcat
Coyote
Mountain Lions
Yosemite is also home to over 262 species of birds! Depending on when and where you are in the park, there is a wide array of birds you can see.
Glacier National Park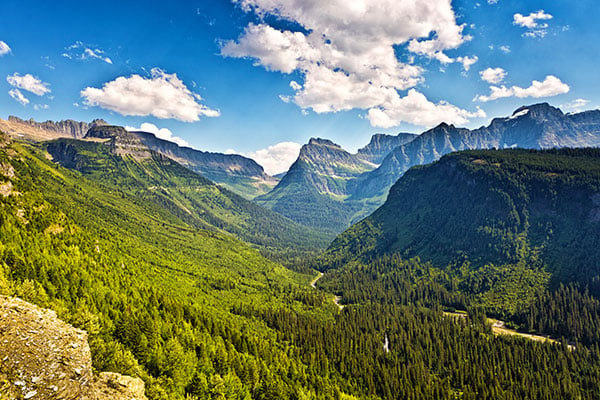 Located in Montana, Glacier National Park is unique because it straddles the Continental Divide. This is where opposing Pacific and Arctic air meet, causing extreme weather. Check the park's website for weather alerts before departing for your tour.
You may recognize the stunning Going-to-the-Sun Road from the opening credits of the 1980 film, The Shining.
The park has 71 species of mammals, and there are plenty of opportunities for wildlife viewing. Glacier National Park offers guided day hikes, as well as backpacking trips lasting from one day to one week.
Elk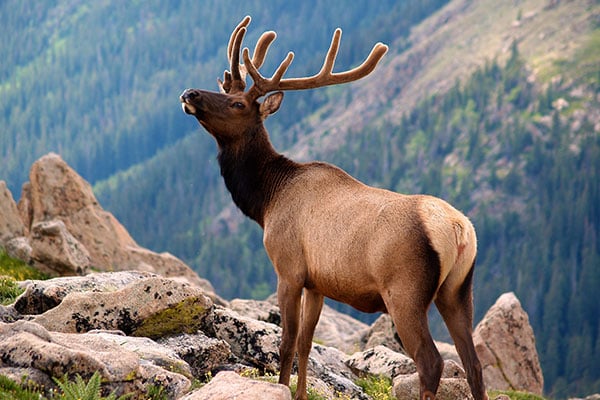 One of the largest land mammals in North America, elk sport a distinctive mane. Males can reach between 700 and 1,000 pounds and have a rack of antlers. Females usually weigh around 500-600 pounds and do not have antlers.
Mating season occurs between late August and December. Dominant males attract females by showing off their large antlers and sparring with competitors. The male's bugle call is often heard during the mating season.
Elk remain at higher elevations during the summer and move to lower areas in the fall and winter. Look for them in the North Fork area, around Big Prairie. They can also be spotted most of the year in the Two Dog Flats area.
Other Wildlife of Glacier National Park
The wildlife in Glacier National Park has been protected since the was established in 1910. In addition to the more than 70 different species of mammals, over 260 species of birds also call Glacier home. Here are some other animals you could see when visiting Glacier National Park:
Grizzly bears
Beavers
Bighorn sheep
Lynx
Mountain Goats
Mountain Lions
Wolves
Zion National Park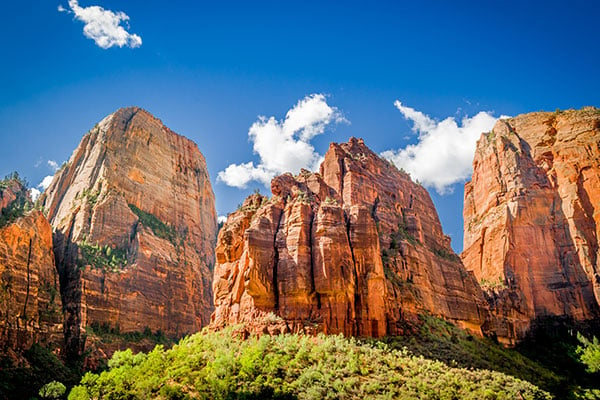 Best known for Zion Canyon, a deep, red rock canyon, Zion National Park has a dramatic vertical landscape that is sure to impress visitors. It is one of the few national parks that encourage biking. Visitors can enjoy the stunning scenery without looking through a window.
The park is home to 68 species of mammals, 29 species of reptiles, and 289 species of birds. Zion is a critical habitat for rare species: California condors and Mexican spotted owls.
Mule Deer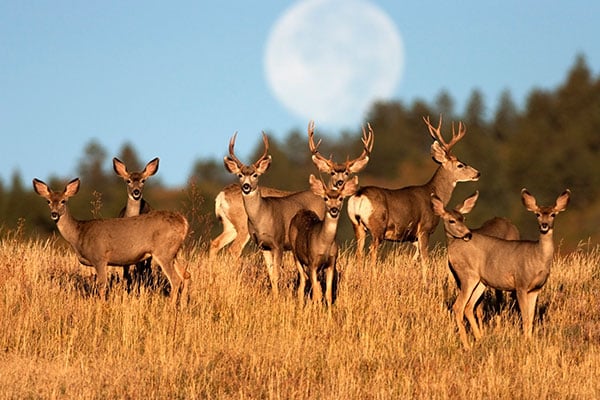 Mule deer are the most commonly seen and photographed large mammal at Zion National Park. Males have elegant antlers, which start to grow in the spring and continue throughout the summer. By the fall's mating season, the antlers are fully-grown and used to jostle other males to establish authority.
Mule deer can be seen during the cooler morning and evening hours. Find them near Zion Lodge and along the Virgin River at the bottom of Zion Canyon. They frequent these areas to drink, graze, and cool off from the summer heat.
Other Zion National Park Wildlife
Whether you're walking the trails, in the canyons or taking in a stunning view at an overlook, there's a good chance you will see at least one of Zion's many wild animals. Animals you may see, other than mule deer, include:
Foxes
Bats
Bighorn sheep
Rock squirrel
Ringtail cat
EXPERIENCE BEST WILDLIFE NATIONAL PARKS IN THE WORLD
National Parks make for great vacations to observe wildlife in their natural habitat. On a YMT guided tour, you'll have the chance to see these national park animals. As a matter of fact, when you take a tour, your chances of seeing wildlife are greater since you'll be with a guide who knows the best spots to see different types of animals.
Discover all of the beauty available in America's incredible National Parks when you take one of the best wildlife vacations in the US.
To join one of our National Parks tours, call your travel consultant or YMT Vacations at 1-888-756-9072.