---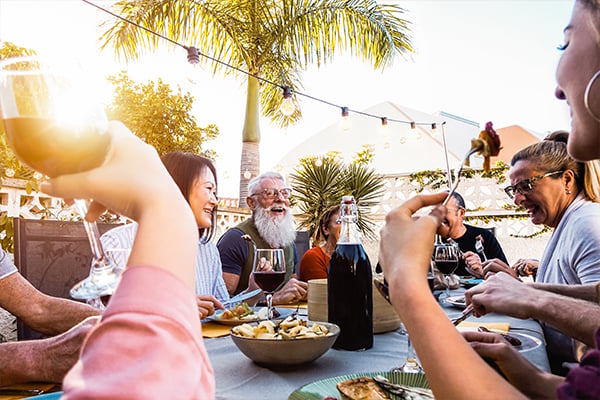 Despite its relatively small size, and reputation as little sister to glamorous Sydney, Melbourne is a robust, dynamic place to visit—especially when you're hungry. Known as the most European of Australia's major cities, Melbourne is a cultural melting pot with a wide variety of delicious restaurants to try. Whether you're looking for glitzy fine dining, down-to-earth Aussie specialties, or the best ethnic food you can find outside of the motherland itself, you're sure to have some of the most flavorful meals of your life in Marvelous Melbourne.
Downtown Melbourne Restaurants
Melbourne's downtown district is a buzzing place to grab a bite.! With history dating back to the 1800s, a thriving business community, and a dynamic art scene, Downtown Melbourne is as full of life as it is good food. You can seek out one of the sneakily out-of-the-way "food alleys," or enjoy a perfectly pulled pint and spectacular pub grub in Downtown's Central Business District. Here are some of our favorites:
The Elephant and Wheelbarrow
Brilliantly named and British enough to make Anglophiles simply giddy, The Elephant & Wheelbarrow is arguably Downtown Melbourne's most traditional English pub. Nothing fancy here—just impeccably prepared English specialties like Bangers and mash, fish and chips, and of course, a properly sprawling "full English" breakfast platter with fried eggs, bacon and sausage, a hearty veg or two, baked beans, black pudding (try it if you dare…) and thick-cut slices of toast and butter. Wash it all down with a Guinness for the full experience.
Cumulus Inc.
One of Downtown Melbourne's most popular restaurants, Cumulus Inc. celebrates and elevates its gorgeous Australian ingredients. From the beautifully prepared meats, to the magnificent oysters, to the impeccable vegetables and fruit they utilize in their sophisticated dishes, fresh, local ingredients are always the star. The Chef's Selection prix fixe menu is a multi-course tasting menu that changes daily, and is the restaurant's ultimate showcase of the chef's creativity and the day's best ingredients.
Melbourne Beach Restaurants
With a string of gorgeous beaches only a few miles from the lively city center, dining at the shore is a must when visiting Melbourne. When the weather is nice, or if you'd just like to get out of the city and give your feet a nice soak, head out to St. Kilda, Brighton, or Parkdale for a great time and some delicious food.
Jimmi Jamz Pizza
Melbourne's peaceful, relaxed, quintessentially Aussie Elwood neighborhood is right on the beach. To do the laid-back hamlet justice, you've got to try a slice from Jimmi Jamz. The hangout is beloved by locals, who enjoy the comfortable environment and delicious Italian cuisine.
Little Blue Restaurant
Walk to the end of St. Kilda Pier to the iconic Little Blue Restaurant for a scrumptious meal and incredible penguin views. The modern Australian cuisine is expertly prepared, but the restaurant's most attractive feature is its scenic location. The waterfront deck gives you a panoramic view of the ocean, plus the restaurant is close enough to the beach's little blue penguin colony for you to take a peek in between bites.
The Best of the Rest
Visitors who make it out to some of Melbourne's less famous neighborhoods are almost always rewarded for the journey with delicious food. Melbourne's diverse population has brought cuisine from around the globe, and a lot of their often tiny restaurants reflect all the love they still have for their ancestral homeland.
Kalimera Souvlaki Art
Oakleigh is home to the world's largest Greek population outside of Greece, and some of the best Greek food in the neighborhood can be found at Kalimera Souvlaki Art. Kalimera means "good day" in Greek, and you can taste the spirit of this friendly sentiment in every bite. The restaurant serves 3,000 gyros a week, and you'll understand why after your first flavorful bite.
Prahran Market
The best place in the city to prep for a picnic, Prahran Market is full of food stalls selling gorgeous local ingredients. Mingle with locals buying fresh meat, seafood, and produce while packing a basket of your own. Or, if you want to eat something already made for you, the market has an excellent selection of eateries selling prepared food.
Visit Melbourne with YMT Vacations!
Pack your bags and fall in love with Melbourne on one of our trips down-under. For information, or to make your plans to join this journey-of-a-lifetime, call your travel consultant or YMT Vacations at 1-888-756-9072.