Running parallel to the Mississippi for nearly 1,400 miles from Minnesota down to the Gulf of Mexico, Highway 61 is one of America's iconic roads. Particularly the final stretch from Memphis to New Orleans known as the Blues Highway. Countless blues musicians traveled the Blues Highway in the early and mid-20th century. This is where the blues was born, and it is full of can't-miss stops for blues lovers. The land that gave us Muddy Waters, B.B. King, and Robert Johnson is rich with culture and filled with music. Visiting the historic sites of the Blues Highway that explore this musical past are an unforgettable experience.
Where to Stop on the Blues Highway
The Blues Highway has something for everyone. Whether you want to see live music, eat authentic soul food, visit museums, or even take fun pictures at quirky roadside attractions you can find it on the Blues Highway. These are our favorite spots in our favorite towns along this historic route.
Graceland in Memphis, Tennessee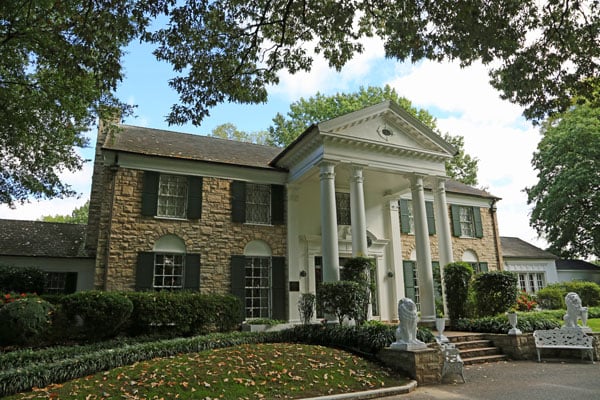 Elvis was world-famous for his swinging hips and for ushering in the era of rock'n'roll. But the kid from Mississippi was heavily influenced by the blues. He infused many blues elements along with pop, gospel, and country to create his signature earth-shaking sound.
So, the first stop in Memphis for any music lover has to be Graceland, Elvis Presley's former home. The King of Rock'n'Roll spent many of his happiest years at the sprawling estate. It has since been turned into a celebrated museum dedicated to his life, legacy, and music. Explore how Elvis lived, including his mansion, gardens, cars, and airplanes.
Graceland is open daily from 9 a.m. – 4 p.m., except for holidays. Advance ticket sales are available and highly recommended. Ticket prices range from $62.70 - $69 for adults and $38 for children over 6.
Sun Studios in Memphis, Tennessee
Take a tour of the recording studio where legendary blues musicians like B.B. King and Howlin' Wolf laid down some of their hottest tracks. Opened in January of 1950, Sun Studios earned its nickname as "The Birthplace of Rock'n'Roll" thanks to the incredible music created within its tiny walls. Innovative artists like Elvis Presley and Johnny Cash recorded in Sun Studios. They blended blues, gospel, country, and their own innovative style into the raucous sound that would transform America and the world forever.
Much of the tour is focused on rock'n'roll, but the tour guides are also extremely knowledgeable about the blues recorded at Sun Studios. They will happily share their behind-the-scenes stories with fellow blues fans.
Sun Studio is open 7 days a week from 10 a.m. – 6:15 p.m.. All tickets are booked day of and in person. Adult tickets are $15.
Crossroads Monument in Clarksdale, Mississippi
The Devil's Crossroad sits at the intersection of highways 61 and 49, marked by three larger-than-life guitars. This is the spot where Robert Johnson is said to have made the ultimate deal with Old Scratch himself: Johnson's soul for the gift of musical genius. Was it worth it? Johnson might think so, he became the master of Delta Blues. He influenced countless musicians, was the subject of multiple documentaries and earned a Grammy Lifetime Achievement Award.
The Crossroads Monument has been featured in a few movies and is a popular photo stop, but it's not the only interesting place in town. Grab a bite and catch some tunes at the Ground Zero Blues Club, a former cotton-grading warehouse from the early 1900s. There you can enjoy live Delta blues and soul food in a venue owned by Morgan Freeman.
Delta Blues Museum in Clarksdale, Mississippi
Not far from the Crossroads Monument sits Mississippi's oldest music museum, the Delta Blues Museum. Clarksdale has been a hub for traveling blues musicians since the 1920s. In addition, many of America's greatest musicians including Muddy Waters, Jon Lee Hooker, and the honey-voiced Sam Cooke were local to Clarksdale and the surrounding towns. Many musicians viewed Clarksdale as an essential stop—so it grew into one of the best places in the South to hear live music, especially the blues.
This proud musical tradition is displayed brilliantly at the Delta Blues Museum. Its permanent exhibits include guitars from artists such as Big Mama Thornton, Jon Lee Hooker, and B.B. King. The Muddy Waters permanent exhibit is a big crowd-pleaser, as are the frequently changing temporary exhibits.
The Delta Blues Museum is open 9 a.m. – 5 p.m. in the summer, and 10 a.m. – 5 p.m. in the winter. It is closed Sundays and holidays. Tickets for adults are $10 and children under 6 are free.
Club Ebony in Indianola, Mississippi
Club Ebony started as a vital stop on the "Chitlin' Circuit," a loose grouping of southern nightclubs where mostly African American performers played. Like the Blue Room in Vicksburg, the Hi-Hat Club in Hattiesburg, and the Blue Front Cafe in Bentonia, Club Ebony was one of the few music venues in the south that was owned by, and welcoming to, African American performers. It offered blues greats like Sonny Boy, Little Milton, and B.B. King the opportunity to play for diverse crowds and gain industry exposure. B.B. King loved the venue so much that he bought it in 2008. It continues to be a beloved venue for blues musicians and a very popular pilgrimage site for blues fans.
The B.B. King Museum and Delta Interpretive Center in Indianola, Mississippi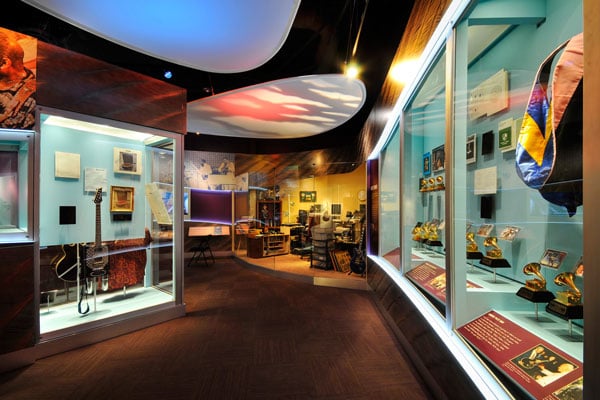 Photo Credit: BBK Museum
The B.B. King Museum and Delta Interpretive Center is devoted to Indianola's favorite native son and tells the story of B.B. King's life. He rose from a young man working the fields to a struggling musician in Memphis, to one of the most celebrated musicians in history. The museum also highlights the struggle of life on the Mississippi Delta, especially for African Americans. It documents what it was like before, during, and after the Civil Rights Movement in the Deep South. It also examines the role blues musicians played in turning the sentiment of the American public.
The B.B. King Museum and Delta Interpretive Center is open Tuesday – Saturday 10 a.m. – 5 p.m. and Sunday – Monday from Noon – 5 p.m., except for holidays when the museum is closed. Ticket prices range from $10 - $15.
The French Quarter in New Orleans, Louisiana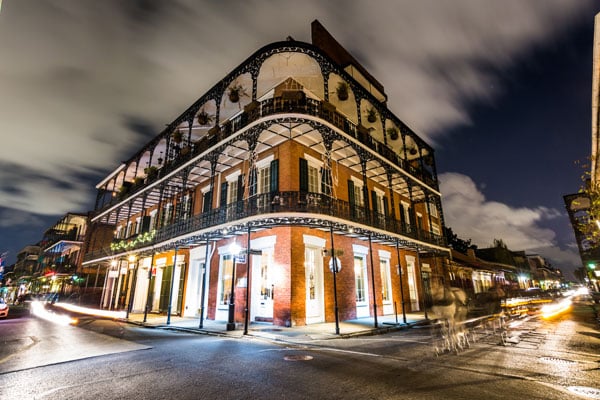 Save the best for last at the end of the Blues Highway in stunning New Orleans. New Orleans blues has a very distinctive style combining local Dixieland jazz and Caribbean rhythms. It's boisterous, led by horn and piano, and sounds bright and upbeat no matter if it's a love song or a soulful lament. Wherever you go in the French Quarter, the irresistible peel of trumpets and bouncing piano will greet you. New Orleans is the best place to go for the ultimate blues night out. Be sure to wear comfortable shoes as you travel from venue to venue experiencing a wide variety of different sounds and atmospheres.
Travel the Blues Highway with YMT Vacations
If the Blues Highway's rich cultural tradition appeals to you, you are invited to experience the music, history, and fun for yourself on YMT Vacations' The Blues Highway tour. Enjoy the French Quarter and the Devil's Crossroads, as well as St. Louis and Chicago, major blues cities just a little north of the Delta. This exciting tour is perfect for fans of all sorts of American music, and promises to be an unforgettable journey! For information, or to make your reservation, call your travel agent or YMT Vacations at 888-978-7406.