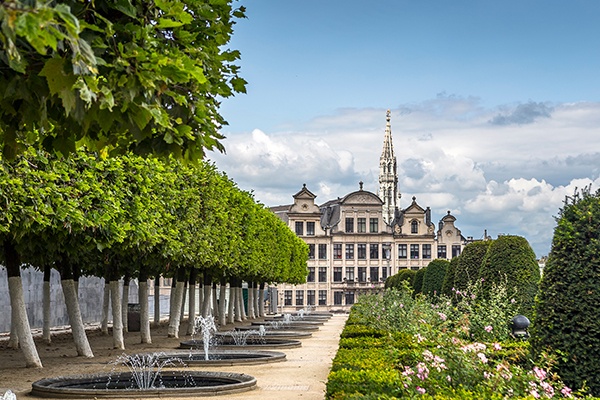 Whether you find yourself in Brussels for business, vacation, or on a layover between destinations, this cosmopolitan city is not to be missed. Thanks to its compact size and proximity to France, Germany, and the Netherlands, Belgium's capital is easy to get a lot out of, even if you find yourself with only a day and a half to spare. To help, we've highlighted a few of our favorite things to do and see:
What to See:
The Grand-Place—Listed as a UNESCO World Heritage Site, Brussel's central square is flanked by City Hall, Maison du Roi, and several opulent, centuries-old guildhalls. Once the setting for town markets, fairs and even jousts, it is now home to upscale eateries and cafes. If you can, try to visit in mid-August when the Grand-Place is covered with a massive floral tapestry known as the Carpet of Flowers.
Atomium—Imagine a single iron crystal, magnified 165 billion times, forged in shining steel, and open to visitors. The Atomium is 335 feet tall, and features nine atomic spheres, including a restaurant with spectacular 360-degree views in the top sphere. Pop into the exhibit halls, stroll the grounds, or take some pictures of this massive 1958 World's Fair exhibition that locals made permanent.
Musées Royaux des Beaux-Arts—The Royal Museum of Fine Arts features the greatest names in art history in a collection of both ancient works and modern art.
Mont des Arts—This manicured park is encircled by the city's best museums, and features magnificent fountains, gardens and tree-lined walkways. It's a favorite spot to gather with friends and enjoy an afternoon stroll.
Musées des Instruments de Musique—The "MIM" features a collection of historic musical instruments from around the world. Housed in a stunning Art Deco building with incredible views, this unusual museum is well worth the €10 admission fee.
Comic Arts Museum—This museum reflects the Belgian people's great love for comics in this shrine to the "ninth art." Centre Belge de la Bande Dessinee is full of comic book archives and fun exhibits, most notably the works portraying the beloved Tintin and his faithful dog, Snowy.
What to Eat/Drink:
Belgian Fries—While we call them French, the truth is we get our favorite side dish from Belgium. The fries here are cooked twice to be extra crispy, and served hot from vendors throughout the city.
Waffles—Waffle stands stay open late and are everywhere in Brussels, so feel free stop for a freshly-made treat whenever the urge strikes you.
Beer— Belgium is ground zero for discerning beer drinkers. Make the most of your time in Brussels by heading straight for Delirium Cafe, listed in the Guinness Book of World Records as having the largest beer selection in the world.
Chocolate—With more than 2,000 chocolatiers in Belgium, people here take the art of chocolate making very seriously. Don't leave the city without enjoying a treat or two.
Speculoos—Made to celebrate St. Nicholas' feast, these spiced shortbread cookies are best enjoyed with a hot coffee at one of Brussels' countless cozy cafes.
You can explore Brussels on one of YMT Vacations' newest itineraries, Romance on the Rhine & Moselle with Belgian Delights tour. This 11-day tour combines a river cruise and land tour. For information, call your travel agent or YMT Vacations at 1-888-756-9072.