---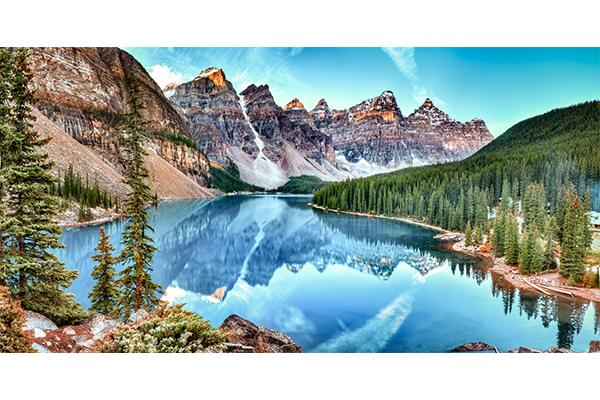 Forbes Magazine recently called Canada one of the Cheapest Places to Travel in 2017. Not only is the Canadian loonie lagging at 70 cents to the U.S. dollar, but the current historic high of American currency means you'll pay 30 percent less on those coveted travel experiences.
---
From fine dining in Victoria to whale watching in Vancouver and train jaunts through the Canadian Rockies, the savings are significant and they extend coast to coast. Just check any online currency calculator for the current exchange rates and you'll likely discover the bucket list vacations you've been dreaming of are a lot more affordable than you think. Not only do savings extend to airline prices and accommodations, but meals and shopping are also at a 13 year low for Americans traveling to our north.
Canada's National Parks for Free!
On top of the extreme value afforded by the exchange rate, Canada is also offering another savings for travelers. In honor of the 150th anniversary of the country's National Parks, the Discovery Pass gives free admission to all of Canada's 171 National Parks, marine conservation areas and historic sites.
From Thousand Islands National Park to Prince Edward Island, Banff to Japer, the Parks Canada system stretches across more than 186,000 miles of unspoiled natural beauty. To celebrate the 150th birthday, the country is offering free admission to the parks throughout 2017 for Canadians and visitors alike. You can order your Discovery Pass online at Parks Canada or enjoy a guided tour of many of the Canadian National Parks with a group tour like YMT Vacations. However you choose to experience these natural wonders, there will never be a better, and more affordable, time than right now. But don't wait. Make your plans today since summer 2017 is sure to be quite popular for Canadian travel.
You can explore some of Canada's favorite National Parks and natural wonders on the YMT Vacations Canadian Rockies Tour. This 14-day journey takes you from Glacier National Park in the U.S. to its Canadian sister park, Wateron National Park, across the Continental Divide to the Athabasca Glacier and onto Whistler and its Olympic Village. You'll explore Japer and Kootenay National Parks as well as Banff and beautiful Lake Louise. To make your plans to join the journey, call your travel consultant or YMT Vacations at 1-888-756-9072.
---