---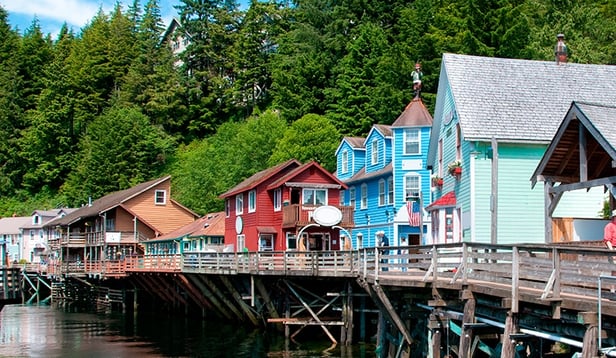 At the end of Creek Street in Ketchikan, Alaska there's an old wooden staircase that snakes its way over the Tongass Narrows and through the surrounding forest. Known as "Married Man's Trail," this is what remains of a muddy path along the creek that once provided discretion for men visiting the city's numerous brothels. Today, this historic street offers visitors a unique and interesting look into the past.
---
The history of this small Alaskan town is rooted in fishing, bootlegging and prostitutes -- two of which are understandably connected. In fact, during the days of prohibition, bootleggers would wait until high tide and navigate their rowboats upstream to deliver to the brothels and backroom saloons of Creek Street which were built on stilted houses overtop the river. Under a cloak of darkness, they would sneak Canadian Whisky through trapdoors in the boardwalk into the waiting arms of the ladies of the evening.
During the 1920s this rural outpost was home to more than 20 houses of ill repute -- making prostitution the city's top industry. The origins of Alaska's own red light district lie in a city ordinance from 1903 that banished brothels from the city center but allowed them in "Indian Town" on the east side of the creek where they remained open for business until 1954. Of these many establishments, number 5 Creek Street is the most famous. "The Star" brothel is named for the large star in the center of its wooden dance floor and is now listed on the National Register of Historic Places. A walk down Creek Street allows travelers to experience a bit of Ketchikan's history, a valuable and memorable addition to any vacation adventure.
---
But the red light district of Creek Street is just one of the attractions in Ketchikan. The small fishing village also features the Tongass Historical Museum, the world's largest collection of Native American totem poles and a charming array of boutiques and restaurants. You can explore this quaint corner of Alaska on YMT Vacations' Grand Alaskan Cruise & Tour. Highlights of this 12-day journey include Denali National Park, the awe-inspiring scenery of Glacier Bay and a luxury cruise along the world-famous Inside Passage. To make your plans to join this extraordinary experience, call your travel professional or YMT Vacations at 1-877-483-8845 and mention promo code I7014.
---