---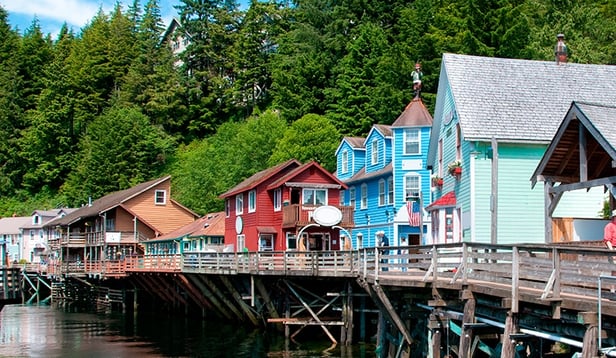 At the end of Creek Street in Ketchikan, Alaska there's an old wooden staircase that snakes its way over the Tongass Narrows and through the surrounding forest. Known as "Married Man's Trail," this is what remains of a muddy path along the Ketchikan Creek that once provided discretion for men visiting the city's numerous brothels.
Today, this historic street, which is actually a stilt-mounted boardwalk, offers visitors a unique and interesting look into the tawdry past of a much wilder, Prohibition-era Alaska.
Bootlegging in Ketchikan
The history of this small Alaskan town is rooted in fishing, bootlegging, and prostitutes; three economies whose fortunes were closely tied. During the days of Prohibition, bootleggers would wait until high tide and navigate their rowboats upstream to deliver to the brothels and backroom saloons of Creek Street. Under a cloak of darkness, they would sneak Canadian Whisky through trapdoors in the boardwalk into the waiting arms of the ladies of the evening.
Ketchikan's Red Light District
During the 1920s this rural outpost was home to more than 20 houses of ill repute, making prostitution the top industry in what fast became one of Alaska's most infamous destinations. The origins of Alaska's own red light district lie in a city ordinance from 1903 that banished brothels from the city center but allowed them in "Indian Town" on the east side of the creek, where they operated legally until 1954.
The large gable-roofed building at 5 Creek Street is the most famous of the Creek Street brothels. "The Star" brothel was one of the biggest and best in town. Named for the large star in the center of its wooden dance floor, The Star is now listed on the National Register of Historic Places.
Another of Ketchikan's first brothels, Dolly's House, is still open to visitors. But today the goings on, of what is now a fascinating museum, are much more family friendly. The green building at 24 Creek Street was opened for business in 1919 by Dolly Arthur, and it still has many of Dolly's things on display, including a peculiar shower curtain with roses made from silk condoms. The museum's motto is "Where Both Men and Salmon Came Upstream to Spawn."
Visit Ketchikan with YMT Vacations
The red light district of Creek Street is just one of the many attractions in Ketchikan. The small fishing village also features the Tongass Historical Museum, a charming array of boutiques and restaurants, and the world's largest collection of Native American totem poles. You can explore this quaint corner of Alaska on many of YMT Vacations' magnificent itineraries to Alaska. To book your Alaskan vacation, call your travel professional or YMT Vacations at 1-877-483-8845.
---